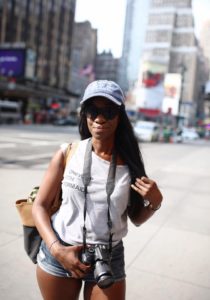 Naa Kwaley, better known as Nkay, is a woman of many hats: fashion designer, photographer, musician, brand stylist, blogger. When asked to describe what she does to the common layperson, Nkay puts simply, "The first thing I say is that I'm a creative. I love the world of the arts, and music, and fashion."
---
As a young adult fresh out of college, Nkay embarked on what would become the adventure of a lifetime – a two-year stint in the Peace Corps, from 2010-2012. She was matched with Mozambique, as Portuguese is the country's official language and Nkay had some background in Spanish. "It was amazing…I was a community health volunteer, and so I worked with people who had HIV/AIDS, helping them to get their medicine, teaching young girls about practicing safe sex…You learn a lot about yourself," she said, reflecting on her time spent in the program. "It's the toughest job I've ever done, but I loved it."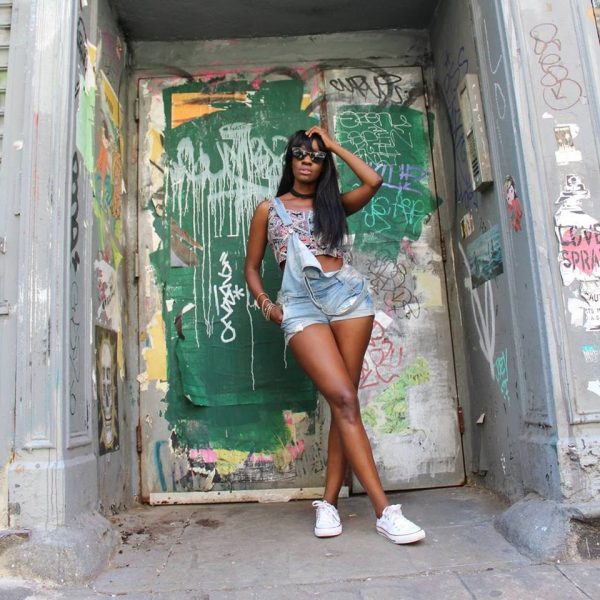 Nkay credits her time abroad as instrumental in developing a skillset that has carried over to her current professional and creative life. "Being immersed in a culture that was completely outside of my world and learning how to have patience, learning to be flexible – these are business skills that I now use," she said. "I'm optimistic, I expect things to go well, but if they don't, I have the foundation to step back, rework stuff and do it again."
After her stint as a volunteer in the Peace Corps, Nkay took a position with the Peace Corps organization as an administrator. From Mozambique she moved to Ghana, and didn't come back to the States for four years.
"I had never been to Ghana before…I had interest in the place because my dad's from there. Back in 2007, I went there and fell in love with the fabrics. Everything was bright and beautiful. I actually love minimal colors; my whole closet's black, white, and nude, but I really loved their fabrics and how everything was put together," she said.
---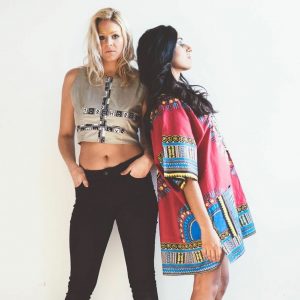 The fabrics of Ghana set Nkay off on a creative excursion into the world of textile and fashion. She began experimentations with shoes, by wrapping a standard American shoe in African fabric, with constructed handbags to match. "That turned into clothing, because people back here in the States were telling me, 'That's really cute, could you make me a dress with that print?,' so it merged into that.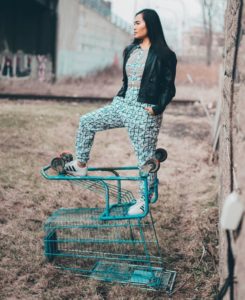 "I try and mix African print with street fashion," she said. "At the time, there wasn't a lot of African print. It was just starting to become popular." Friends would send her pictures of a favorite dress and ask her if there was any way she could replicate the look, but with the African print everyone was becoming drawn to. "I strayed away from traditional African clothing and thought,
'Let me come up with clothing that has a touch of African print in the tops and blouses, and let the bottoms be kind of wild.'
"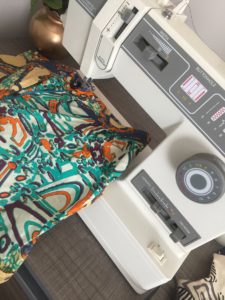 Nkay began fully delving into this work in 2012. "I started hustling around Ghana. I was like a madwoman. Nobody understood what I was doing," she laughed. Her parents side-eyed this project, wondering what kind of crazy plan their daughter was on about. "My mom was like, 'What are you doing? Get a real job.' I was in the markets [of Ghana] buying fabrics, selling stuff." And it felt like everything to her.
When Nkay began her sojourn into the fashion and textile world, she didn't even know how to sew, just that she liked all of this. She was soon to meet the people that could fill in this gap for her, however.
In the markets of Ghana, Nkay met Omega, a street vendor with an extraordinary supply of fabric that spoke to her sensibilities. She happened upon his shop, and immediately fell head over heels for his textiles. "I told him, 'All of this stuff is beautiful. Let's collaborate, let's work together,'" she said. It was a win-win for all parties; an economic boon to Omega's shop and the people who assisted him and Nkay in manufacturing the pieces that Nkay designed. Past the manufacturing process, Nkay continued the promotional aspect of a piece, including a note with each handcrafted item that described the area of Ghana where the fabric originated and the artisan who made it. "I want people to know how it started," she said.
---
It was during her time with the Peace Corps that Nkay doubled down on her foray into the blogosphere. A way for her to communicate her experiences to friends back home and the world at large, Nkay tapped into the world of personal online journaling, and swiftly fell in love with the rawness and honesty of a platform that encouraged personal storytelling. This blog soon merged into writing about fashion. "I want people to be able to connect with me, not just through photos on Instagram or a Facebook status, I want people to know what's happening."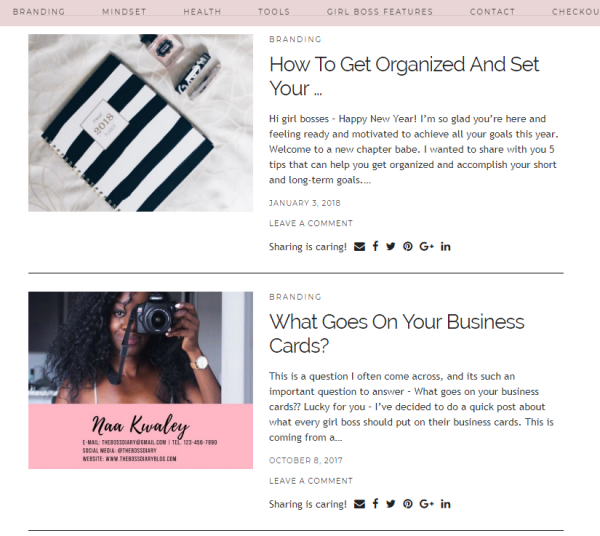 The love for personal expression and honest connection brought Nkay to found The Boss Diary in March of last year, a website dedicated to small business marketing and branding strategies, with a focus on women-run enterprises. "To be honest, I didn't really know what I wanted the blog to be, but I knew that I wanted it to be something that empowered women," she said. She studied social media tutorials, garnering a sense of what was needed to turn the enterprise into something that would reach and help her prospective audience. "I thought, 'I'll combine social media tips and branding with girl boss motivation,' and it just started happening. I would get random messages from girls telling me, 'You keep me motivated.' I'm like, 'Okay, good!' I feel like The Boss Diary blog is for them," she said.
She began a Friday interview series shortly after the inception of the blog that features women Nkay has met or has been inspired by in her journeys, with a particular emphasis on women in Buffalo. "I really love The Boss Diary. It's become my newborn baby," she said.
"When I put up a [motivational] quote or a caption [to the readers], it's actually helping me. I feel like it's my own therapy. And when other people feed off that, I feed off of it."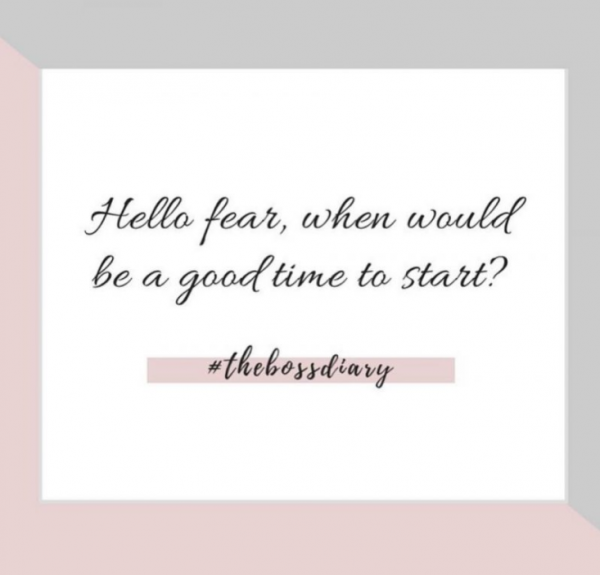 ---
Nkay's creative bones stretch over the landscape of the tactile and the written word, into the aural realm. She sang and performed all through her early years — piano lessons at age 7; appearances in every recital, cabaret, and play her school staged. This bug stuck with her as she evolved into her later years, the most recent iteration taking form as singer and keyboardist in B.A.N.K. Noise. "I remember my dad saying to my mom, 'I hope she doesn't want to become a singer!,'" she laughed. "I think now it's more acceptable or okay for your kid to be a freelancer, or be a creative, whereas before it was expected you would get a normal job after college."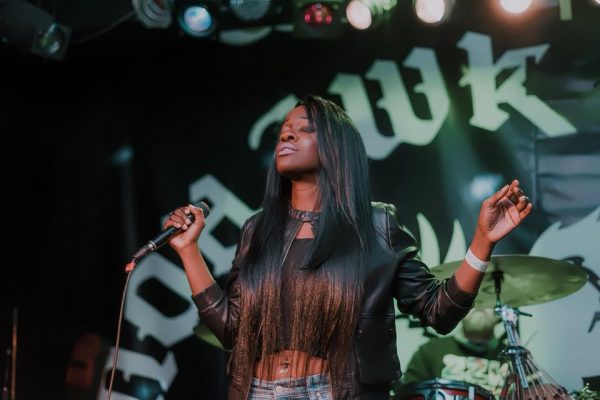 This is one way Nkay sees her path unfolding in the years to come; continuing to sing. "Whether it's with a band or not, music always has to be a part of my life," she said. Of course, fashion will be a component to her performance art. "A lot of my friends and family ask me, 'Well, which do you like more?' I always say, 'Fashion's my boyfriend, but I would marry music,' she laughed. "They kind of go hand-in-hand."
Film by Alexander H (@creativeconnect)
Living abroad again is an ever-remaining fixture in Nkay's thoughts, with both London and Africa pulling at her heartstrings. Of course, if a family comes along, that would be wonderful, too. "Before, I used to feel that relationships defined my happiness, but I eventually learned that I was the only person who could truly make myself happy. Right now I'm focusing on me…I'm just kicking it. I'm doing what the f— I want to do."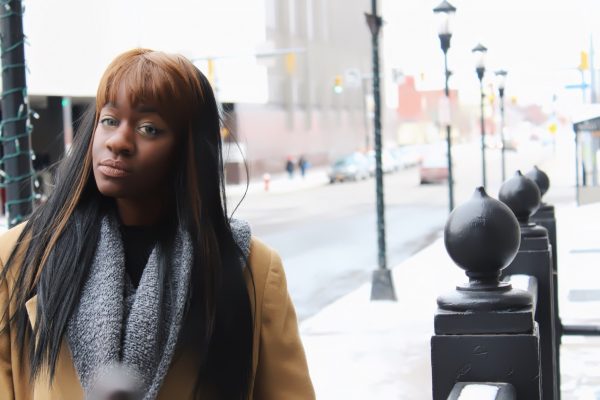 Those lessons learned about flexibility and going with the flow will serve her greatly in the years to come, as the work, hopes, and goals evolve down the line. "I feel like, as long as I keep fashion and music on my radar, I'll be good."
Watch for Nkay's newest clothing collection to be released this spring/summer. Keep tabs on upcoming B.A.N.K. Noise shows via their FB page. Nkay is also available for photoshoots, and plans to develop out The Boss Diary in the coming months, so subscribe to stay up-to-speed on the latest tips and tricks to stay motivated as a burgeoning entrepreneur.
Photos provided. All photos by Ryan Kell (@seekaxiom), unless otherwise credited.