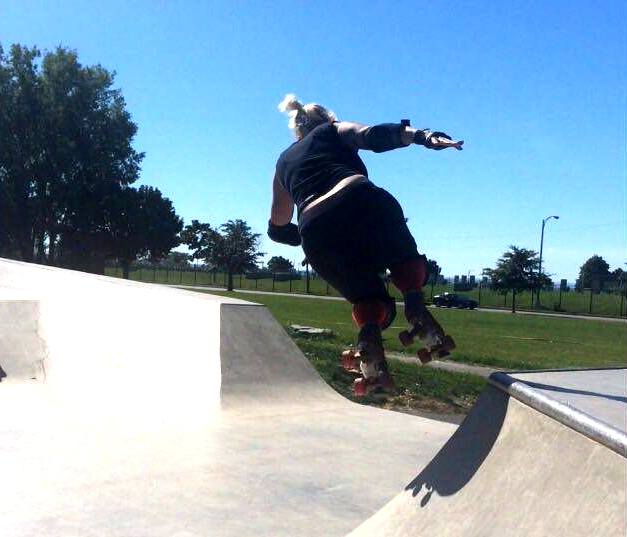 On a nondescript West Buffalo block sits a small shop with a big future. The banner in front of
ModQuads
sets the storefront apart from its Rhode Island street neighbors. Inside, I spoke to ModQuads owner Lori Fronckowiak about this new undertaking and the quad skate scene in general.
Fronckowiak always had ambitions to own a business. A skatepark, perhaps. She took some small business classes and brainstormed ideas. Her occupation was building aircrafts for Moog when she received a message: "Wanna buy a skate shop?"
It sounds like the stuff of dreams, but perhaps it was inevitable. This space used to be Turnaround Skates, owned by another former roller derby skater and teammate Ilana Gordon. Full disclosure: I skated with both of these women and they're both great company on and off the track. The store sells quad skates, components, and protective gear, as well as skating apparel and lots of must-have graphic t-shirts with tattoo-inspired designs and the like.
Upon fully transitioning from helpful friend to sole owner and proprietor in August 2016, Lori cracked open her notebook and 91 Rhode Island was rechristened as ModQuads. The rebranding was simple, taking a photo she snapped at a skatepark of her own skates and building a brand off of the image. I asked her about the transition and she admitted it was a labor of love:
"I had to figure a lot out on my own. I definitely had a couple breakdowns but it was still worth it because it's better than my old job, and because it's something I love and something I'm excited to talk about. Even though I had hard times, it was exciting," she said.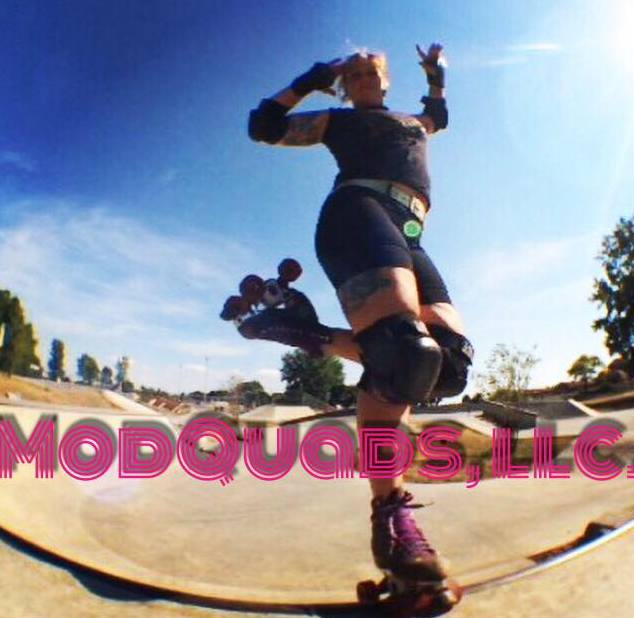 Lori, who also answers to Knockin' Das Boots, not only studied business basics but also learned the ins and outs of building, fixing and tweaking skate boots, trucks, wheels, bearings, etc. as a matter of necessity. She aims to pass self-sufficiency onto other skaters so that they can get the most out of their investments and enjoy the freedom she's found in skating. So does it take a lot of technical knowledge to own a skate shop? According to this skater, it depends.
"I used to make military airplanes for my job, so to me the skate itself is simple. But that's a matter of perspective. I have been exposed to mechanical things so I think it's easy to a degree. For other people, it's different," Lori said.
Just put on your business tits.
Having skated both alone and in groups makes her a better skate vendor and an inclusive leader in the scene she's working to build. Getting personal experience with organized flat track roller derby and group ramp sessions clues her into different types of quad skaters' needs. This is especially true of her solo time working out how to drop in and start learning tricks.
As president of Chicks in Bowls Buffalo, she organizes meetups where skaters of all levels can support each other at skateparks. Chicks in Bowls is both a brand and a movement. The grinding plates they sell are specially designed for quad ramp skating. They also use their presence to spread a cooperative message and inspire skaters to take the plunge into ramp and trick skating. CIB's stated mission is to work for the "united goal of creating safe, inclusive environments for all skaters." They call this "world domination" and with 237 chapters worldwide, they determine themselves to be 42% of the way there.
Chicks in Bowls Buffalo by Troy N. Teague
Roller derby put quad skates back on the map, but freer styles of skating are gaining in popularity. Much responsibility goes to the Moxi Roller Skates, who is doing for these chicks what Santa Cruz did for young men in the 80's – inspire them by sponsoring a skate team. You can't look up Chicks in Bowls on social media without seeing the Moxi Street Team, starring founder Michelle "Estro Jen" Steilen herself.
According to Fronckowiak, dropping into the bowl isn't all that intimidating, and getting air feels like flying. After you make yourself fly, how scary can it be to own a business? To that she says, "Just put on your business tits." Ambitious, strong, and wise, to "boot"! Watch out for this one, Buffalo!
Mod Quads is located at 91 Rhode Island St. Join Lori & crew at these events:
Halloween Costume Skate in Delaware Park. Free for all levels to join. Sun. Oct. 30, 10 a.m.
Truck Nuts & Other Fine Things – a bearing cleaning and skate maintenance to help you get the most out of your skates workshop. Sun. Nov. 6, 4 p.m.
Photos provided