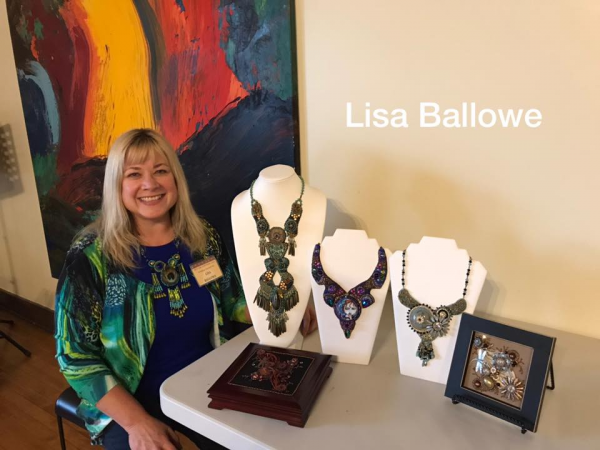 Hi! My name is Lisa Ballowe and my business name is Bling Jewelry Designs. This is my first year participating in the Buffalo Women's Gifts Show. I am very excited!
I came up with the name of my business out of my love of Swarovski crystals and anything blingy and shiny! I make crystal jewelry and bead embroidery jewelry. Bead embroidery is hand sewing beads to a beading medium or stiff felt and then backing it with Ultrasuede. My embroidery creations are time consuming and a labor of love. I find it very relaxing and therapeutic.
I started out doing traditional embroidery in 1992 and branched out into beads and jewelry making. I love hand sewing! I sell my jewelry at art shows. I have won two 1st place and one 4th place prizes in Jewelry at the Lewiston Art Show and am a Juried Artist in the Arts and Craftsmen Guild at the Historic Roycroft Campus in East Aurora. Plus, one of my larger pieces was a finalist this year at the Bead and Button Show, Bead Dreams Competition, which is an international competition. In addition to shows, I am working on teaching bead embroidery. I hope to become a national teacher and travel the country, sharing the artform I love.
I am married and have two sons. I presently live in Hamburg. I love to walk! I recently lost 35 pounds on the ketogenic lifestyle and love to educate others about this way of eating that has changed my life. I love to inspire others.
A new addition to my jewelry offerings is inspiration/intention jewelry. I help people find a word that inspires them then I hand stamp that word on a metal token that can be worn as a necklace or bracelet as a reminder to them to reach a goal, get better at something, etc. Words like: Small Steps, Positivity, Fountain (which stands for: "Be a Fountain, Not a Drain") I will be able to stamp custom words and have many already made to choose from.
I can also take custom orders that can incorporate an intention word and bead embroidery for a truly personal gift for yourself or a special someone. These also make great girlfriend gifts if you participate in gift exchanges. I also have a "Girls Just Wanna Have Fun" line with words like: Wine Time, Whiskey Girl, Beer Babe, Margarita Mama, and Vodka Vixen.
In addition to Buffalo Women's Gifts, I will be at the Roycroft Holiday Show at the Roycroft Campus in East Aurora on December 7 & 8. My website is Bling Jewelry Designs. My email is [email protected]. You can follow me on Facebook: Lisa Ballowe and Bling Jewelry Designs, and on Instagram. — Lisa Ballowe