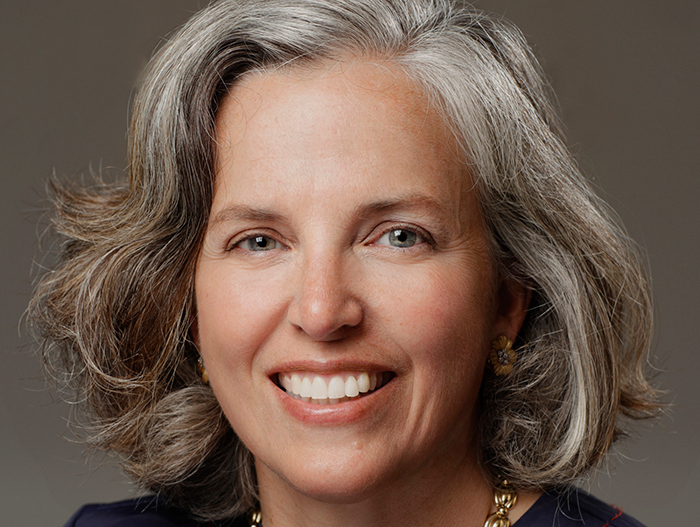 Leslie Zemsky is in the booth, placing art for the coming weekend. She and
artist Adam Weekley
are staging the show, "On the Line," ahead of the third annual 
Larkinville Ice Festival
.
As the Director of Fun of Larkinville, she has tiny worlds she tenderly cultivates. The telephone booth is just one example.
"This is a labor of love," she said. "I got this idea because I had a phone booth in my bedroom when I was growing up, and every time I'd see an old phone booth I was always like, 'Aww!'
"One Sunday – we had already bought the building – I went somewhere on Hertel and came home and said to Howard, 'Ohh, they had this phone booth; we should put a phone booth in the bar…'
"That afternoon I became obsessed. I went online, I was looking on eBay, all over the country. The least expensive phone booth – we didn't have to do anything to it other than cleaning it – ended up being in a warehouse at Broadway and Fillmore that came out of a bar somewhere in Buffalo."
Shortly thereafter local artist A.J. Fries came by, and Leslie showed him the booth. "This is how so many of these things happen – It's like Food Truck Tuesdays: 'Oh, I have this idea…'" Upon seeing the booth, A.J. said, "Let's make it an art gallery. Let's do it together." And so, the teeny tiny (716) GAL-LERY came to be.
In addition to rotating pieces by local artists, the booth and its vintage phone have a multimedia component, with aural works that play when the receiver is picked up by a patron, along with an installed video display.
---
BEGINNING DAYS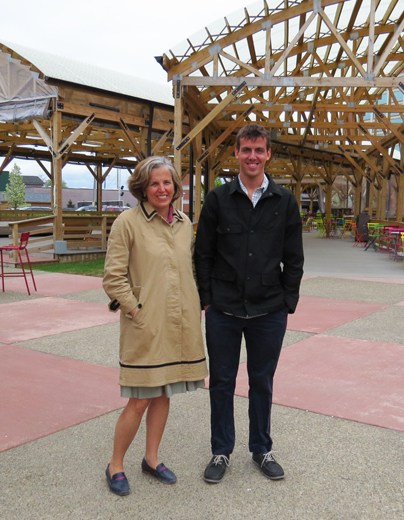 Leslie and Howard Zemsky — who by now need no introduction here in town (hint: they ARE Larkinville) — met in college at Michigan State University in the '80s. After graduation, Leslie moved to NYC for a few years while Howard headed to Buffalo. "I just wanted to have a little, 'make it in New York' independence," she said.
It was in NYC that Leslie initially developed a passion for the flamboyant. She began her career working at Macy's, as a buyer. But then, a parade happened.
"At Macy's I got totally into the parade, which now makes so much sense as I look back on my life. I've always been about the fun activities. My parade career was progressing faster than my merchandising career," she laughed.
After building career cache and sowing some oats for a little while, Leslie and her beau decided to settle down in Buffalo.
"It was such a great feeling because when I moved here I knew: 'Wow, this is where we're going to stay, for our long term.' That was that feeling right away, 'Put down roots, get involved with the community.'" And here they've now been, for 30someodd years.
Asked to describe her life leading up to current day in a Cliffs Notes summary, Leslie paints a concise portrait. "There's always been making things, there's always been community involvement, raising three kids, and now this whole new chapter, which I never would have guessed. Working full-time and immersed in this real estate project."
And it's a real estate indeed. The ground floor of a thing that's a thing. The Zemskys have begun developing a neighborhood, bringing forth a light from a past that was once before.
---
A NEIGHBORHOOD VISION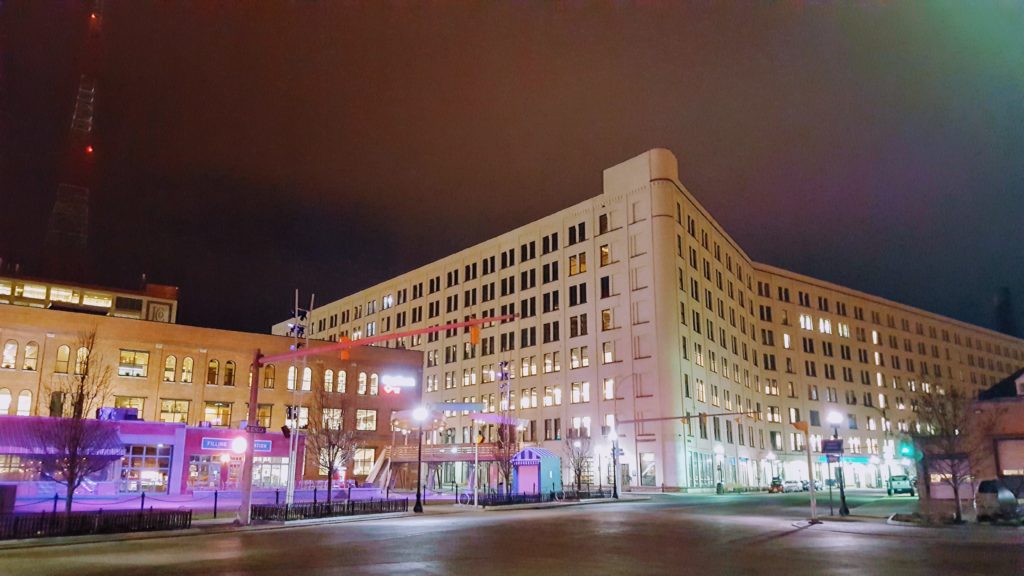 In 2002 Howard Zemsky bought the Larkin at Exchange building. "That was the warehouse for the Larkin Company; that's when he started with the real estate in Larkin," she said.
The neighborhood was a lot different 15 years ago. "…Bombed out streets, nothing had been done on curbs or anything like that since World War I," she said, describing the streetscape of that portion of town before the Larkin development era kicked into full gear. "First Niagara was a game changer because they paid for the construction of Larkin Square and paid for a lot of the streetscape," she said. "After we were finished, the building next door, 701 Seneca, fixed up their street, and then now, through a tax-abated program, the Seneca streetscape is going to continue down to Michigan."
KeyBank, who recently acquired First Niagara, has offered a major assist in redevelopment, making the Larkin District their Northeast headquarters, right after their main headquarters in Cleveland. They have continued their support of the Square's public events along with Independent Health, another important sponsor supporter of yearly activities.
Seneca Street is the vision, really.
"It's exciting what's happening, but we need a lot of density to really make a difference down here, downtown, everywhere…The more you pack in, the better, to be able to support all the fun things that people want to have – the restaurants and shops."
Larkin Square officially opened in 2012. "Buffalo, to me, started to explode in 2012…The psyche changed. That's when people would come down for our first-year events and were like, 'What is this place?' and 'I can't wait until my adult children come home for their week vacation,' and 'My father, my grandfather, my grandmother, they worked here, they lived here.' So many roots came out of here.
"Now people take it for granted. The first year though, we just heard, 'Oh my gosh, I never thought I'd see this in my lifetime,' and then it was happening all over Buffalo."
---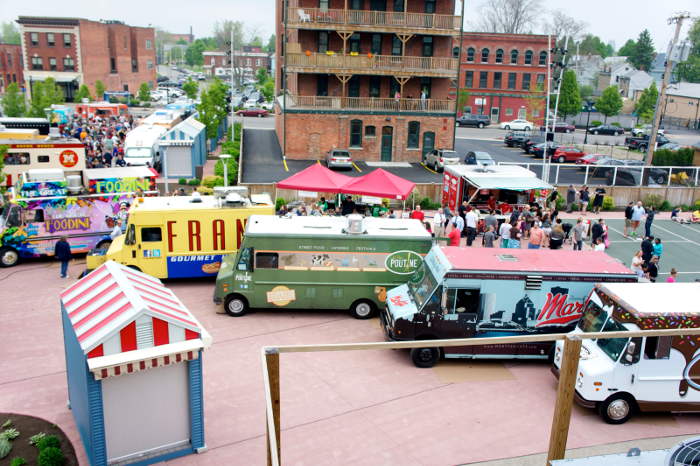 Food Truck Tuesdays was the catalyst that put Larkin back on the map, but Leslie doesn't take full credit for that. "That I credit my son [Harry Zemsky, also the operator of Hydraulic Hearth].
"He cooked up the idea in 2013, our second summer. He had a little airstream camper sandwich shop, and back then there were only five food trucks," she said. The building that was to become Hydraulic Hearth had been purchased and they wanted to start creating a dinner vibe in the district.
"He said, 'Oh, I've got this idea…Let's invite the food trucks down.' Literally there were four food trucks and one fashion food truck," she quipped. They wanted to wrangle the truck cooks to come down and invite the public into the new building for a happy hour nosh. Harry told her, "I want to sit outside in the summer, and we've got the best outdoor patio."
"He put the word out and said if we can just get Lloyd and a couple others to commit to come for three weeks, give a try, and they were in. The first week there were maybe a hundred people, and then it just kept growing, and then the Buffalo News did a big article, and then it exploded."
That's when they needed more trucks. Harry began networking with trucks in Rochester, and that's when the Rochester trucks started coming. Now there are approximately fifty trucks between Buffalo and Rochester that want to be a part of the weekly summer event.
"Our goal is to always welcome the new trucks and keep the event fresh and figure out a way to accommodate as many as we can."
---
Every year a little bit more gets added to the programming and general community vibe of the neighborhood. 2017 will see the grand opening of Swan Street Diner in the fall. Amanda Amico, owner of the Amy's food truck, has been pinged as general manager. Restoration work is currently being done on the circa 1937 Sterling-brand diner in a warehouse near Larkin; eventually the structure will be transported to a parcel next to Hydraulic Hearth, with a kitchen and bathroom buildout soon after. They plan to be open for business this September.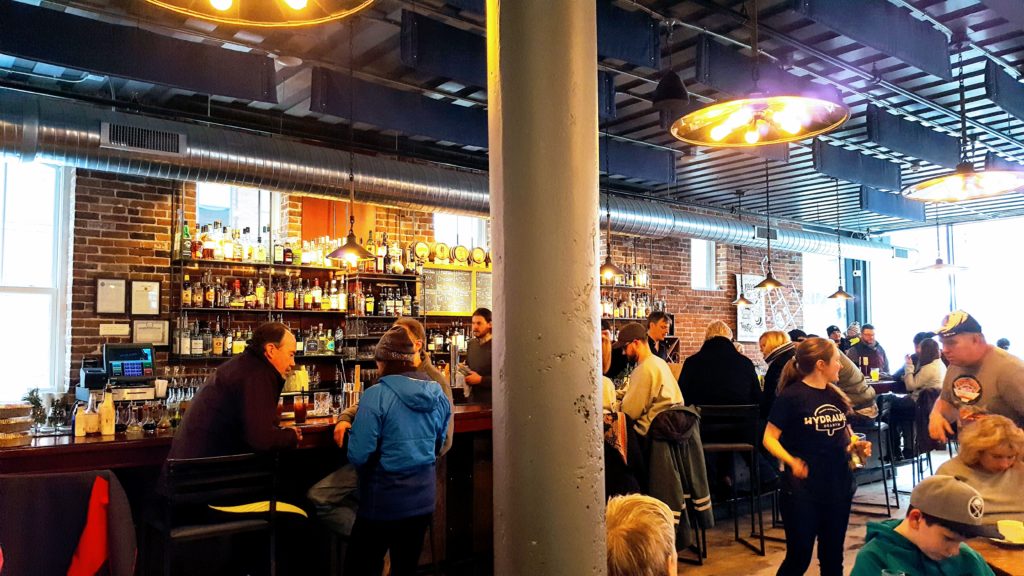 "We really are in the culinary business, even though technically we're in the real estate business," she laughed. Larkin Development Group, the Zemskys' development company, also owns the Filling Station restaurant, next to the Larkin Square pavilion.
The diner is going to be the big personal project for 2017, but they recently acquired the old neighborhood bowling alley and so have sights on that bit of restoration, as well.
In looking towards the near future of the district, Leslie speaks confidently of the slow and steady work being done in the neighborhood. "Seneca Street is the vision, really," she said.
"It's our family's philosophy to keep building the neighborhood, but you do need to make these projects work," she said.
---
FOR THE LOVE OF ART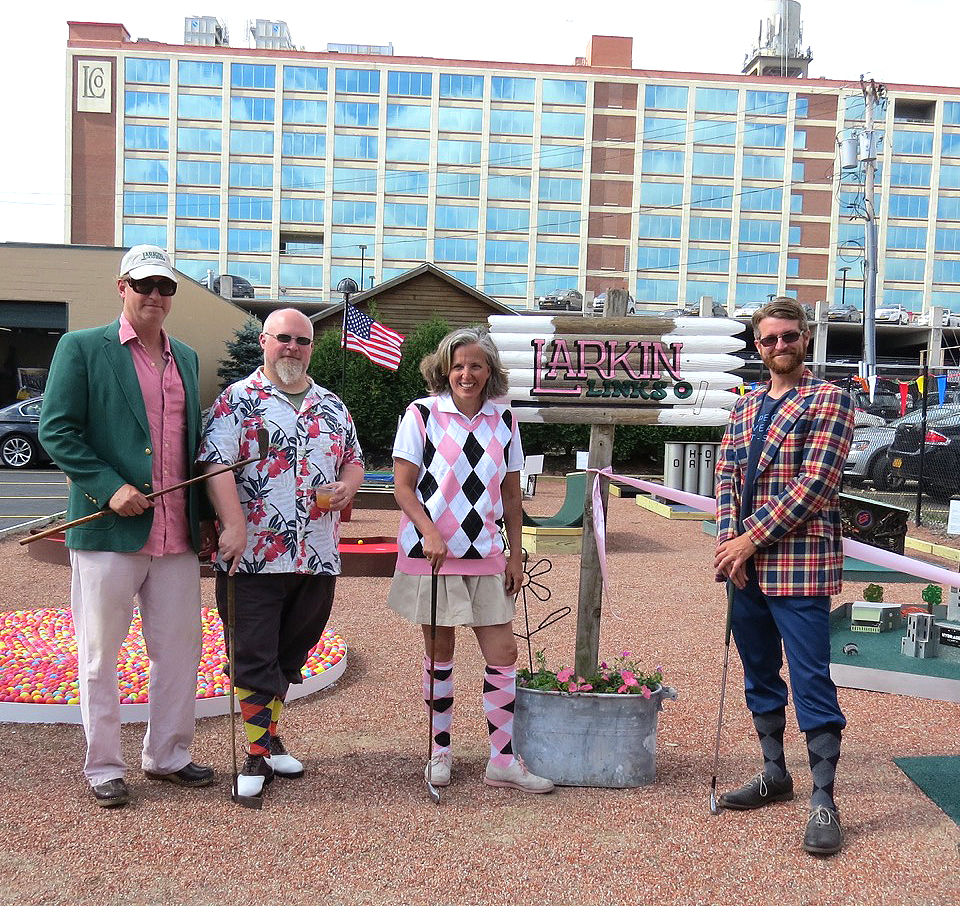 While appreciating her work in the public sphere and with a truly monumental development company, Leslie couldn't help but take some time to gush for a moment about art and especially tiny art such as her recent hand at calligraphy. "I learned it all for my daughter's wedding. We have done the most elaborate Save the Date cards that I could ever imagine," she laughed. She plans to attend a workshop at the Western New York Book Arts Center to learn the fine art of letterpress – the invitations promise to be quite the beauty, as well.
In addition to the city's tiniest art gallery, Leslie's love of tiny, beautiful things helped create "Larkin Links," the city's first and only "nano golf course." Leslie commissions local artists to help design the pieces that comprise the course. "That's our version of public art, this quirky stuff." They plan to add three holes to the new season, bringing the count to 13.
---
PARTNERSHIP WITH THE PUBLIC
Larkin will soon play host to a "tiny house" – one of the latest trends in urban housing that's starting to hit the mainstream. "Tomorrow we're going to ECC to see three proposals – this is not something that we initiated, but when we heard about it we said, 'This sounds really cool.'"
Bob James, a member of the local music community, had partnered with an ECC architectural class and the Buffalo Public Schools vocational building program to build a tiny house for auction, with proceeds going to the Veteran One-Stop Center of Western New York.  After a design is chosen, students in the schools will begin construction and eventually assemble the house on-site in Larkinville. "[Bob James] came to us because of this physical place, and we were like, 'Oh, this is so what we would love to do.'"
The home will be in the square and open to the public for a month at the beginning of the summer season. "I can't wait to see this house," she enthused.
"If there are things that we can do to support neighborhood organizations, we love it."
Stay connected to all of Larkinville's activities via FB throughout the year, and stop into Flying Bison Brewery's new digs and the Buffalo Distilling Company's beautiful new tasting room while out and about on Seneca Street this season.