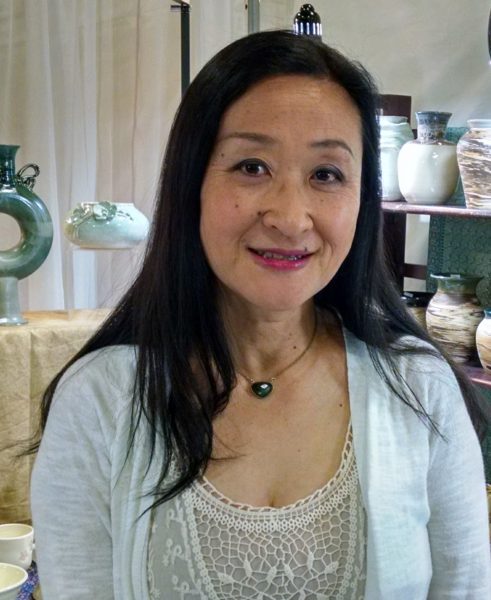 My first encounter with pottery was in 1995 at my friend's home.  I fell in love with the clay medium when I saw her beautiful African violet vase. From there I took my first lesson which grew into my passion.  
Fast forwarding the story, since then, I have attended countless art shows, and my pieces have been displayed in galleries and stores in Buffalo, NY, where I am an elementary school teacher and raised my family.
My work varies from traditional pieces thrown on the wheel to hand-built pieces with organic shapes. My current focus includes double-walled vases, pots with wax resist patterns, and toroid (ring shape) vases along with functional favorites such as teapots. Sometimes I get lost in carving my pots away. My art is inspired by earth tones and patterns in nature, and multicolored brushstroke glazing is my signature technique, which resembles watercolor paintings. I always strive for new techniques in my creations. My newest addition is textured pieces with sodium silicate applications.
I have been showing and selling pottery for about 20 years.  Women's Gifts Show is probably one of the first that I attended.  I call Women's Gifts "my home." Shows are probably a good place to purchase my pieces but I have some work displayed and sold at local stores and gallery such as Thin Ice, Wild Things, and the Burchfield Penney Art Center gift shop. This holiday season, I have multiple shows at Firehouse Engine 36 (11/8-10), Kenan Holiday Show (11/22-24) and the Burchfield Holiday Gift & Art Show (12/6-8). — Junko McGee