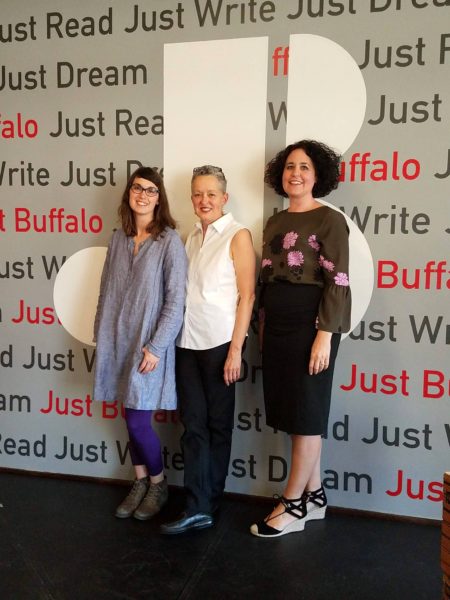 "My very first experience with the organization was as a college student," said Laurie Dean Torrell, executive director of the Just Buffalo Literary Center. While working on her English degree at the College at Brockport, State University of New York, Laurie needed to come back to Buffalo to tend to family. "It was difficult coming back, and to try to find my place again," she said.
"I found Just Buffalo readings out in the community, and started going to these poetry readings, and it was the thing that gave me a sense of picking up that lost thread. It meant so much to me and became so formative in my own development as I pursued an English degree."
---
Laurie started her professional life in the medical industry, first with Red Cross, then with Planned Parenthood of Niagara County. "It was in 2002 that Just Buffalo had gone through a leadership transition and was looking for a new director, and I was ready for a change from healthcare. I was thinking something smaller, something more creative. On kind of a fluke I put my application in," she said.
During that transitional time, the organization faced a serious threat of closing. "The thought that went through my mind was, 'That can't happen. The community has to have Just Buffalo. It has to be here.' I knew that I had strong management skills and I thought, 'I think they need what I can give, and I think I need what they are.' I was fortunate to be given the chance to take the position," she said. She's now held the role for 15 years.
The organization provided Laurie more than a sense of community and a new professional direction; she also met her now ex-husband Paul, a poet, and father to her two children, through the program. "We had many, many years of time with Just Buffalo, so it really meant a lot."
---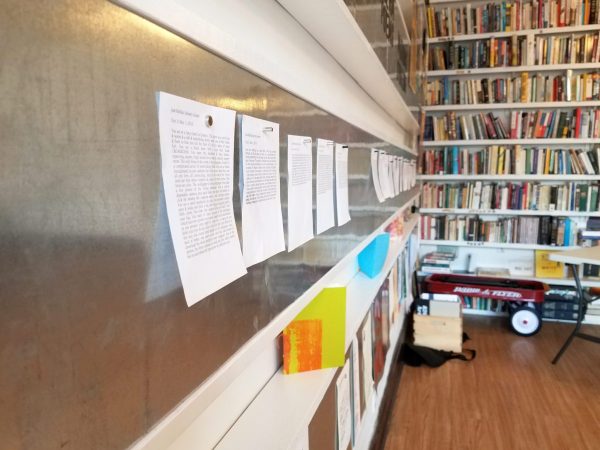 Barbara Cole, artistic director, grew up in Philadelphia and moved to Buffalo in 2000 to pursue graduate school at the University at Buffalo. Her time with the organization has been intertwined on a variety of levels, as well. "I was doing my PhD in Poetics, and at that time I came to readings, like Laurie. In the time that I was in Buffalo, the three main professors that had drawn me to Buffalo — that were the most visible and most known — all three left for a variety of reasons. I was kind of at this moment of, 'How do I stay in Buffalo?' It felt like this moment where I wasn't sure if I could actually stay here," she said. She contemplated writing her dissertation remotely. "But, because of Just Buffalo, I felt that, no, I still have a community here, even if it was sort of disintegrating in other ways."
She soon learned that the organization had an education program that put poets and writers in local high schools, and became a teaching artist with the program.
"On my days off, when I wasn't teaching at UB or writing my dissertation, I was going into these schools, and, even though at that point I had lived here for 5 years, I was seeing neighborhoods in Buffalo I had never been in, I was meeting these amazing kids, these teachers who were so dedicated," she said. "I couldn't believe what a different understanding I had of Buffalo."
---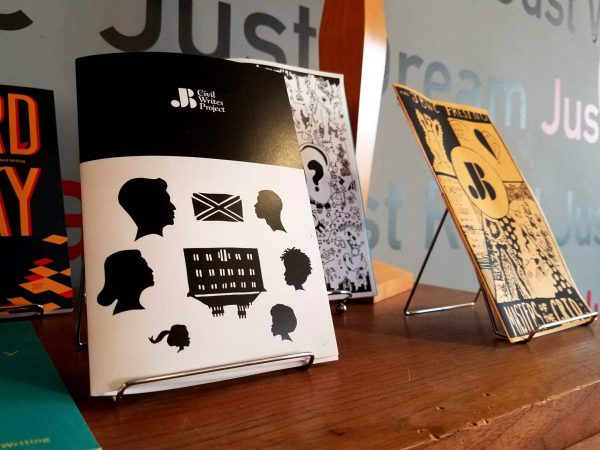 While taking interviews in the academic job market, Barbara soon realized that every time she discussed her work as a teaching artist with Just Buffalo, a light went off. "As much as I loved research, and I loved teaching college, there was something else that happened when I was thinking about the work I did with Just Buffalo," she said.
Much like Laurie, a random opening in the organization led Barbara to pursue an opportunity she hadn't formally envisioned for herself. "It was almost on a whim that I applied for the job of education director and thought, 'I don't even know what that means, but, if I get an interview, it must mean something.'" She was offered the position. "'This must be what I'm meant to do,'" she decided.
She held this position for 4 years. The program had been active for close to 30 years at that time, working with 2,000 kids a year. "It more than doubled within my first year," she said.
"It's been interesting to be just an audience member, to a teaching artist, to the education director, to the artistic director. I feel like I've sat in many different seats."
---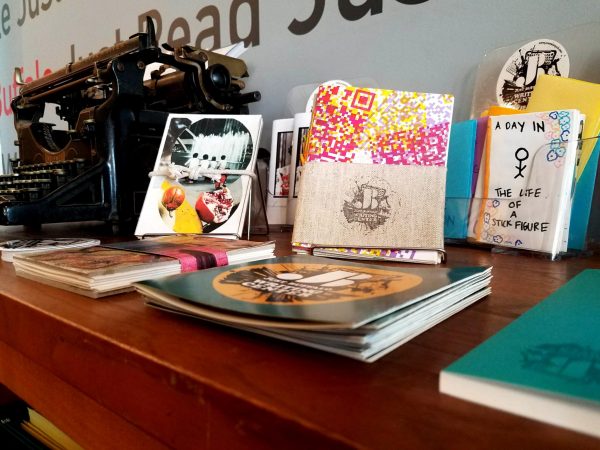 The BABEL speaker series at Kleinhans Music Hall is arguably the Center's most visible community-based event, now entering its twelfth season. The series brings four internationally renowned authors to Buffalo every fall. "For a literary series of that kind, our audience here in Buffalo is amazing – we have the second highest audience numbers in the country, next to Portland Arts & Lectures," Barbara said. This year's Toni Morrison event was a sell-out, at 2,400 tickets sold. Junot Diaz was the series' second most-sold event this year.
To celebrate Toni Morrison's appearance in Buffalo, which was held on the same day that Dr. Martin Luther King, Jr., spoke in Buffalo at Kleinhans 50 years ago, the Center produced the Civil Writes Project. While all of the Babel authors have inspired community-based events leading up to their appearance, the events around Toni Morrison were the most elaborate, Barbara said. JBLC teamed up with 20 partner organizations to produce 6 weeks' worth of programs, ranging from staged productions, to community conversations about race, to lectures about Dr. King's economic vision.
#CivilWritesProject from Just Buffalo Literary Center on Vimeo.
"We were able to shine a spotlight on all of the work that the arts and cultural [organizations] are doing all the time to address these issues," Barbara said. "Arts and culturals are trying to drive the New Buffalo conversation, to make sure that New Buffalo isn't leaving behind the Buffalonians who have been here for a long time, so that we don't have a new vision that's only privileging a certain type of person."
---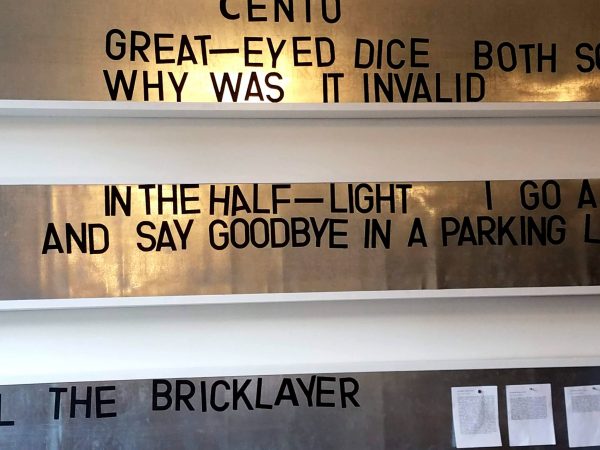 The Center also produces specialized events around their other literary programming in the city, bringing the conversation to the streets.
"Our mission is to create and strengthen communities through the literary arts, and we try to approach that from many different ways. We want to take down the barriers that might keep someone from participating, and one of the projects that really comes to mind is READ|SEED|WRITE this last summer," Laurie said. "We were able to get a national grant, one of the first ones given anywhere in the country, to link an arts organization with a non-arts organization to do community-based programming."
That program paired JBLC with Grassroots Gardens, a group on Buffalo's West Side that "enables community-led efforts to revitalize the city and enhance quality of life through the creation and maintenance of community gardens that beautify blocks, grow healthy food, and strengthen neighborhood spirit," according to their mission statement. "We took literature, writing, and writing-based activities into the gardens," Laurie said. "It was such a beautiful manifestation of that idea of taking down the barriers."
The program reached people from a broad swath of the community, people of all age groups and ethnic and racial identity. "At its core we were really interested in the idea of, what does it mean to be nourished? What does it mean to be fed?," Laurie said.
This program was a highlight for Barbara, who counts it among her favorite memories of her work with the Center thus far. It blossomed around the same time the Center was hosting environmental advocate Terry Tempest Williams for BABEL, and culminated in a harvest festival, bringing all of the people involved in Grassroots Gardens together for a meal. "We had this huge harvest celebration, and to see all of those communities coming together and having this beautiful dinner…How READ|SEED|WRITE came together in this one moment was pretty beautiful," she said.
---
In addition to BABEL, the Silo City Reading Series held every summer for the last 5 years, and specialized events throughout the year, the Center also offers a year-round Writing Center for burgeoning writers, ages 12-18.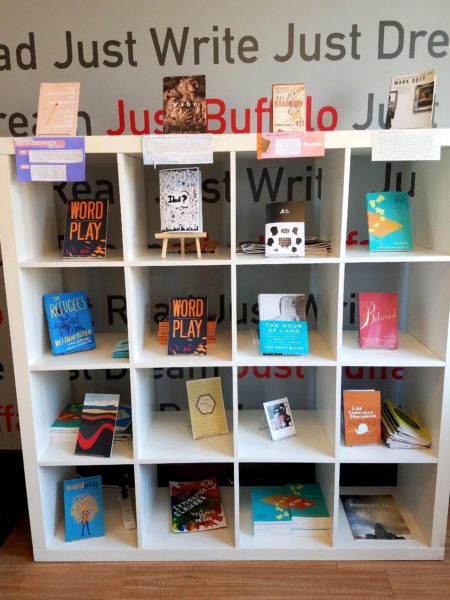 "We have shifted from primarily in-school teaching to creating our new Writing Center, which is the nucleus of all our education programs, where we shine the spotlight on year-round after-school programming right here at our own site," Laurie said. The free program offers several different workshops to student writers, giving the Center an opportunity to work with children over an extended period of time, unlike the in-school programming. They'll also be offering a
summer camp
for the first time this July. "It's a chance for students who maybe haven't been able to get here during the year to experience what we do all year round," she said.
Robin Jordan, the Writing Center Coordinator, has been with the organization since she moved to Buffalo from Oregon 7 years ago, first as a volunteer, then as a teaching artist in the schools. "Kids come after school, and we try to show them the possibilities of writing," she said. Workshops range from poetry, to novel writing, to multimedia disciplines including social media and film. "I try to really nurture those relationships and help them realize who they are as writers and help them get their work out to the community, or get published, or go to college."
"We've been open now for 4 years, and those kids have come consistently," Barbara said. "We see a whole different impact in the way they're transformed," Laurie continued. "What is most dramatic to me is seeing the transformation from the time students first come, and the impact over a year, two years, three years…everything from the confidence, to the demeanor, the ability for self-expression, the development of the creative work…You know that a life has been impacted forever."
The Writing Center is currently working with visiting artist Mathias Svalina, founder of Dream Delivery Service. With the support of the Buffalo Center for Arts & Technology, the Center paired writers with BCA&T's student filmmakers, who then adapted poems written under Svalina's tutelage into film pieces.
Just Buffalo Writing Center from Just Buffalo Literary Center on Vimeo.
---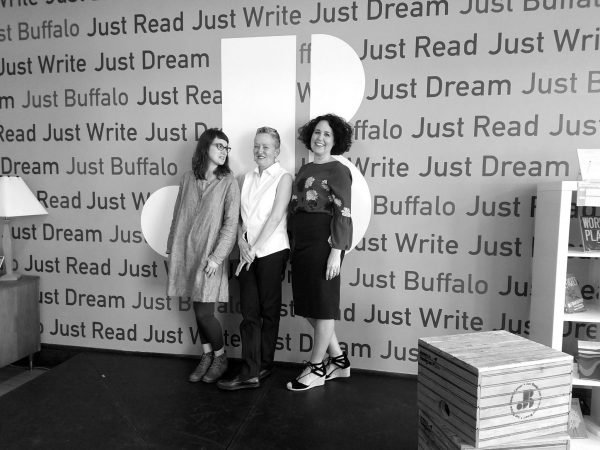 While the Center has been in operation for more than 40 years, the Babel series has been in place for over a decade with a consistent audience showing, and the new Writing Center is up and running at capacity, JBLC realized they could be reaching even further into the community. "We realized that every single one of those things really required people to come to us," Barbara said. "How do we better go out into the community and try to inspire people wherever they are?"
From this desire to inspire community, "Lit City" was born. In June 2016, Mayor Byron Brown designated Washington Street, beginning at the Buffalo & Erie County Public Library and continuing down to the Innovation Center at Virginia Street, as the city's Literary Corridor. "We've been working steadily to try to do some public art projects to ground the literary corridor, something beyond the banners," Barbara said.
The Center has been working closely with the library, who will be installing a reading park later this summer through a grant with Southwest Airlines – one of only three grants awarded in the country. The triangle of lawn next to the library will soon flourish with active readers spending time in a comfortable, convenient public green space, and will be recognized as a member of the Buffalo parks system.
---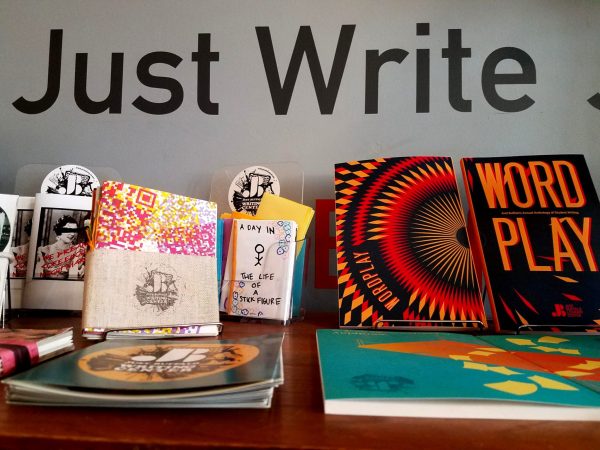 "I really think we embrace an advocacy role in a lot of ways; we try to really take a strong advocacy role for our city, for our discipline of literature…for the role of imagination," Laurie said. "Even in our Writing Center, in thinking about what our students have to deal with during the school day, and then they come here. It's so important to us, to our staff, to create a sense of fully valuing their creativity and their imaginations, helping them find their voice, their confidence."
"I'm learning so much about what teaching is, and what it can be, here," Robin said. "It's really nice to be able to pause when something intense or tragic happens… I never push it very hard, but the students are eager to talk about stuff, and so, being able to do that in a structured way through art, and to take the opportunity to think about that, is really important."
"I consistently feel totally fortunate – that doesn't even really convey it – just humbled by how many people are being touched by Just Buffalo, and then bringing that back to us. I feel fueled every time I meet one of those people," Barbara said. "That fuels our ability and passion and dedication to keep doing it."
---
This Thursday, May 31, at 4:30 p.m., the library will host Mathias Svalina and the Just Buffalo Writing Center students. This Friday, June 1, 6 p.m., the Writing Center students will take part in First Fridays in Allentown, at the Allen Street Dress Shop. This Saturday, June 2, 7 p.m., is the first installation of this season's Silo City Reading Series. Keep up-to-date on all literary events in the city with the Just Buffalo Literary Center calendar.