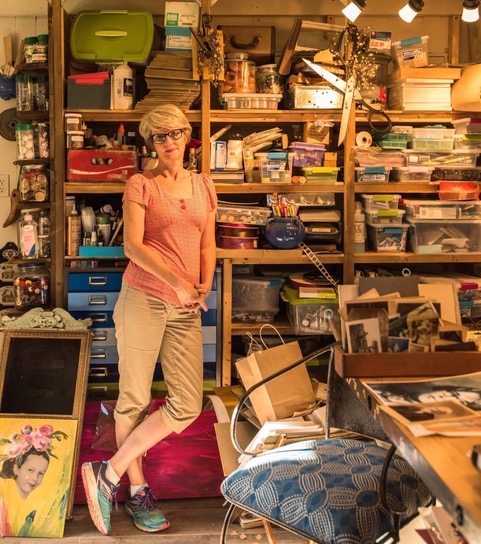 How long have you been an artisan? How did your particular skillset develop over time?
I've been a practicing artist for over 25 years. As an art teacher in the Buffalo public school system, I am always searching for donated materials and as luck would have it, I stumbled upon a company that had some felt to donate to our art program. After many experiments, bending, cutting and bonding the material, I came up with several classroom applications as well as ways to play with my whimsical style in my own artwork. If you smile when you see my booth, I've succeeded.
---
Please describe your work / product.
For me, art flows in two directions. One channel fuels a passion for expression through forms that find their way into gallery settings. The second reflects my interest in problem solving and product development. Over the last 4 years I've been experimenting with a thick wool felt product resulting in wobbly looking Christmas trees, quirky birdhouses and fairy houses that now dot my booth.
---
Who are some of your favorite artisans / makers in the region? Who amongst your peers inspires your work?
My favorite jewelry artist is Betsy Veness. She is a former Fisher Price designer and her work, so often, includes a nod to the past.
---
How long have you been a business owner in WNY?
I've sold my work at shows on and off for about 20 years.
---
How long have you been a part of Buffalo Women's Gifts?
This is my first year participating in this event. I'm very excited and thrilled to be part of this artisanal community.
---
Where can people see / purchase your work year-round?
I have a display booth at Roycroft Antiques in East Aurora, NY.
---
Where else will you be representing your wares this holiday season?
After this show I will be at:
December 7 and 8 – Roycroft Campus Holiday Show
December 14 – Carnegie Art Center Trunk Show at 240 Goundry Street, North Tonawanda, NY
December 21 – 7pm, Carolcade, East Aurora, NY