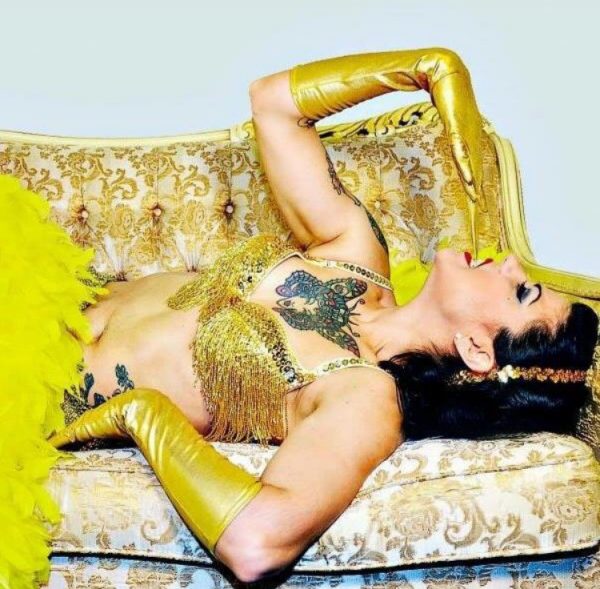 Simply put, Jamie Doktor has presence. She knows how to command a room's attention, whether she's teaching a dance class at the Buffalo Burlesque Studio, dancing on the stage herself, or just relating a story over the phone. Upon first meeting her, one might assume that she has always been the dynamic creature that we see today. While I believe those seeds have always been there, I suspect that her journey through burlesque nurtured her excellent essence into the Buffalo Royalty that so many have come to know and love.
But her journey has been a pretty wild ride, it turns out.
---
Jamie has a way of speaking that grabs the listener and doesn't let go. Her story is more than just an interesting string of anecdotes: it's poignant, meaningful, and really funny at times. So, here's the highlight reel of how she came into herself, and ended up bringing burlesque to Buffalo.
Back in the early aughts, Jamie was living in Atlanta, existing as many young people do: a starving artist enjoying a semi-rock star lifestyle. Through the connections she made through work, charisma, and panache, she was invited to many soirees.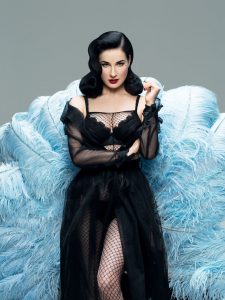 At one of these parties was Dita Von Teese, hired as entertainment. Jamie had no idea what burlesque was, but did know that Dita was a fetish model and Marilyn Manson's girlfriend, so she figured she was there for a meet and greet. When she arrived at the party, she found out that Dita would be doing a stage performance. "I didn't know what that meant, but I have been to enough drag shows to know to get up front and center," Jamie said.
And out comes Dita, and Jamie fell in love. "She was the most beautiful, soft, strong woman I had ever seen," she said. Her music was on point, and she began her strip tease. At some point, Dita and Jamie made a connection. "She walked right up to me and put her gloved arm in front of my mouth, and I bit it, while she pulled it off slowly."
The crowd went nuts, and Dita continued to undress, revealing a sparkling bikini.
Jamie had a revelation right there: "I knew right then and there that I wanted to do this. I didn't know that women could do this! Either you were a stripper or a drag queen, and I didn't think there was a place for me."
---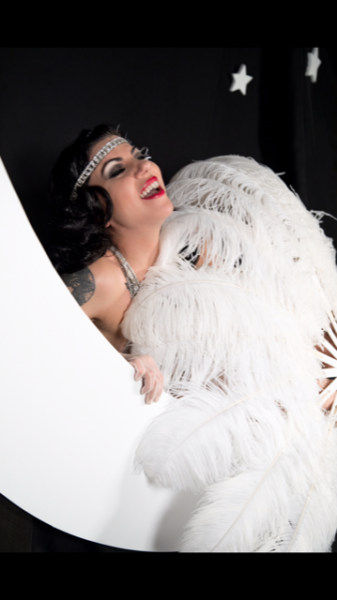 Dita brought a bottle of champagne and two glasses out on stage, and poured one for herself and one for Jamie during the act. "I was the happiest girl in the world; it was a good day to die."
Jamie made some important observations whilst in her starstruck state: "I'm fascinated that a woman has this much attention and that she's so respected. I thought, 'I could never do this, I could never wear that.'" Jamie had never considered getting naked in front of an audience, but after that performance, the seed was planted.
After the show, Dita requested to meet her backstage to thank her and to retrieve her props. Backstage, their resemblance is noticeable: they have the same hair color, build, and style. Dita explained that she has to connect with someone in the audience, and saw Jamie and just knew that was where she was going to go. She asked Jamie if she wouldn't mind hanging out for a bit, seeing as she didn't know anyone at the party and wasn't really feeling like being around all these people hanging over her.
Inside, Jamie was freaking out, but remained cool and collected. She asked Dita how she got into this life, and Dita pointed her to Dixie Evans in Las Vegas, who began incorporating pinup and femme noire in strip clubs, which gained her notoriety. She told her about the history of burlesque and how she herself got reeled in. Sadly, the night had to come to an end, but the seed was now firmly taking root.
---
After she left the party, Jamie was immediately hooked. There was no internet, so she researched through the library reading anything she could find. Fast forward to life being life, and Jamie ended up having to leave Atlanta suddenly with two suitcases, one with practical clothes and the other with Halloween costumes, coming back with virtually nothing left but herself.
To support herself and get an apartment, furniture, and car, she worked crazy hours. She went back to an old job as a barista at SPoT Coffee, where she met the owner, Julia, of Roxy's, an infamous and beloved lesbian bar in Buffalo. Julia invited her to a guest bartending shift at Underground, so Jamie rounded up about eight friends to come hang out with her there. Seeing the pull Jamie had, Julia offered her a bartending job at Roxy's. While Roxy's was only open Wednesday, Friday, and Saturday, Jamie was able to convince Julia to open up on Thursdays by offering to do burlesque on the bar mid-shift.
"So, I got up on the bar every week and I would do a little strip tease. I would pick a song and do my thing, and eventually more and more people started coming. A couple girls started asking, 'Can we get up on the bar and dance next week?'" And slowly, Thursdays started growing.
"It wasn't what we see now in burlesque. It wasn't anything glamorous. They had this beautiful and bold dynamic. They brought down the house. They started bringing their roommates. Eventually I said, 'Come to my house, we need to talk about how we can do this all the time.' We got so many people to come see us that we became the Stripteasers."
Eventually Thursdays got so busy, that Jamie wasn't allowed to bartend. They did two shows, one at midnight and one at 1:30 a.m.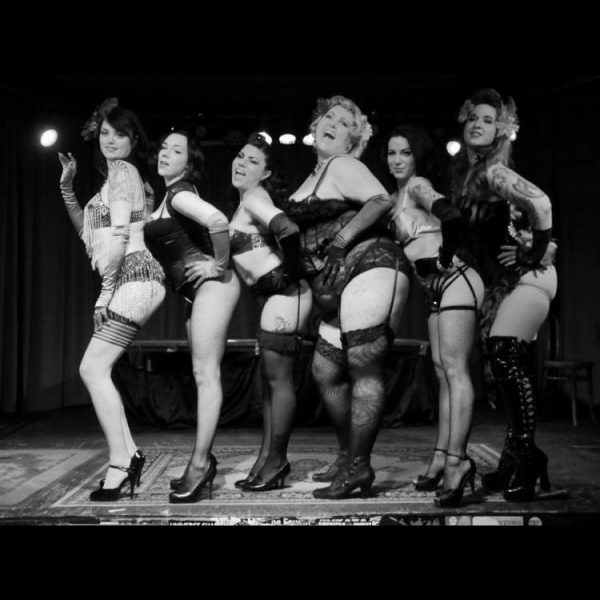 ---
The beautiful thing was, they didn't know what was going on in the world of burlesque. They were insular and developed their own style as vaudeville, misfit performers. They finally went to New York City for the NY Burlesque Festival and began making connections and growing even further. They gained exposure through Myspace and then Facebook, and began performing more and more. It wasn't long before Jamie stated thinking about a larger picture for her art form.
The plan to open a burlesque studio didn't happen all at once; it took hardship for her to see this part of her calling. At the peak of her burlesque career it all came crashing down—she got pregnant unexpectedly, and the troupe encountered trouble when one member broke her foot, and two had to leave the troupe due to moving and life circumstances.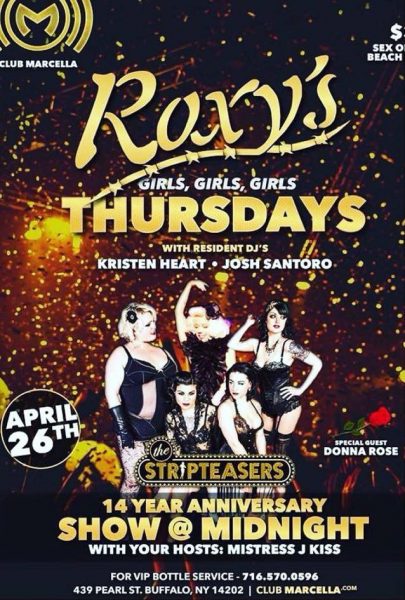 She did whatever she could to keep the troupe together and active, mostly by getting a lot of guest performers to keep the weekly show at Roxy's up and happening. She needed to teach people to be Buffalo Stripteasers, because she'd worked so hard to develop a style and aesthetic the audience had come to expect.
---
So, she began teaching classes here and there, but the participants didn't necessarily want to be a Stripteaser, but they did want to feel good. "They wanted to feel the light," she said, so she kept doing recital workshops and, once in a blue moon, she might recruit someone. "I just really loved to teach the classes…the people taking them were everyday, ordinary, quiet, shy people. They wanted to channel this vivacious fire. I taught them to smile and work the crowd."
Teaching burlesque, she realized, was therapeutic for her and for them. She began renting out studio spaces, until she realized that this was what she needed to do with her life. With this increased exposure, there was more money flowing. Jamie realized that her growing dream was a legit occupation.
---
It took four more long years for Jamie to get her studio. She had rented upstairs from the New Phoenix Theatre for a long time, which she loved, but she finally had the capital and the community support to make her very own space happen. "I'm glad it happened later, I'm wiser and more focused."
Buffalo Burlesque Studio is now a year old and picking up speed every day. Over her journey, Jamie has gained a lot of knowledge and insight that she's passionate about sharing. Her workshops are nothing short of empowering.  "Women KNOW they can do this. You can do this, too. Maybe not every week like I do, but nobody can stop you."
Cover photo by Destiny Rogowski @ Sweet Heart Pin Up
---
In Her Own Words: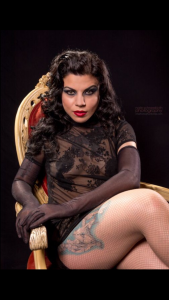 "When I first started burlesque, I knew subconsciously why I was doing it. But my mind and my heart weren't connected. My brain hovered over my heart. I knew if I kept doing it, it would click.
I've learned to be confident, and strong, and sexy, and smart. But not all the time. When it happens, to accept it and enjoy it. I still get butterflies. I'm real, I'm human. I can be sensual and feminine without people expecting me to solicit sex. I can be proud of being this proud, exaggerated feminine power without feeling like I'm in danger or with people looking at me like I'm disgusting, dirty, a piece of meat. They look at me like they want to be me. They have this connection. They might think, 'She doesn't have the most perfect ass, but when she shakes it in my face it feels right.'
I'm stuck in this body. I have to either be miserable in it, or comfortable in it. I can channel any personality I want as a burlesque dancer: a stripper, a storyteller, Danny DeVito, a unicorn. I used to think these personalities were an escape, but they were all a part of me. I can let them out and it's a liberating feeling. And so that's how I became burlesque dancer."