This winter's installment of the H.E.A.L. BFLO yoga retreat and festival, held Sunday, February 26 at Templeton Landing, was a strong curation of Western New York's best yoga offerings and a perfect remedy for the winter blues. Yogis of all levels enjoyed a solid itinerary of yoga classes from Yin to Power, interactive aerial and acroyoga demonstrations, drumming and dancing, and a vast selection of 50+ yoga lifestyle vendors.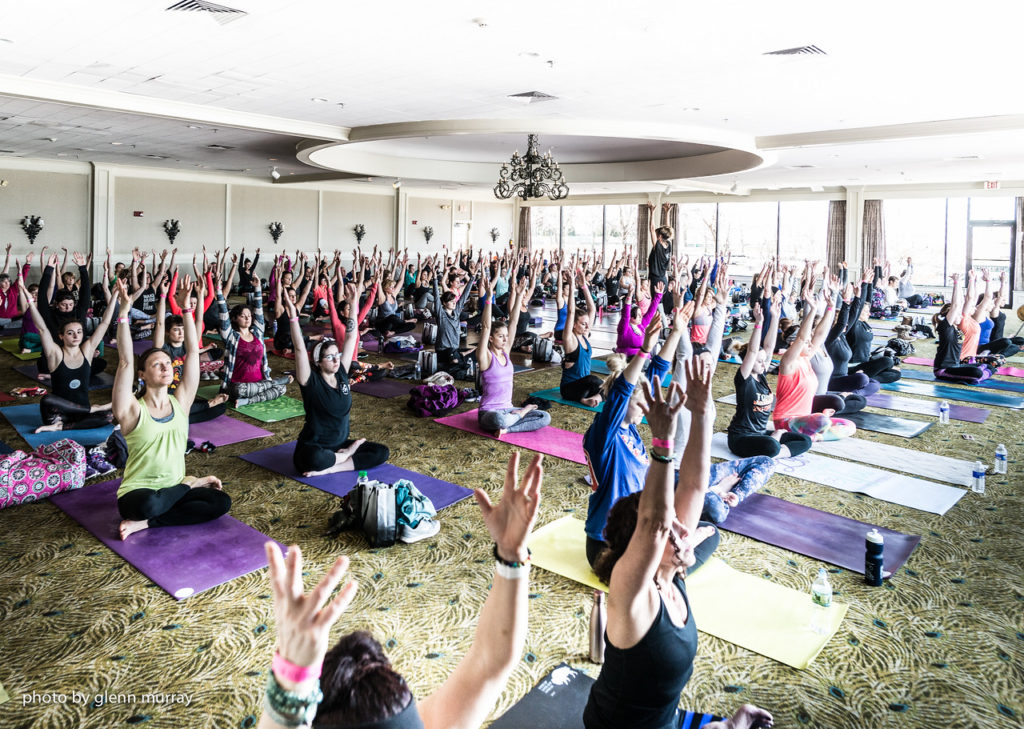 The day-long festivities kicked off with a Kirtan performed by Yoga Parkside's Megan Callahan, Kerrykate Abel, and Nick Stroczkowski. Their performance was a wonderful opening to warm participants' bodies and voices up for the day's events.
The first yoga offering was a Yin Flow instructed by Soma Cura Wellness Center's Sue Zinter. Yin yoga focuses on a few key poses held for extended duration that work connective tissues and joints. Sue effortlessly worked the class with grace and moxie, guiding with strong vocal cues, and reminding the class to get out of their heads, be present, and enjoy themselves. It was a retreat, after all.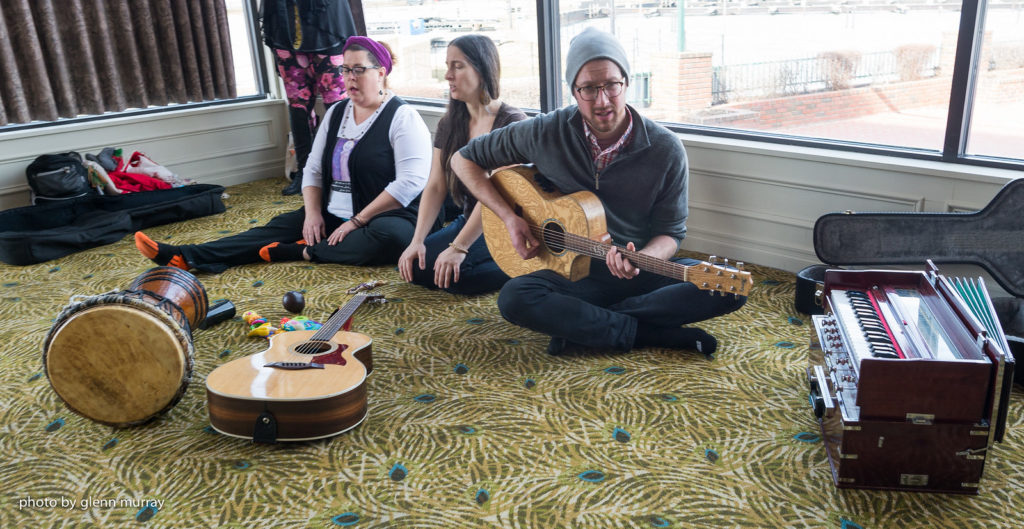 Stepping outside of Yin and into the corridor, one could see acroyogis from The Bird's Nest — a new home base, performance space, and educational center for the acroyoga and circus arts — lead demonstrations for retreat goers. Liz Czapski, Bird's Nest acroyogi, spouted enthusiasm for the acroyoga art form: "It's a great way for us to cross pollinate yoga and acroyoga and make people realize you don't have to be super flexible or to have experience in yoga…Just as you were starting yoga from the beginning, you could start acroyoga from the beginning and there is always something for everyone to do."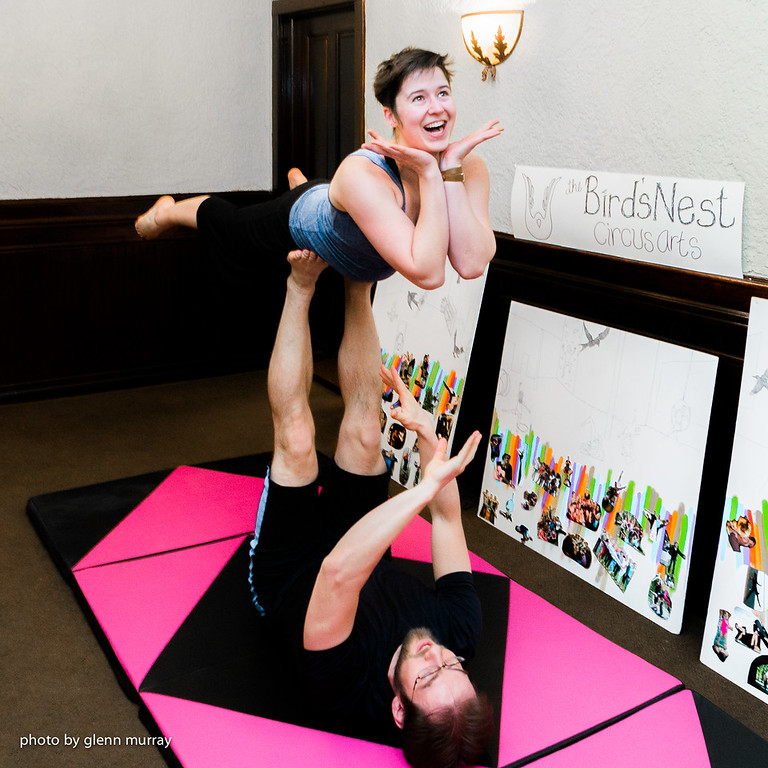 Liz, a previous participant in the group's past H.E.A.L. BFLO events, mused about the growth of the event. In previous years, retreat goers were shy and less likely to engage with the acroyogis; in this year's event, retreat goers warmed up and asked to participate more in the demonstrations.
Two yogis moved in tandem through the air as Liz beamed about the art poster beside them: "The idea behind the poster is to portray what our community looks like through a visual…We wanted to show all the different arts in visual form on the board and incorporate our vision for the space itself."
Like the acroyoga artform itself, the artwork was a collaborative effort by the group. Members of the Bird's Nest used mixed mediums of pencil drawings and colored photographs to portray the group's evolution of approximately four years together. Liz stressed the importance of acceptance and inclusivity for the group: "We want people to know we're a community where you'll feel safe and comfortable. We want it to be inclusive to all no matter who you are, what your economic background is, or what difficulties you might have, we wanted accessibility for all."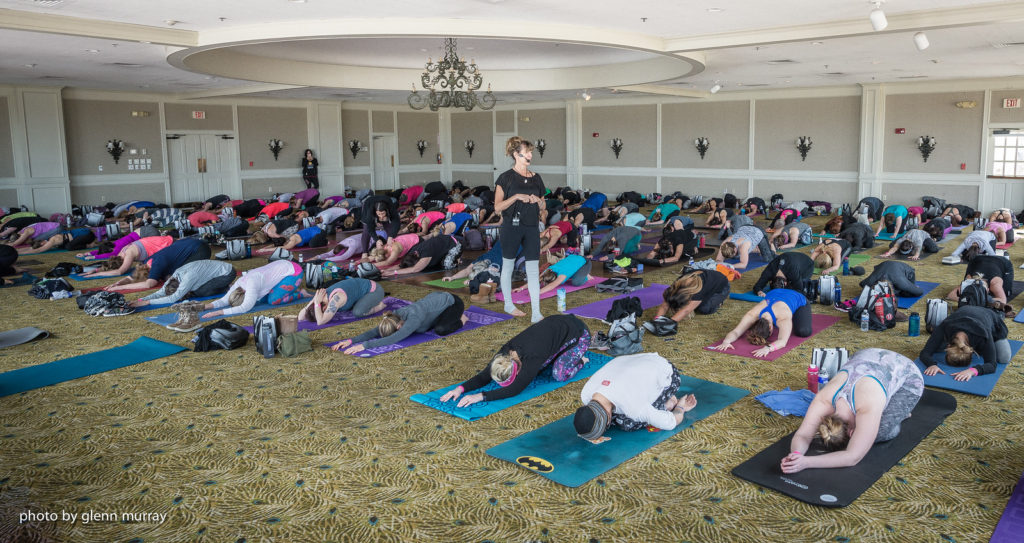 An ambiance of community, acceptance, warmth, and self-care were consistent themes throughout the day's events. Retreat participants enjoyed drumming and dancing, interactive lyra, and circ-yoga demonstrations led by UP Aerial Fitness. The restorative room was open for massages and reiki. Those who attended the afternoon open vinyasa with Carrie Jacobson of East Meets West, not only enjoyed a quality vinyasa class with drumming accompaniment, but also experienced savasana with a few words spoken by Arun Gandhi.
This edition of H.E.A.L. BFLO was a success for community connection and a relief from the winter's chill. Visit their website for more H.E.A.L. BFLO events throughout the year. Be sure to check out the upcoming Bird's Nest performance, "A Dream of Flying!," 7 p.m., May 6, at 64 Fillmore Ave.