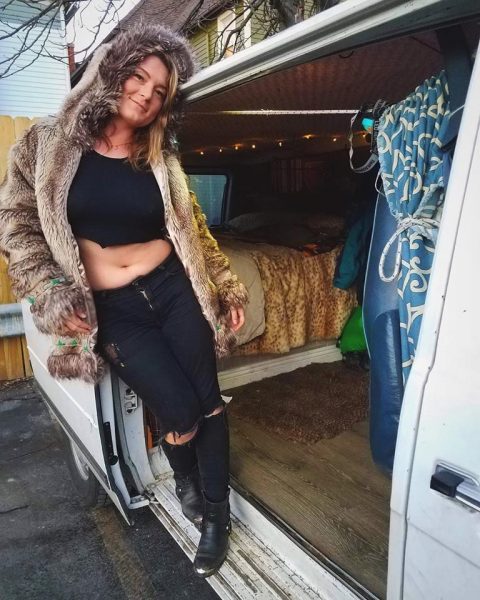 Gabriella Gauger, writer, producer, and traveler extraordinaire, was born into a life of upheaval and chaos — upheaval and chaos that she now reins and uses to power her self-crafted life of extreme movement and global connection.
---
The daughter of a young mother who struggled to raise a household of children while also combating mental illness and poverty, Gabi entered the legal system as a teenager, a wild child with a tendency to push the limits.
"I started getting into a lot of trouble and wound up in foster care eventually, after going through the state system," Gabi recalled. "I think going through all of those hurdles as a child caused me to become familiar with instability and not require any sort of stable backing. I never had a solid family structure growing up, so I also don't need that now. I'm very comfortable just floating around. Like, I'll figure it out next week, because I always have and it's always worked out and it's always been just fine," she said.
Born in Rochester, NY, Gabi attended five different high schools throughout the upstate region as she moved through the foster care system. After stealing makeup from Wegmans, Gabi got an up close and personal view of another side of the state system — that of the courts.
"That's what threw me into the court system, but then once I was in it they were telling my mom, 'We need you to do family therapy,' and my mom was just like, 'I'm not going to do family therapy, and honestly, I don't want her back.'
"We have a relationship now, and looking back on it, we were really, really poor growing up," Gabi reflected. "I was the problem child. It was probably not easy, but was the correct decision, because getting away from her allowed me to blossom and be this person I wasn't allowed to be when I was with her."
---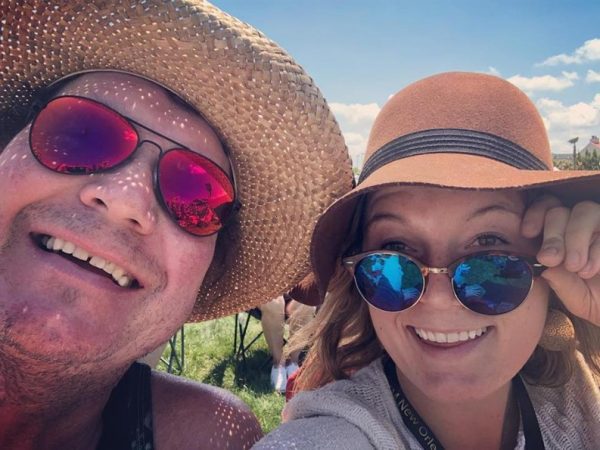 When Gabi was growing up, Dad wasn't in the picture. During her childhood, she was made to think that he had disappeared on the kids, not wanting to take on fatherhood. It was only as an adult that Gabi learned the truth. "I came to find out later that he was actually pushed out of our lives by [my mom]…When I got put in the system, he went out of his way to contact every police station and hospital in the state to try and locate me. He's had some run-ins with the law in his past, and they weren't super willing to let him into my life, but he worked and went above and beyond in order to establish a relationship with me again," she said.
Because he had no custody rights, Gabi and her father had to take all of the legal steps to reunification (letters, then supervised phone calls, then supervised visits, then supervised off-site visits). Finally they reached the point where dad could claim legal custody of Gabi when she was 17 years old; however, by this time she was graduating high school and could instead be emancipated, which made more sense for her financially. They opted for this, but still decided to live together as father and daughter for the first time.
"Because my dad wasn't really a parent figure when I was growing up, he was like, 'You're 17. You can do whatever the hell you want. I was never your parent.' I think he felt regretful and remorseful about that," she said.
They went to music shows together, acting more as friends than a parent-child unit. "My dad and I — more than he is my dad and I am his daughter — we're like, friends who work really well together. He just let's me be me."
---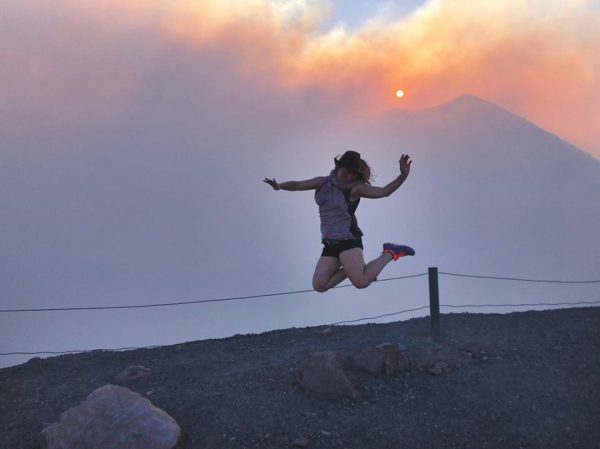 These tumultuous beginnings, marked by a sense of nowhere-ness and bereft of solid guidance, served to build the foundation of young adulthood for Gabi. When she was 21 years old, she continued to find herself aimless, attempting to navigate the outside world after a bad relationship and an unsatisfying bout in academia. A girlfriend of hers with family ties to exotic lands far away suggested an idyllic solution to all of her worries.
"I was struggling with school, I was on my third or fourth major, and it wasn't going well. I was ready to drop out," Gabi said. It was then her friend suggested a random adventure to Guatamala. "I was like, 'Okay. Fuck it.' I used my student loan money and I bought a round trip ticket to Guatemala for three months, and I dropped out of school and went to Guatemala. I had no idea what I was doing."
---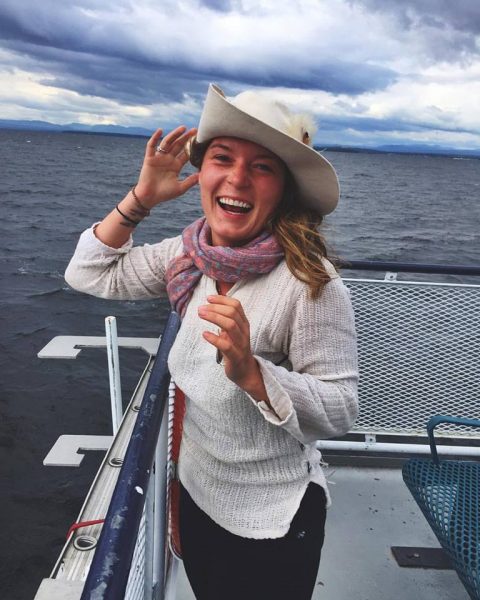 This impulse buy landed Gabi on a coffee farm in San Marcos, Guatemala, a tranquil locale that offered the peace and quiet a turbulent Gabi craved at the time. However, after a little bit of time had passed, she found herself just…bored. She started venturing out after spending time in quiet introspection, her innate restlessness manifesting itself once again. The nearby San Pedro, a city across the water from her coffee paradise, would be the key to unlocking the next leg of Gabi's journey of self-discovery.
"We would go over there to party on the weekends sometimes. We'd have to take the boat and it cost like, 75 cents for locals. If you were a gringo it cost $1.50," she laughed. "We would take the boat over and party and I met all these kids that were backpackers, and I realized there was a culture for that, and I had no idea what it was. I was so intrigued," she said.
"I didn't even know they existed. I didn't know what a hostel was; I didn't know there were like, thousands of kids out there traveling the world. They were talking about their experiences in Southeast Asia and Australia and South America, and I'm realizing there's a network, a global network, of people that just crisscross paths and move all around."
One of these people was Diveesha, an Indian woman from Hong Kong.
"She was working in the hostel in that little chill town that I was living in," Gabi said. "She was like, 'Well, I'm quitting, I'm off, I'm going on a 2-week vacation to Mexico.' The next day we were messaging on Facebook and I was like, 'How is it there?' And she goes, 'Why didn't you come with me?' And I said, 'I don't know.' And then I said, 'Could I?' And she's like, 'Yes!'"
The next morning at sunrise, Gabi snapped a pic of her now-beloved Lake Atitlán, grabbed a $24 bus ticket from the little tourist shop in the middle of town, and set off on her 13-hour journey to San Cristóbal, Mexico.
---
Upon arrival at her newest landing pad, Gabi grabbed her friend and immediately set off to find a place to get the photograph of Lake Atitlán etched onto her body.
"We're looking for a tattoo shop and I was like, 'Hablas inglés?' The guy was like, 'I'm from West Virginia,' Gabi imitates with a gruff drawl.
A few shots at the mescal bar next door and one tattoo later, it was time for the reunited friends to really show up on the streets of San Cristóbal.
"That night we go out, and we wind up dancing, which was hella fun. I made some very long lasting friends that night," Gabi recalled. "Diveesha went to bed before me. This boy from Oregon and some other kids walked me back to my hostel at the end of the night, and he said, 'Yeah, we're leaving, we're going to Oaxaca tomorrow,' and I was like, 'I'M going to Oaxaca tomorrow!' The new friend then suggests that their groups caravan together. 'I'm driving this bus and it's going to be so cool,' he tells her.
"When I get back to the hostel and tell her about the caravan idea, Diveesha goes, 'You idiot. That IS the boy that we're going with,'" Gabi laughed. "I didn't realize that and neither did he…So we get on this converted airport shuttle bus and it's me, him, his sister, her boyfriend who's Mexican, they have a dog, and then all these clowns from Spain — like, seven clowns from Spain. We get on the bus and we start traveling through Mexico, and we do that for two weeks and then Diveesha calls her job and says, 'Can I extend it a week?' And then it's three weeks."
---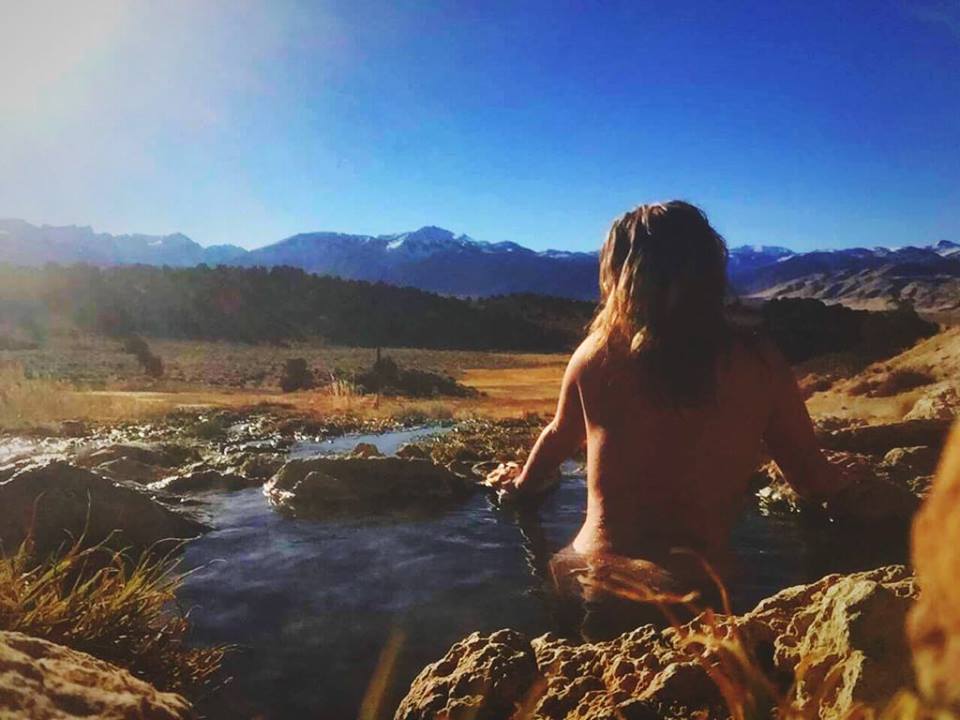 But alas, eventually the vacation comes to an end, and Gabi heads back to the coffee farm. By now, though, her restlessness has become a state of being. "I just…I have it. I have the travel bug," she said.
It was towards the end of Gabi's 3-month break from life in the States that Diveesha insists to her friend that she finish college before she let anymore time slide by. "I attribute finishing school to her," Gabi said. "I promised her I would."
During semester breaks back home, Gabi found herself traveling more and more. Since receiving her degree in 2014, her travels have become a nearly full-time pursuit.
In that first year after graduation, Gabi found herself on the road of her home country, bound to discover the nooks and crannies of America. "I had done a return trip to Guatemala my senior year of college, during winter break with a girlfriend of mine. It was on that trip that I met this Swiss boy named Amando, who I fell in love with very, very hard. He ended up coming up to Buffalo, right when I was finishing up my classes, and staying with me for a month before we took off on our first road trip," she said. "That road trip lasted 8 months."
---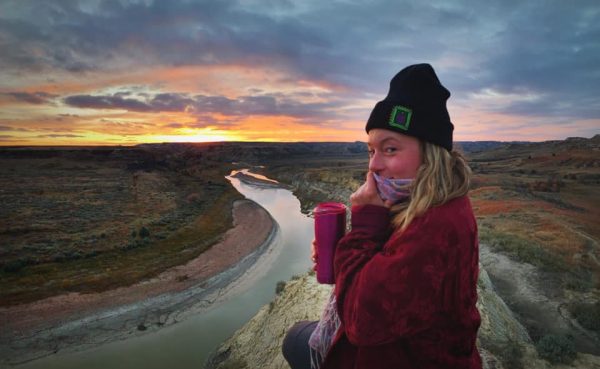 They ended up seeing 38 states that year, in the gold Ford Expedition with the maroon door that her dad lent them specifically for the trip. "We went all over. We started in Buffalo, went all the way down the East Coast, doing crazy shit, picking up drifters, doing work-stays, all the way down to Florida, and stayed with my cousin Sara there. She was 18 and working as a stripper and she lived in a motel. We stayed with her for a few days. That was interesting. And then we boot-scooted over to New Orleans, then booked it all the way up to Chicago because it was the Fare Thee Well tour for the Grateful Dead and I had tickets with my dad and my brother."
Initially this trip was devised between Gabi and a girlfriend, who ended up bailing last minute. Being newly in love and ready to go all in, Gabi suggested to Amando that he accompany, instead.
After the new lovebirds made it to Chicago, another recent lover contacted Gabi; they missed each other, and he wanted to swing into CHI to reconnect. He met them there, then ended up joining the traveling duo.
---
Gabi had recently discovered her polyamorous tendencies, and was trying to align this burgeoning ethos and her various partnerships on one script. "It was around that time that Amando and I got kind of tense with one another; he wasn't super comfortable with it…but he wanted to be with me," she said. "So, we traveled together for awhile; we skirted across the Northern [border] of the United States, made it to Washington, and then someone stole my debit card. I didn't have access to my money and I couldn't get any sent out there." It was then that they heard there was a need for fruit-pickers in British Columbia. "So, we went up there to try and find this work because I was out of money."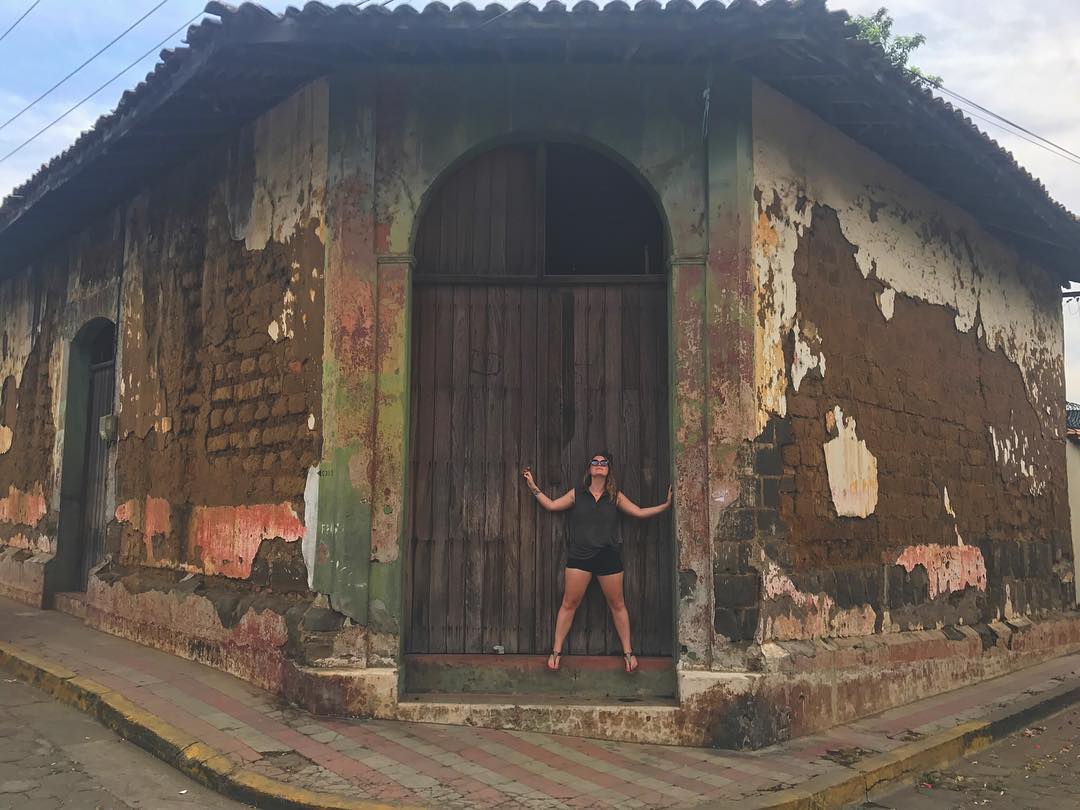 Gabi set out the very first day they rolled into town, securing a waiting and a bartending gig at a local fine dining establishment ("I just sang Limp Biscuit at karaoke, and the right girl was there and heard it and offered me a job waitressing," she laughed). The boys went off to find farming work, finding a couple gigs here and there.
During this work-break, Amando and Gabi lived in a tent on a hippie commune in a desert campground, the river their bathtub, a hole in the ground their toilet. After a couple of months, they decided it was time to leave. In the meantime, however, the friend who had joined up in Chicago had found a job at a popular local haunt, and decided to stay after Gabi announced their decision to leave.
From here Gabi and Amando set off to see the rest of British Columbia, then came back into the States and headed down the West Coast, then crossed over to Denver, Colo. In total, they spent 8 months on the road.
---
After this nearly yearlong adventure, in love with love and the road, Amando took off for Colombia. "He wanted to travel more. I was heartbroken," she said. However, they made plans to travel together again in the near future (this time Puerto Rico), and bid adieu.
The time to reconvene finally came, and they found themselves hitchhiking all over the island. "It was great, except that he wasn't really in it anymore and I could just tell in his eyes, he was so sad. He left, and I haven't seen him since."
They traveled together for a year and a half, in total.
---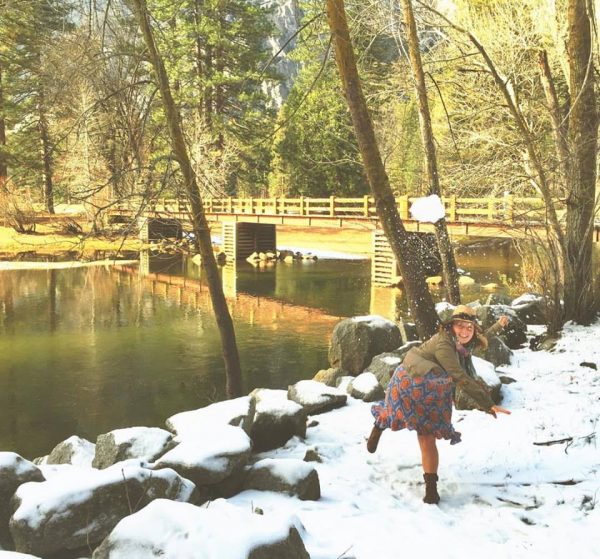 In the four or so years since making the nomadic life her new norm, Gabi has added to her cache of knowledge on how to make this lifestyle work, in addition to pins on the map.
"I typically work on pot farms out West in the fall, and I get a pretty nice paycheck from that, which allows me to travel," she said. While working these stints, it's not uncommon to stay holed up and isolated to the farm, keeping intact every penny earned.
"Something I realized early on is that I wanted to start with the 'cheap' places first — I knew that my comfort level was going to change as I aged, and I knew that I was going to be making more money as I aged," she said. "I said to myself, 'I want to go to the…more gritty, more culturally different [places] than myself.' I wanted to do that first, because I knew I'd be more comfortable being uncomfortable. I knew that I could survive at $3 hostels, and I could eat 50 cent street food.
"I think I predicted this accurately — as I age I am less able to do that. I used to be able to sleep fucking anywhere, and now I sleep on the wrong couch and am hating myself the next day," she laughed.
---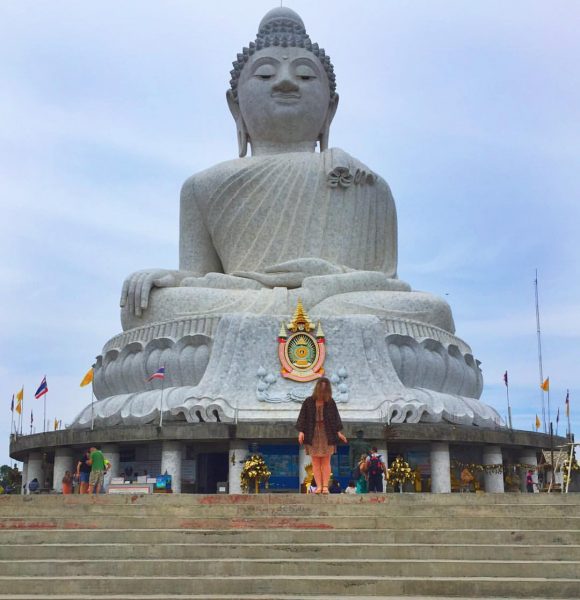 Speaking of discomfort: it was in 2016 that the unthinkable, impossible to predict, thing happened.
"I got appendicitis when I was in Thailand. So, that was crazy," she mentions, breezily.
Luckily she was in a metropolitan area of the country during this critical medical event. "I had gone off to get a massage because I wanted one and it was SIX dollars for an hourlong Thai massage," she laughed. "So, I'm getting the massage, and I start to get pain in my abdomen, but I'm kind of ignoring it, thinking it's gas or whatever," she said. "At the end [of the massage] it starts to get worse. I go back to the hotel and it's starting to get even worse," she said.
Gabi assumed the pain was caused by a recurring ovarian cyst, coming back with a vengeance. "I'm kind of freaking out, and the pain is getting worse and worse." She realizes that she now needs to go to the hospital.
The waiting room of the local hospital is empty except for the nurses. She begins telling them what's going on, then bursts into tears. "I'm just overwhelmed and it's hurting," she said. They immediately usher her into a private room and sent a nurse in right away. Within 10 minutes she was speaking with the doctor. Within an hour she was in for a CT scan. "It was the quickest, best service I've ever had at a medical center in my life."
Her treatment, which included surgery and a stay in the "VIP" section of the hospital, was a third of the cost of the same procedure in the United States. "And they actually treated me like a human being and not a burden," she said.
"I tell people that if they think they're getting appendicitis, they should go to Thailand," she laughs.
---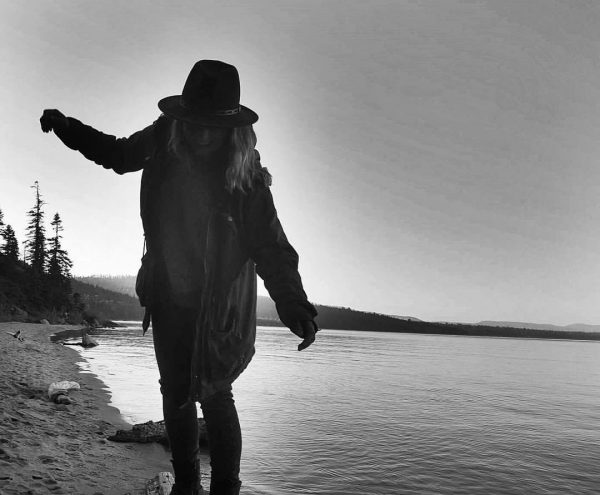 When it's time to formulate the game plan for the upcoming year, Gabi says that she both meticulously plans and also let's the wind do as it may. "I plan out very far ahead of time," she said. "I know where I can work and when seasonally, and I have an estimate of how much money I can make and how much money something's going to cost. I need to plan my life as such that, I can go on this trip and afford it, but then I need to come back and work, and then I can go and do this other little jaunt, but then I need to work. So, the way I schedule it is like, work, fun, work, fun, work, fun, and then sometimes the fun becomes work and I'm finding more so that I'm starting to morph all those things together and I'm finding ways to make money everywhere I go, with everything that I do."
She plans up to a year out, sometimes with just an idea and the promise of work. "But I've had jobs fall through numerous times and I'd have to figure out how to make money, and I've always been pretty good about doing that on a whim," she said.
"Most of the work that I do, I can very much do remotely. So, I choose when I want to work, and I can still fuck off for a week or two, but I'm finding that I'm less able to fuck off for months at a time," she laughed. "Which is fine, because I'm building a life for myself."
That life includes booking and producing three music festivals at the "G" Lodge, a family event space that she manages with her father. Coming up August 9-11 is the third annual Big G Jam, and the following weekend, August 16-17, is Free Woodstock (which hasn't been officially announced yet). September 27-29 will play host to their autumn festival, the Fall Down.
---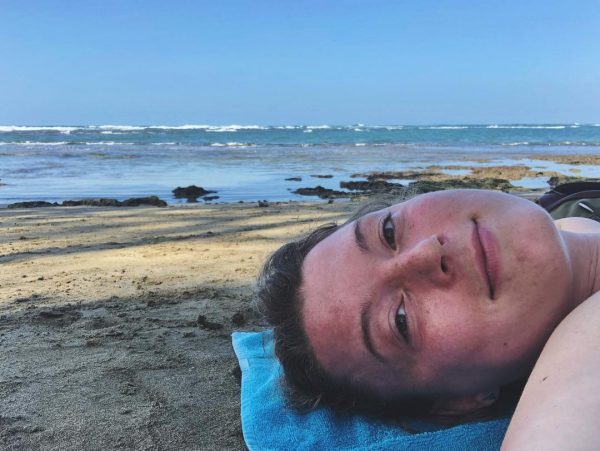 Recently Gabi was meeting with an artist out of Rochester that she had just started managing, and the artist asked her about stress. "I think I'm very good at coping with stress, and I think a lot of that comes from my childhood," she said. "I was forced to deal with so much stress at a very early age…I used to have very poor coping mechanisms, but, once I got put into the system that I was in — it was actually a therapeutic foster care system. I had to see a therapist twice a week, and I had a life skills coach; I had all these different resources that I think normal kids don't really get, and I think I learned how to deal with stress early on, and since then, I think I just handle it very well."
To be a part of Gabi's orbit is to be in the presence of energy itself manifested in human form, addictive and inspiring.
"I can't imagine wanting my life to be any other way than it is. Even with all the crazy shit."
---
To stay posted on her adventures in 2019, Gabi invites you to subscribe to her blog and follow her on Instagram, where highlights currently include a stint in Mexico City and Colombia. Her alter-ego, Chloe the Clown, sometimes comes out to play, too. And, yeah: there's book on hobo'ing in the works. Stay tuned.
---
This year, minus a short stint tending bar in Costa Rica, 11 days in New Orleans for Jazz Fest and a month on a farm in Oregon, I spent every weekend in a different place. Let that sink in for a little bit. Every week. A different city. A different state. If you do the math for every state I visited this year (37) and how many weeks there are in the year (52) That's a different state every 1.4 weeks. That's not including the 10 weeks I spent visiting 5 countries outside of the United States this year. The amount of ground I covered this past year is remarkable. I literally don't know anyone that has skipped around as much as I did in 2018. Even I am impressed with myself.
And I am very glad to say that in July I finally made it to Alaska, my 50th state.
---
Photos provided.