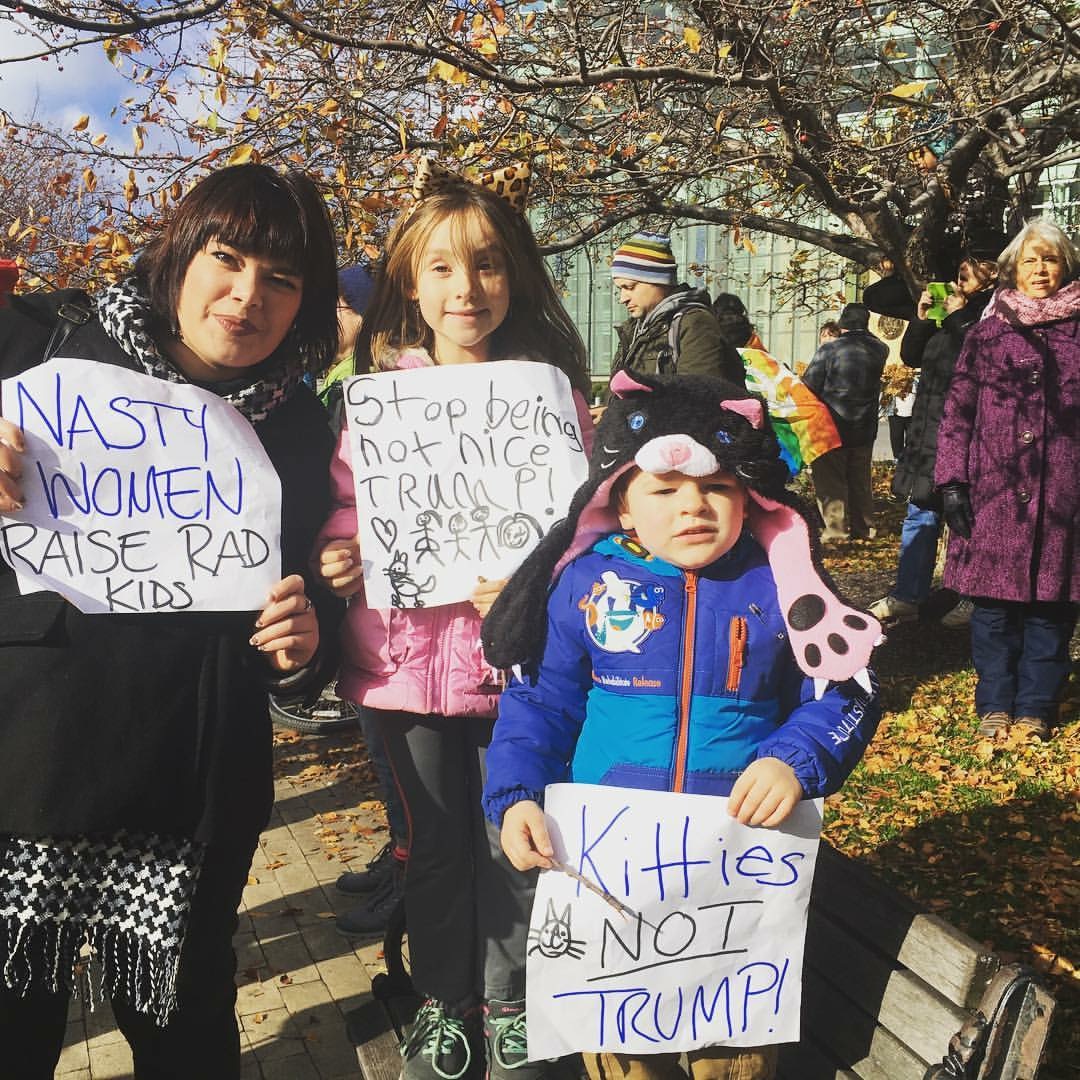 Emily Terrana, 26, is a little busy saving the world these days. As the field organizing manager of
PUSH Buffalo
, and co-director of organizing (along with John Washington), she's responsible for supervising their campaigns on the ground and working with community leaders on issues such as energy democracy and affordable housing initiatives. She's also raising little Elly, 6, and Oliver, 4, and trying her best to make them into functional, responsible citizens of the next generation.
"It's a lot, but it's pretty exciting. PUSH is seen around the country, and in some ways around the world, as a leader in green infrastructure and a model for really working with community and what community wants and needs in their own neighborhoods that's sustainable, both for the people and for the planet. I think it's a really exciting place to be," she says. She has been with the organization for about 7 months; prior to that she was with the New York Civil Liberties Union for 5 years, working primarily on comprehensive immigration reform and paid family leave.
"We didn't get comprehensive immigration reform, clearly, but we did get paid family leave in New York State, which was really exciting and amazing, and really touched my heart."
---
Her son Oliver is sitting at the table, dunking his toy firetruck into a glass of water and it seems to make him happy and fascinate him, so Emily just goes with it. "He's been coming to work with me since he was 6 weeks old. I think his first rally was an immigration march in D.C. when he was 2 months old; I was a crazy person. My daughter went to a Planned Parenthood march when she was still in one of those wrap things," Emily gestures to her chest. "She used to come to Occupy Buffalo and general assemblies with me. They've been around."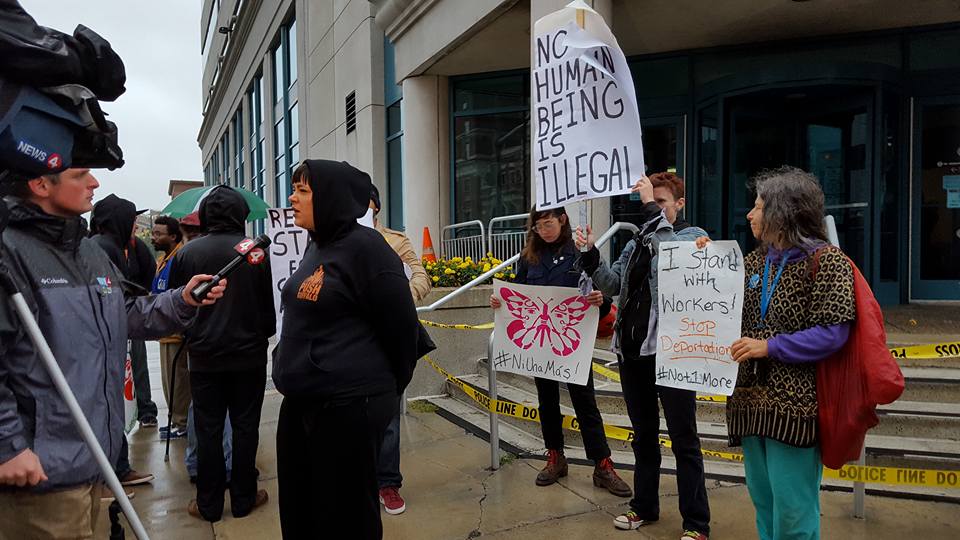 Working to ensure paid family leave was personally important to Emily. "I'm a single mom and on-and-off have been his whole life. If I didn't have the opportunity to bring him with me I would be paying an arm-and-a-leg for childcare and be away from my baby my whole life after 6 weeks, which is crazy. And in that time not be able to afford to eat."
---
It's hard not to be exhausted just listening to her describe a day in the life of a working mom of two little ones who is also working on the ground level to fight for civic justice. She takes it in humble stride, however.
"At work, every day is different. Some days I'll be in meetings all day, with my staff or with community members or coalition partners and thinking about campaigns; other days I'm out on the streets, doing canvassing or protesting, or going to Albany, so that's going to be a whole day, plus all of the legwork that goes into planning a lobby day," (like getting 50 people on a bus with two weeks notice).
"I lead the community development committee at PUSH, which is the committee that is the member-governing body of affordable housing. Whatever physical infrastructure that PUSH builds or buys or wants to obtain, works with this committee to make sure that it comes from the community – we run community congresses every year where we get people out to come and really talk about what they need, and how we can get that," she says. "And sometimes we can't get everything that everybody wants, and there are real limits in the way that affordable housing works, but, a lot of the time it is really incorporated into that, so that's a big chunk of my work."
---
…these folks are the fabric of our communities….
In October of 2016 Emily found herself thrust into a completely unplanned crisis – the sting operation known as the Buffalo 25.
"On October 18, 2016, the Immigration and Customs Enforcement, ICE, working in conjunction with the Buffalo Police Department and the IRS, raided four popular Buffalo Mexican restaurants – Don Tequila in Allentown, Agave on Elmwood Avenue, El Agave in Cheektowaga, and La Divina in Kenmore."
Emily is able to describe in detail the implications this raid had for the people swept up in it, as these are the people whom she works and lives with side-by-side. There were mothers separated from their children, men placed in different county jails throughout the region awaiting deportation proceedings, raided houses, men arrested but then let go, no job to go back to.
 "It was the largest workplace raid in 8 years; the largest under the Obama administration. When they do these governmental or tax-related or business-related investigations, there's a policy that states, if you find that the workers are undocumented, you just leave it alone and prosecute for the business, like fraud or whatever it is, but they just totally didn't do that.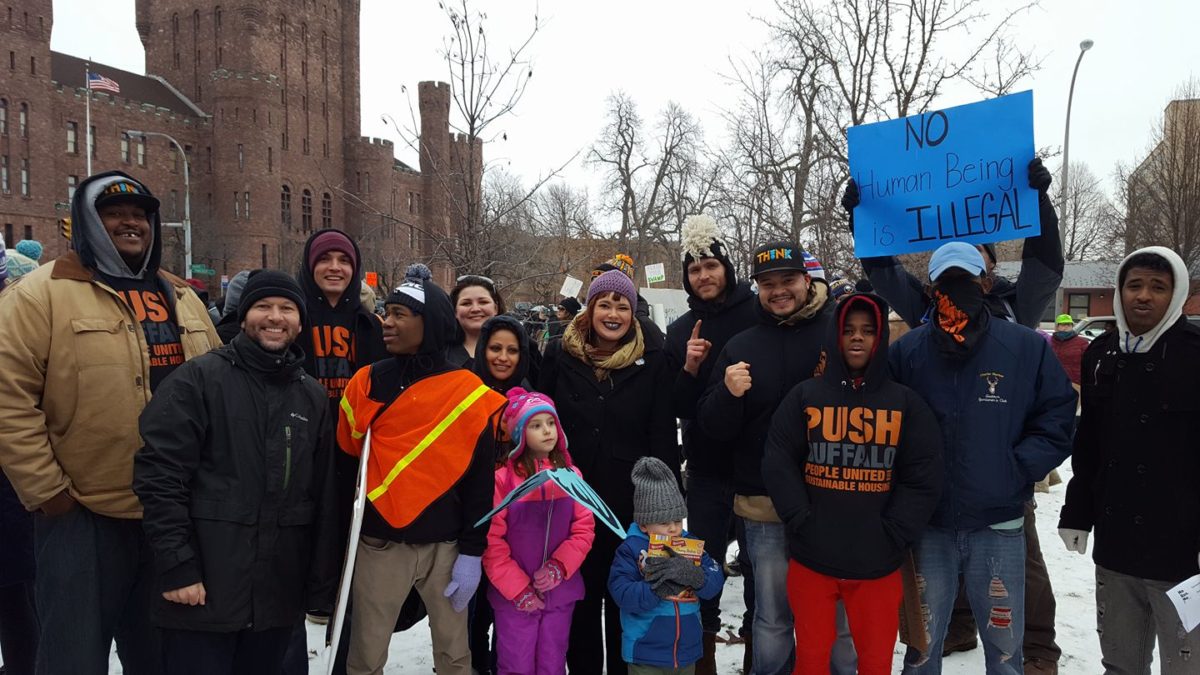 "It really highlighted the changing ways of immigration policy and the way that things are enforced in this country, and the fact that people don't often see Buffalo as a city that has a large undocumented population. We see refugees and our other immigrant neighbors, but we think that undocumented people are just a New York City thing, but that's untrue. The largest raid in almost 10 years happened right here."
---
At the time of this interview, Donald Trump had just signed an executive order banning the entrance of immigrants and refugees from seven majority-Muslim countries. "The West Side in particular, the 14213 zip code where I work every day, is one of the most diverse zip codes in the entire country, and that's because it's made up of so many people from different countries all over the world that came here as refugees," Emily explains when asked about the local implications to the (now-paused) travel ban. "We're just not going to have refugees coming from these countries, and these folks are the fabric of our communities.
"First of all, they're people, right? And they're coming from war-torn, awful conditions that the United States has played a major role in creating and sustaining, and then we're going to turn our backs on children, on parents, on people who want a better life and deserve that, because they are people. We can see people being detained at the Peace Bridge or any of the border crossings. We forget that Buffalo is a border city; we're just on the opposite end of it where the people coming in are mostly white, so there's not going to be a fucking wall built. Also, part of the executive order is you can't help refugees, you can't help immigrants, and there are so many organizations here, and people, that like, this is what we do. And that's going to be criminalized," she pronounced.
---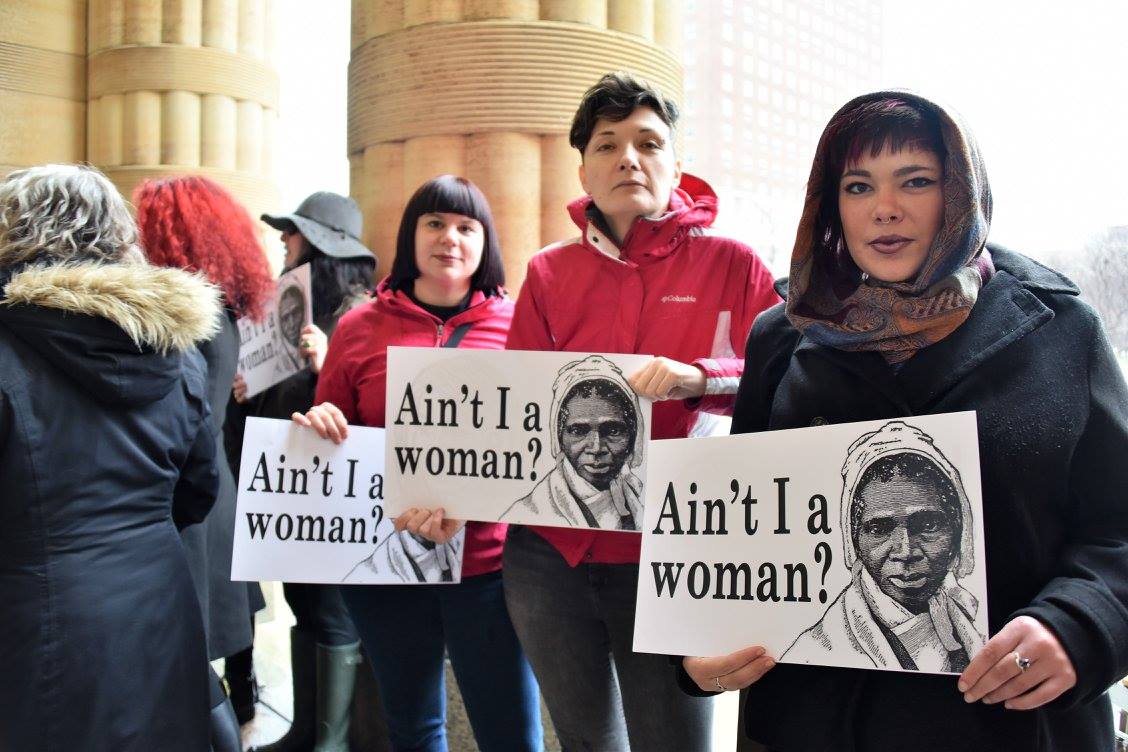 Emily takes some time to reflect on her role as a mother and children, generally. "I think it's really important that kids are in spaces, because if we're going to talk about women being able to participate fully in life and valuing that, you need make room for either childcare or be okay that there's going to be a kid around," she says.
"I remember I took Oliver to a Women's Equality agenda — it was a big bill that we worked on a few years ago in Albany — and the governor invited a bunch of advocates to the Governor's Mansion for this schmoozy cocktail party, and there I was in my…" she interrupts her train of thought to show Oliver how to pick out colored shapes on the game he's playing.
"I was in cut-off jean shorts, I was hot, it was sweaty, it was a hot mess, and I had this little baby on me who had just shit all over me — it was awful — in the Governor's Mansion. I nursed him on the couch with like, my tit totally out, and it was just like, fuck it. The executive director of the Civil Liberties Union, Donna Lieberman came over – she's in New York City, I'm in Buffalo, she's this fancy lawyer, I'm just some organizer in upstate New York with my boob out, and she was like, 'Yeah, I would feed him anywhere, you gotta just whip 'em out and feed your kids,' and I was just like, 'Thanks, Donna Lieberman!'"
"I feel a great amount of pressure to raise an okay white man," she laughs. "I teach my kids about consent, I teach my kids about difference. My daughter's Puerto Rican and she's always like, 'Mama, you're pink, Oliver's pink, I'm brown, how did that work?,' and we have to talk about that." At this point Oliver chimes in: "I'm not pink! I'm light blue."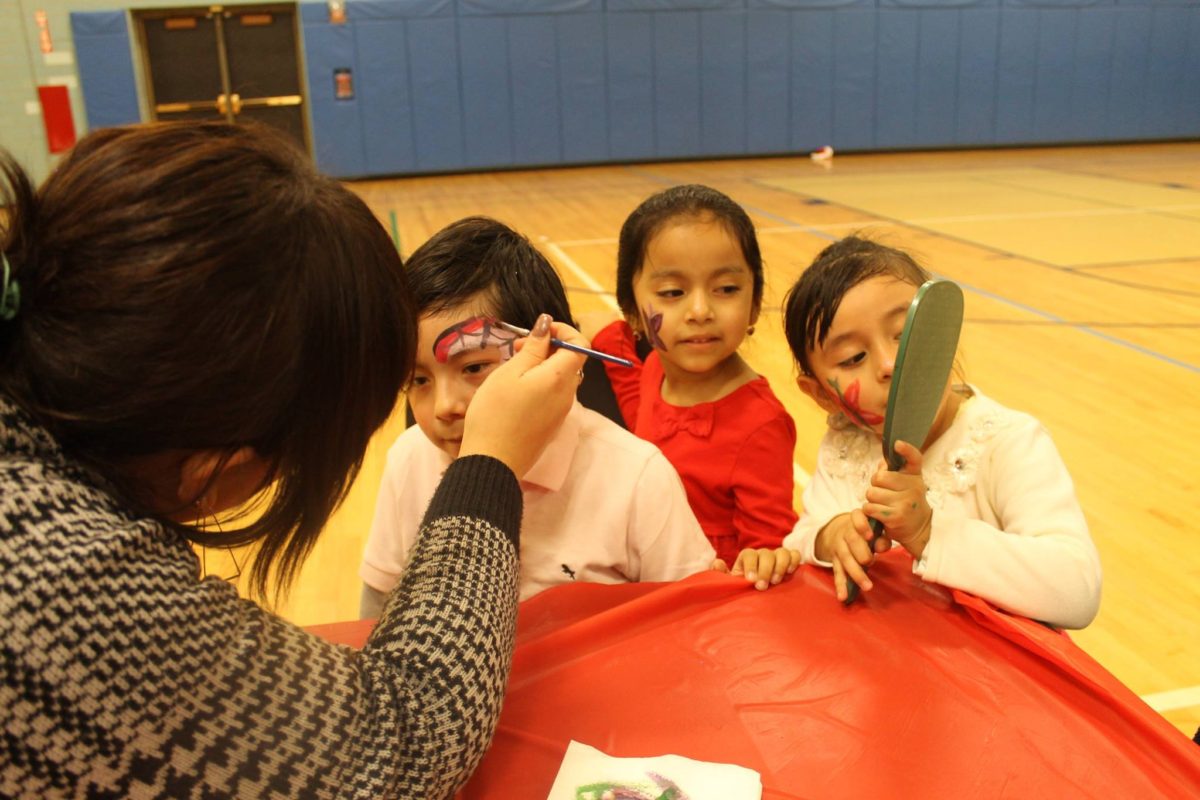 "I took them to vote this last cycle…I was happy to vote for a woman and I was explaining about what it was, and Elly seemed to get it and Oliver was just mad that we weren't going on a boat," she laughed. "But then that night, I had the TV on, watching the election results pore in, and Elly was just so terrified every single time [Trump] would win a state. I asked,
'Why are you so afraid?'
and she said,
'Well, I'm brown, and I'm a girl, and daddy is brown, and you're a girl, and Oliver is peach and he's a boy but I'm sure that [Trump] will find a reason to be mean to him, too,'
and I was just like,
'Oh my gosh, he's not going to win, it's going to be okay.'
The next morning I had to tell her,
'Trump is the president, and I'm going to keep you safe.'
I don't think you should ever have to tell that to a child, and I don't think a 6-year-old should be afraid and worried about that kind of thing."
---
Emily finishes our conversation with an anecdote that happened when the Buffalo 25 situation went down and she had workers and organizers at her apartment day and night those first few days. "I have the book, A is for Activist in Spanish, and one of the workers sat and read it to Oliver. It was around the time that Donald Trump first called Mexicans 'bad hombres,' and I was just like, 'This is the bad fucking hombre that you're talking about, reading to my kid?'"
Stay up to date on PUSH's efforts in the Buffalo region and consider donating money, materials, or time to their efforts to support and sustain our community.
Photos provided