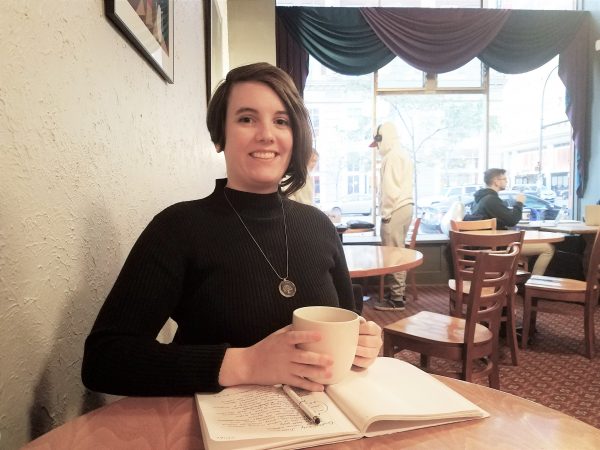 Elizabeth Schiavoni is an advocate for evidence-based policy, and is working to hold candidates' accountable for their positions on science in society.
"The Vote for Science campaign is really straightforward — we've been talking about climate change, healthcare, the environment, education, diversity in science for two years. Go out and vote about it," she said. "Mostly the work that I'm doing is spreading the word about sciencedebate.org, which is a website whose goal is to ask every single midterm candidate about their positions on a list of key topics — Innovation, climate change and energy, cyber security, mental health, education, water, food, space, oceans, and scientific integrity."
---
Elizabeth has been in Buffalo for about 5 years by way of New Hampshire and Washington, D.C. She received her Bachelors of Science in the interdisciplinary field of Biology of Global Health, and continued her graduate studies in the School of Medicine at the University at Buffalo. "I was looking at organisms and their interactions with humans — where they make people sick, why they make people sick, and why we don't already have treatments," she said.
Elizabeth's spent half of her time in Buffalo thus far immersed in academia, and half of it immersed in Buffalo's cultural community. "I grew up in a smaller town [in New Hampshire]. D.C. was great for school, but way too big to get to know people; people move in and out," she said. "I've really enjoyed my time in Buffalo, and I've been really thankful to how much I've been embraced by Buffalo. It's been a great place where there are enough people with enough different ideas that there's some really interesting things going on, and at the same time you can get to know people, and you can form things within communities that last and create change."
---
Elizabeth's quest for scientific change led her to working with March for Science, a non-profit advocacy group dedicated to scientific action in government.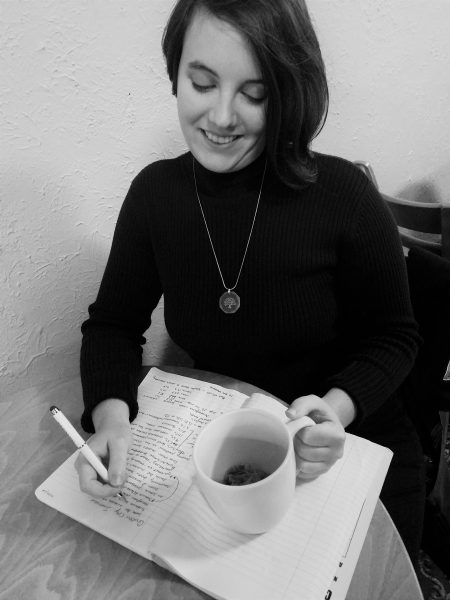 She was instrumental in establishing the Buffalo arm of this international movement in 2016. From here, she and other members of the organization created the non-profit
Science Demands Action
in 2017.
Currently Elizabeth is focusing efforts at the national level of March for Science, as part of an online pool of people in different cities working on national-level strategies and advocacy materials for scientists that will be distributed to affiliates throughout the country. "There are a couple organizations that are also interested in this and are also trying to work on this, but being very explicit about the government role is, I think, what makes the March for Science unique, those efforts to get scientists directly into the political process," she said.
The day of coordinated action for the Global March for Science Movement will be Saturday, May 4, 2019, she said.
"Those sorts of events will continue to connect people who have these similar political, local, grassroots passions, but not be the focal point of what they do all year. The focal point instead is the work of actually creating these changes on the ground."
---
Elizabeth credits her work as a freelance science communications writer and adjacent to the science community for her heavy involvement in the March for Science organization.
"Through science communications work I've gotten more involved in science advocacy and education non-profits and I've been so excited to meet so many people who share the belief that transparent, accessible research makes the world a better place, because then we have more informed voters and politicians who will actually ask for evidence-based policy," she said. "I'm excited about the work that a lot of different groups are doing in Buffalo and nationally to try to get more evidence into policy."
---
In addition to her work with March for Science, Elizabeth is also the coordinator of the local arm of Teen Science Cafe, a nation science foundation program where teens can hang out informally with scientists in social spaces. "It's not an academic setting; there are no grades, there's no pressure," she said.
"It's really for anyone in high school and middle school who's curious, and that curiosity can take any form imaginable and have any number of motivations. I'm hoping that it really takes off; it's brand new to Buffalo."
The first cafe was in September, with David Zaff, science operations director at the National Weather Service in Buffalo. Zaff spoke to participants about messaging and weather alerts, asking the question of what the National Weather Service can do to break through the wall of information online. "Getting feedback from people who spend a lot of time with their phones was a really interesting conversation," Elizabeth said. The next cafe is on November 15 at the Central Library downtown with UB graduate assistant Natalie Lamb.
---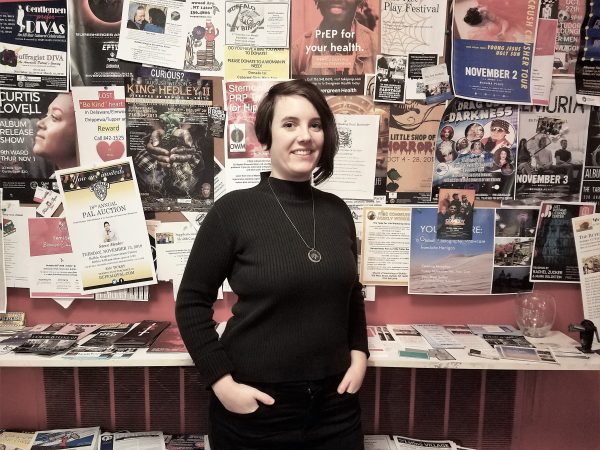 Informing citizens on the positions current political candidates hold across a large spectrum of scientific topics is difficult but critical work. Voters can visit govtrack.us to look up candidates in their district; from there they can narrow in on issue-based decisions the candidates have made in the past. For example, voters can type in 'water' next to a candidate and see if they've voted on any water acts and how they voted, she said.
"There are organizations other than the March for Science in this arena — that's pretty much true of any cause — so, at the end of the day, for me it's about making sure that people have this information and have this literacy and have these skills, no matter where they got that information," she said. "I think the Internet is incredibly powerful for that.
"Go and vote, and then when you're done voting, find an organization that you care about and spend some time with them, or spend some money with them, or tell people that you know with time and money to spend time and money with them. I'm hoping we can spread the word about working towards evidence-based healthcare, education, and policy through grassroots community efforts year-round and voting in every election."
---
Although the midterm election is over, concerned citizens can continue advocacy work with local groups such as Planned Parenthood, League of Women Voters, People United for Sustainable Housing, Erie Niagara Area Health Education Center, and Patient Voices Network.