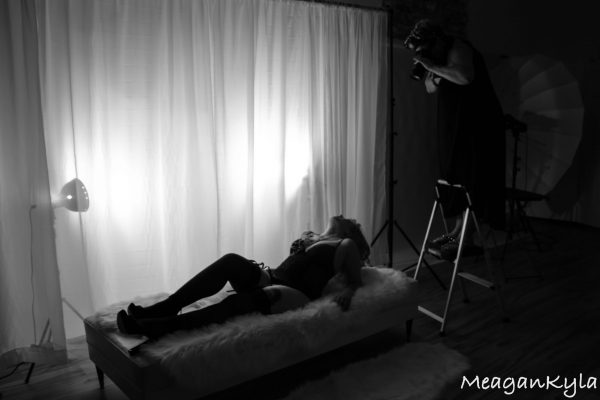 Walking inside of Sweet Heart Pin Up Studio is a pleasure unto itself. The space is immediately comfortable, tasteful, and fun. Destiny Rogowski is the professional photographer and makeup artist behind the lens here, who spends her days bringing visions alive.
---
Destiny has always had an eye for composition and color. As a child, she wallpapered her room in makeup tips from teen magazines, and with practice she found she could recreate any look. When she's not working as a professional photographer, she can be found painting in her stylish apartment.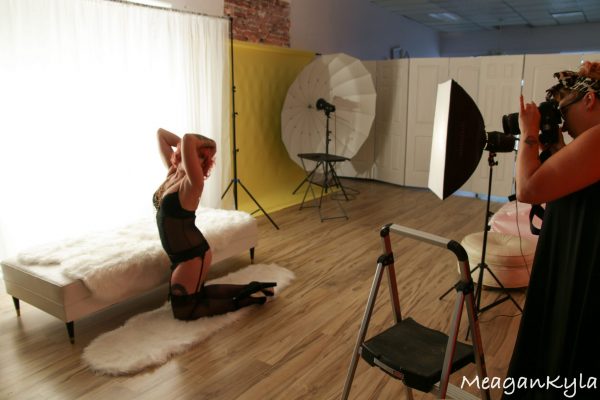 She left Buffalo for Los Angeles when she was just 18 years old, where she became an assistant at magazine photoshoots. She spent 12 years watching teams of people create glamorous shots for magazines while building her skill sets — hair and makeup, model coaching, photography.
---
When she moved back to Buffalo in 2009, she realized she could recreate much of what she had learned as a commercial photographer on her own. That year she built a photo studio in her apartment, recreating fantastic scenes on the fly with ingenuity and creativity. It wasn't long before she outgrew the small space in her home, so in 2015 Destiny took the plunge and opened up a veritable warehouse, stocking it full of scenes, sets, props, and costumes.  In just a few years she went from creating backdrops from what she had, to creating and maintaining over 2,000 square feet of storefront and studio.
---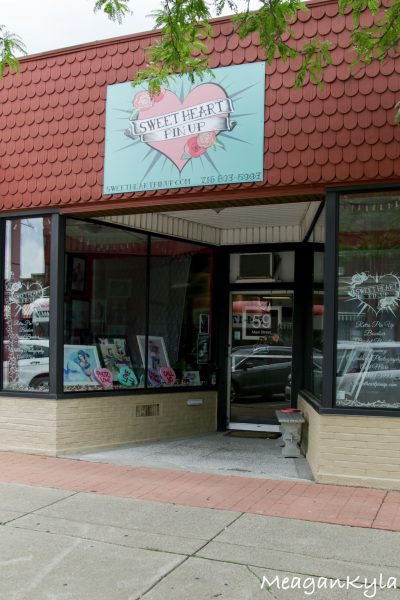 I became aware of Destiny's work through friends who had booked shoots with her. I was immediately struck by the transformative nature of her work. The friends who I have habitually consumed too much hummus and wine with in sweatpants were made to look sensual and sexy. Destiny didn't photoshop away fat and make them unrecognizable. Instead, she took their bodies and personalities and made them comfortable enough to be photographed in very little attire, capturing them authentically and with beauty.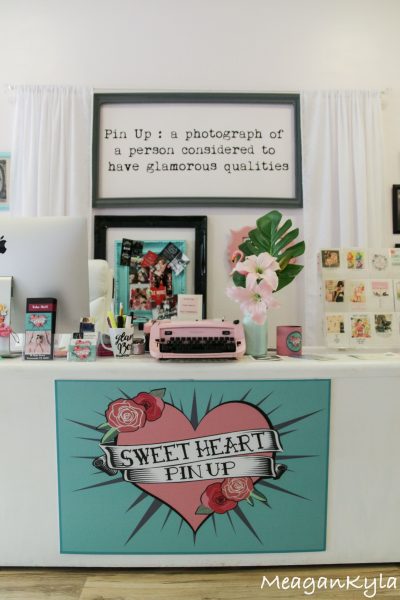 I knew I had to meet this magician.
To fully grasp the scope of Destiny's talent, I made an appointment with her. She was professional and accommodating as soon as we walked through the door. We sat down and discussed our visions beforehand, a process she engages each client with. After agreeing upon the amount of sets, outfit changes, and other specifics, I was whisked into the back to begin my makeovers.
Touring her sets is nothing short of inspiring. Among them are a "Mad Men"-style living room set, a 1950s kitchen, a champagne room, army scenes, boudoir scenes, a bubble bath, a tiki lounge, and a mechanic's garage. Being the type of girl who lives in cutoffs, I was immediately drawn to the garage scene.
Destiny began my hair and costumes were pulled for me. There are well-organized racks of all manner of garments, and she is able to accommodate many sizes of people. Destiny spends this time getting to know her client and making them comfortable.
---
She muses that often, people come in and begin pointing out what they perceive to be their physical flaws, but Destiny doesn't quite see it the same. Her job is to make people feel good about themselves in their own skin and to bring that confidence out in a photograph. With the amount of toxic cultural messages surrounding femininity, being photographed and seeing oneself as a beautiful, sexual person is not only fun, but also incredibly healing.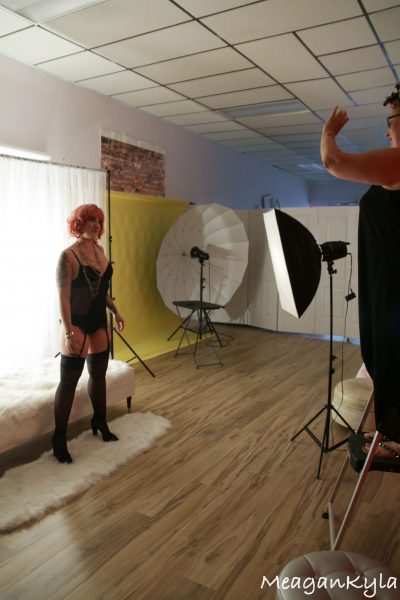 My first shoot was boudoir and I expected to be uncomfortable, although this was not the case in the slightest. Wandering around her studio in stilettos and a teddy felt very natural, and she was able to effectively coach me into not looking like an awkward spaz the entire time, which is my general state of being. Destiny offered direction, compliments, and lightened the mood to the point that I forgot that my butt would be the focal point of several photos.
"Boudoir to me is a beautiful approach to self-love," Destiny said. "It's a modern view of yourself that can be done very modestly or in a very sexy and liberating way."
---
After the boudoir shoot, Destiny tweaked my makeup. While boudoir is rather revealing by nature, pin-up can vary in the amount of clothing worn. "Pin-up to me is a fun and cheeky way of being sexy," she said. "It's playful and uses vintage styling elements in hair, makeup, and wardrobe.
"It's something that's very broad so there can be so many themes," Destiny explains, as she sculpts my hair. "I personally love it because the hair styles are a challenge but that's my favorite part about it! I love making a woman feel like a beautiful woman and the clothing silhouettes of that time really celebrated a woman's curves."
There's a lot of room for silliness during the shoot, and we spent a lot of the time laughing and joking. I felt like my faces would look campy, but the pictures turned out beautiful with the help of Destiny's coaching.
---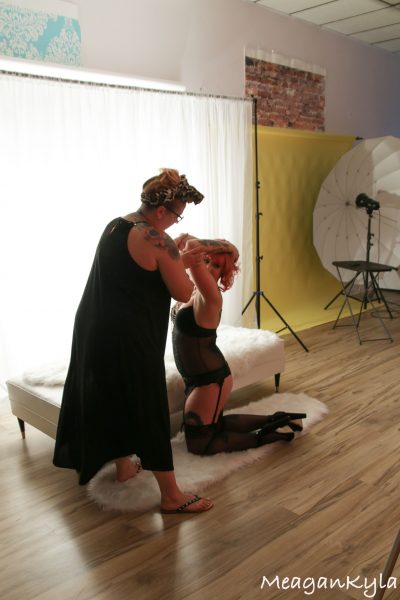 I greatly appreciated Destiny's willingness to work with my style, personality, and comfort level. Instead of adhering to a traditional pin-up scene, she pulled a slightly edgier style of clothing. At each level, she listened and appreciated what I had to say, which made me all the more willing to put my body in her hands.
"No matter who you are or what your personal style is, after a vintage makeover, seeing yourself in that '40s and '50s makeup, hairstyling, and wardrobe, you will appreciate yourself in a way you never have before," she said.  She was very right.
So, who should get a photoshoot with Destiny? Really, anyone! You don't need to be a "model" or fit inside a rigid model of beauty. She prefers to work with "everyday" people and bring out their inner glamour. She is comfortable working with people from all walks of life, so if you want to celebrate the skin you're in after reaching a fitness goal, reclaim your body after having a baby, give someone you love the gift of some really hot photos, or just see what it's like, Destiny has your back no matter your size, shape, color, or gender. The beauty of working with a creative force like Destiny is that if you can dream it, she can probably do it.
Backstage photography provided by Meagan Kyla. Connect with Destiny at Sweet Heart Pin Up Studio on FB and Insta, or via her website.
---
Surf over to the Galleries to check out the full photoshoot with Destiny and Ashera!