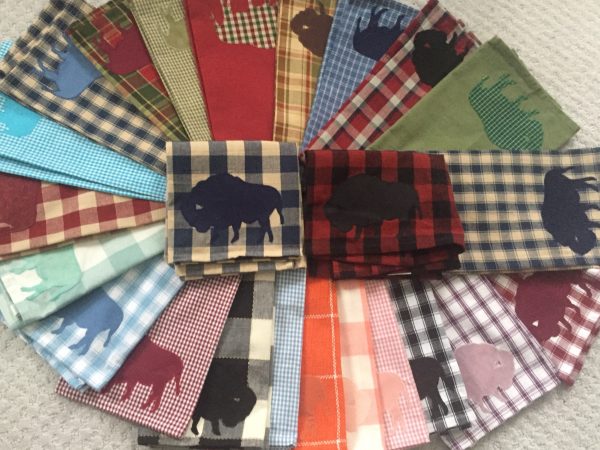 How long have you been an artisan? How did your particular skillset develop over time?
I have been an artisan for about 5 years. After retiring I took up sewing again, which had always been a hobby. I started quilting and then decorating items with appliques. After my daughter drew me a Buffalo design, I decided to concentrate on that one design as my special motif.
---
Please describe your work / product.
I applique my original design on household textiles and baby items and luggage tags. All of my products are very individual and handmade. Not mass-produced, with never more than 4-6 of a particular design or color combination. Clients can custom order to their specification.
---
Who are some of your favorite artisans / makers in the region? Who amongst your peers inspires your work?
My favorite artisans in Buffalo are Nikki Benatovich and Christine Kellerman.
---
How long have you been a business. owner in WNY?
I have been a business owner for 4 years. 
---
How long have you been a part of Buffalo Women's Gifts?
This is my 3rd year with Women's Gifts.
---
Where can people see / purchase your work year-round?
My products can be purchased at Thin Ice, Village Artisans, Buffalo Outfitters, and the Buffalo Niagara store in the airport. But a great selection can be viewed on my Sew Buffalo Facebook, where orders or requests can be placed.
I will be participating:
The Wurlitzer Craft and Gift showcase, Nov 24
Buffalo Women's Gifts, Nov 30
Kris Kringle Faire, Dec 1
Totally Buffalo Xmas, Dec 7, 8
UUCB Christmas Show, Dec 14
Xmas Pop Up at Marriott, Dec 21
Hotel Henry Holiday Market, Dec 22