The process starts with a pondering. The material asks the question, what are you going to give me?
"[The pieces] start as a puzzle. I cut them up, dismantle them, repurpose them and remove all things the original viewers would have enjoyed about it," Carly says, describing only the beginning of the process of bringing a new work into the world.
After taking sleeves off, removing labels, and cutting tags, she has a blank slate to finally work. "I pair the item up with one of the many random things I have in my studio," she said. "Fringe, lace, studs, spikes, sequins, faux fur, fishnet, fun shiny fabric and vintage materials — if I like any of these, I play with the way they could look together." Attach, remove, cut, sew. Remove. Start again.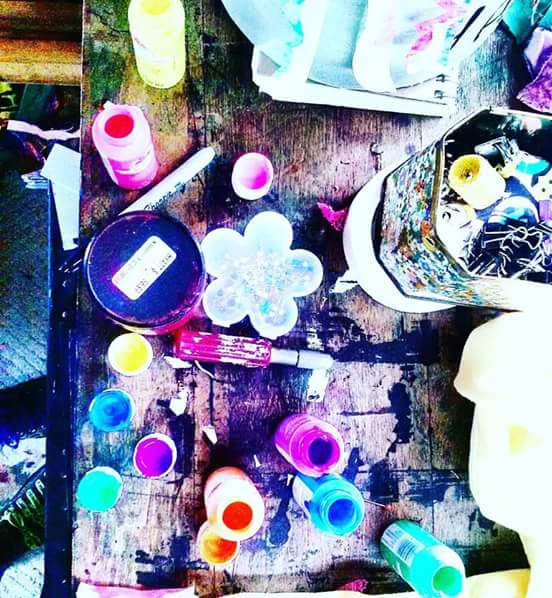 Not quite done. The third step solidifies the brand, the
look
. "I pair them up with the materials that I've modified with paint, a print, distressed materials that I physically altered, bleached-out fabrics, hand-dyed and hand-stitched," she explains.
---
Color Puke Designs and the woman behind it is a study in fortitude. In existence since 2008, the evolution of the brand, product, and person is a fever dream of Carly Glenn Collier, designer and founder.
"Color Puke started out as just me making art and calling it Art by Color Puke. Color Puke was my stage name. But it was more than that. It was me recognizing as an artist in art school that I was never going to be able to line up seven color screens to create a perfectly lined up screen print or to do the same with stencils and linoleum cuts. So, I created designs that worked with this shiftiness that seemed to be my style," she said.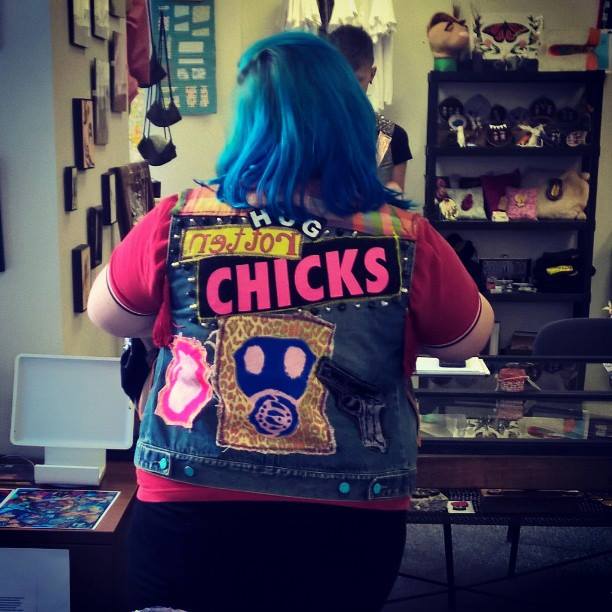 While working for a local screen printing company in 2007, Carly got to play around with the visions in her head. "My boss could be cool sometimes; he knew I was an artist who was self-teaching herself how to design on computer programs," she said. "So, I drew all my images on the computer and practiced my designs when times were slow and started building my portfolio.
"From here I started screen printing with the screen I made in class. I didn't have the proper chemicals to wash out the previous images so I did what I could with a shower and worked with the previous stencil still kind of stuck on there, which created very cool ghost images in other designs," Carly said. "Just adding more to the Color Puke style. I thrived on this! It was so beautiful."
---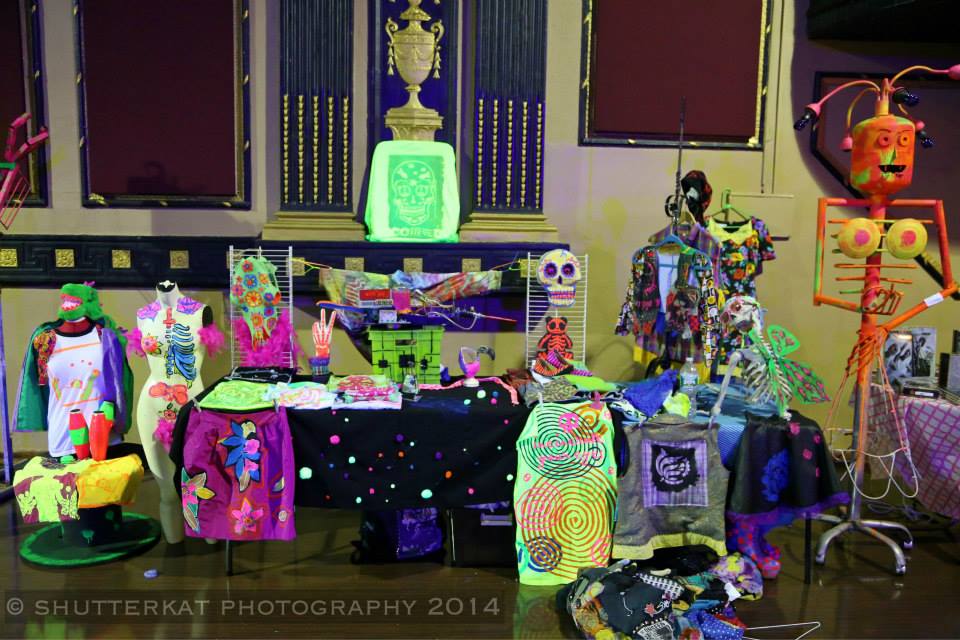 As time and life moved forward, Carly kept creating and reconvening. "After collecting a bunch of never-been-worn upcycled goods, I left Auburn in 2010 and ended up in Rochester, New York. At that point, my sister was working on opening her first art gallery," she said. A move in the works, a family member in the wings. "The building I had moved to had a 'free' pile in the basement, free things or things left in the dryers for too long. This was great for me because I had a free outlet to some cool, different styles of different sizes," she said.
"I spent this year lost, alone and not making art for a while. I left all my great friends behind and moved to a new city with a lover who had become a stranger, so my art suffered while I did for a little bit. When I started being the assistant manager of my sister's art gallery in East Rochester, Collier Craft Art Gallery, I started getting inspired and I started making art based on how I felt again; my own piece of heaven and happiness," Carly remembered.
"I was in heaven surrounded by so many different styles, and some that I envied. I started modifying t-shirts again, only this time I was hand-stamping with a rubber Collier fish design that looks like a fish on a hook made of my last name," she said. The Collier family had been so supportive since Day One; the family flowed into the work. "The family has always been so supportive of my art and my direction in life that I've always been able to produce designs for them," she said.
---
In 2011, she was accepted to be an Emerging Artist at the Cornhill Art Festival, "which was a huge event for the Cornhill area of Rochester," she said. "I was accepted with my hand-painted cow skull and a few fun pieces I had made over the years but I wanted to go into a different direction so my father helped me acquire blank white 100 percent cotton shirts to make and modify for the Cornhill Art Festival.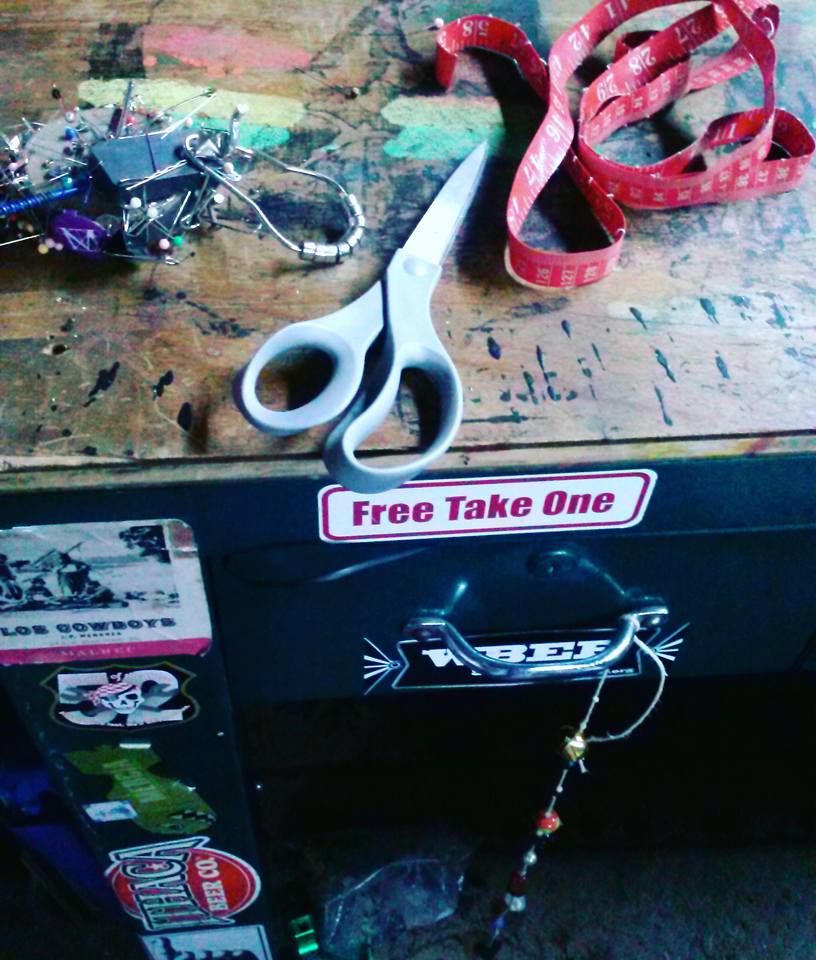 "I wanted to apply everything I had learned in my textiles class while studying at Cayuga Community College…I had 200 shirts of various sizes and my five screens to work from," she said.
"My apartment was taken over by dying and drying shirts at this point. It was summer, it was hot, my window didn't open. I didn't have AC and my ceiling fan was very, very high up, so I was dripping sweat, busting my ass after working a fulltime job and then coming home to my ferret and my shirts to hand-dye…I was pooped every day and they turned out very cool for the resources I had," she said.
"I learned at this time that being one person with a small business was going to be very challenging and physically demanding."
---
It was at this point she knew she needed to grow. Physically, mentally. "The summer of 2011 was also the year I decided I needed to get my growing brand into the fashion world, if it was ever going to be seen and worth anything.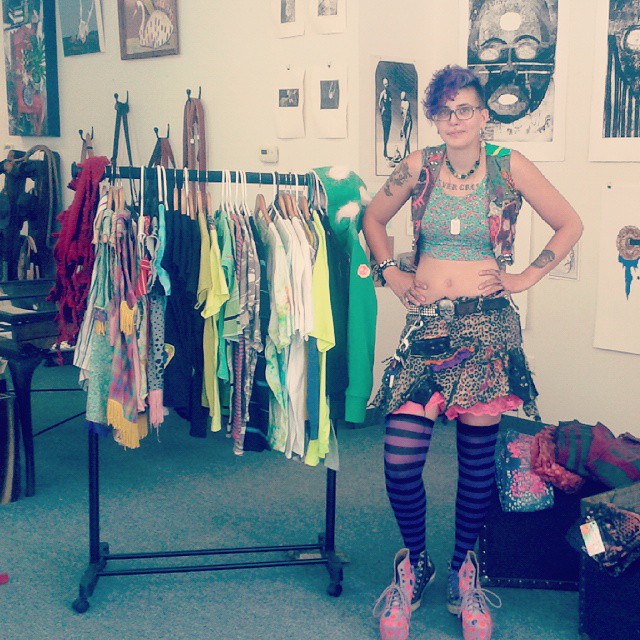 "I applied for colleges and I aimed for Buffalo State. After talking with my soon-to-be adviser, Elaine Polvinen, I was sold on the fact that textiles were my direction as I had zero interest in apparel construction," she said.
Carly worked. At the end of each semester, she settled back into home base. "I came home and worked in my parents' garage and worked for Monday night farmers' markets in Phelps," she said. "Phelps was my hometown and I knew it would be a hard place to sell but great experience nonetheless. Throughout being the mohawked, fur-wearing, 'visual cornucopia'…I had been mastering my technology classes and acing everything, I studied for the first time in my life — I had started to develop big dreams for Color Puke," she said.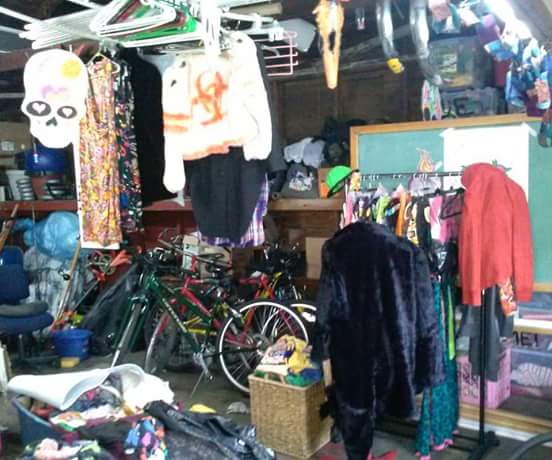 But life takes a bit of a blip sometimes. School ends, love happens. Where does an artist go? "I was only making clothes for my sister's shops and the festivals that she was in through the shop…She was one of my biggest supporters for what I was doing. I started going hard into work and working on my business," Carly said.
It was about this time Carly began working for OffBeat Emporium on the 500 block of Elmwood Ave. "Working for other entrepreneurial artists was so inspiring every day — to go to work, love it, and come home and love making my art," she said.
---
It's a brand for people who know who they are.
While working here she met Steven Bales, the man behind Buffalo Fashion Show. "I talked [him] into letting me showcase some work within the fashion show, on the runway," she said. "It was amazing meeting the models, seeing the process, meeting such great designers who would then inspire me for the next year. I found my place and didn't want to leave it. It was also my first runway show."
Last year Carly made the firm decision that, by the time she turned 30, she would legitimize the business with a small business certification. "Now it's my 30th year and I'm onto new goals, bigger and brighter with more color, motivation, and support than ever before," she said.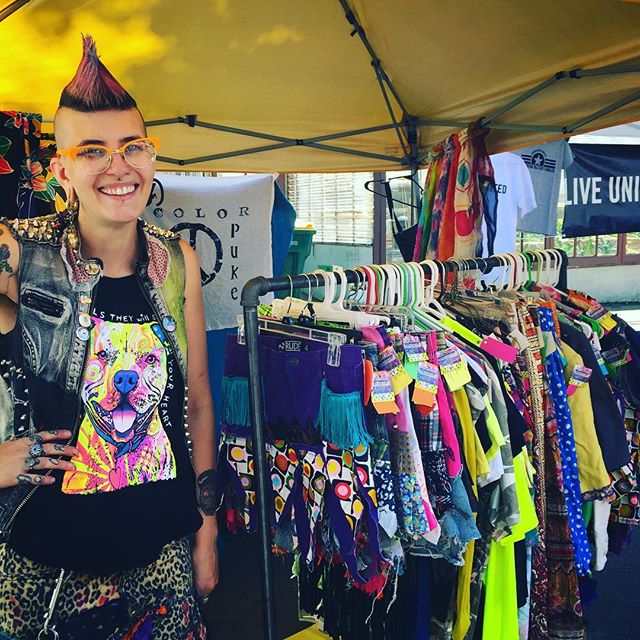 Carly's inspiration comes in many forms, but the unifying theme is
childlike wonder
. "I am inspired by grotesque, death, the human body, ooze, cartoons, children, mythical creatures and all things that I loved as a child, playgrounds, play-pretend, couch forts, trees, hippies, punks, goth kids," she said.
She also credits her family for the support and perspective they offer. "My parents told me at a young age that no one has the right to tell me what I can and cannot do to and with myself. And it all started there," she said.
---
If pressed to describe the brand, Carly's able to sum it up in a few sentences. "It's weird clothes, circus styles for colorful freaks who like wearing different textures and patterns with studs and spikes. Clothes that say, 'Hey, I'm here expressing myself but don't you dare try to touch me or tell me that I don't have this right to be just who I am, me.' It's a brand for people who feel like they want to wear something that expresses who they are on the inside by wearing it on the outside. It's the most colorful form of Halloween-inspired attire. It's a brand for people who know who they are, stay true to themselves, and like to have fun with life while being bold," she said.
Carly is taking the business to the next level in the coming year, using the things she's learned over the course of these last several years. "I'm wearing my insides on the outside and no one can tell me not to."
Check out the Color Puke line of clothing at Dichotomy at The YARDS in Rochester, New York, online at Color Puke Designs, and follow along on FB.
Photos provided