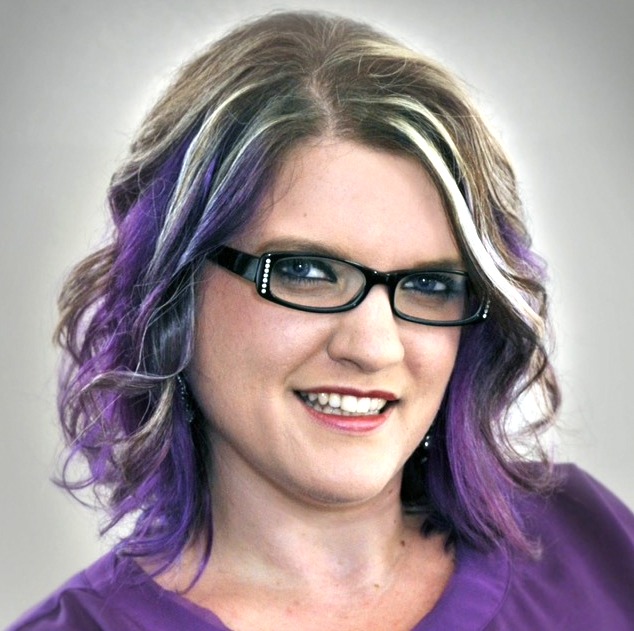 By the time she had turned 31, Brook had had nine major surgeries. She had also created an internationally acclaimed mascot for recycling and sustainability.
To read Brook D'Angelo's credentials is to give you only a small glimpse into the world of #BFD. In college she pursued her 5-year-old self's first love, radio broadcasting; shortly after she moved into the world of public relations and public communication, realizing the tide was turning for radio as an industry overall. "Radio was going HD and digital. There was a lesser need for humans to run the show and entertain," she recalls.
---
Right as she was entering her college years, Brook suffered from a broken neck due to a car accident. Refusing to discontinue her studies or receive surgery until after graduation, Brook finished school on time with the Dean's Award of Excellence. Finally, in the spring of 2007, Brook went in for spine surgery, watching as her peers made their way into the public relations field.
Recovering and not yet ready to enter "the real working world," as she says, Brook nevertheless kept her creative juices flowing. "Thank goodness I picked up my camera more and more to get through these tough times," she said. She melded this sanity-saving creative pursuit into a business venture, documenting weddings, events, and the performing arts. She continued to ease back into the working world with a part-time job teaching art to senior citizens; the grant lasted 4 years. "It was just long enough to make a few dollars and get through the surgeries and recoveries that dominated my mid-20s," she said.
---
Brook kept pushing forward into a career that didn't come as a straight path before her. "I was a bartender, office clerk, babysitter, sales person, case manager, and even worked retail… I had an amazing and fun band, Fur Terminal, for a few years… I emceed events and did voiceovers for commercials. I created wearable art. I volunteered for worthy causes, fundraisers, and events. I continued photographing the world around me. I got involved in politics and grassroots projects. I mentored youth. I showed my own artwork and took on a role of promoting others," she said, describing her array of interests and talents in a fell swoop. She even became a children's author and fictional character, with the publication of Dance of the Fireflies. For the past 3 years she has secured sponsorship for the book, giving 200 or more copies to local children each year.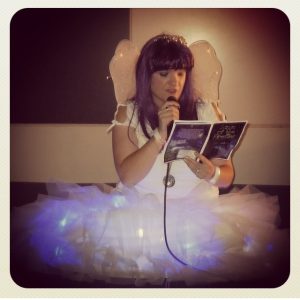 One of her art shows got the attention of a local restaurant that offered her a position as a marketing and event coordinator. "For 3 years I had the pleasure of booking musicians, planning and executing events, designing and implementing marketing plans, and creating marketing materials. I was afforded the opportunity and generosity of the restaurant owners, who allowed me to use the venue to give back to the community. We raised money for children's art programs, the local aquarium, women's causes, and more," she said.
It was a random seasonal data clerk job for a pilot refuse and recycling program in 2014 that brought Brook to where she is today, however. In 2015, the city of Niagara Falls enacted a new solid waste ordinance, the first new ordinance in 40 years. The city also created the Solid Waste Education and Enforcement Team (SWEET), of which Brook became the sole employee, working to educate citizens on the new ordinance, how to recycle effectively, and acting as liaison between citizens and Modern Corp., the company contracted to remove recyclables biweekly.
And then, Totes McGoats came into being.
---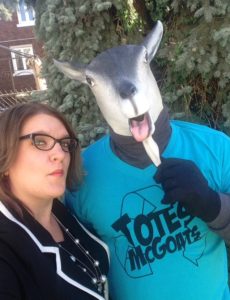 Immediately decreed as 'terrifying' by all of the Internet
, Totes did exactly what he was meant to do — bring light to a new educational program for a citizenry that was slow to budge. "He was part of my marketing plan to get the word out about the recycling program. Turns out, even after all the naysayers, the plan turned out to be an internationally recognized success," Brook said of her tongue-in-cheek creation.
She continues: "I was put in charge of a program that required change. People hate change. And there is no one way to reach anyone anymore. It was going to be hard to get 45,000 people to pay attention to something that required a lifestyle change and accountability. Garbage isn't sexy. Recycling isn't riveting to the masses. I had to work on an education plan.
Garbage isn't sexy. Recycling isn't riveting to the masses.
"With my marketing background, I began to put a plan together. It included a mascot, video, social media, and public education process. I came up with a video script and a mascot idea. Goats eat everything. Niagara Falls has Goat Island. Totes is another name for the refuse and recycling 'carts.'
"My budget for a majority-opposed pilot program was next to nothing. I searched for cute and cuddly goat outfits and costumes. They started at $3,000! The public would have me strung up by my purple hair if a government employee spent taxpayer money on a $3,000 costume! I decided to skip the red tape and I searched the web for a goat mask and ordered one on MY dime. I commissioned my friend to design and print three t-shirts for the mascot to wear. I headed to a cheap store for work gloves. The whole thing cost me $100. And he isn't cute.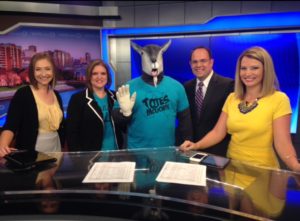 "The City Administrator reimbursed me from her pocket and ordered a press conference to release the mascot to the city. By the evening of October 14, 2015, the world had heard of him, too. I was getting messages from around the world in the following days and weeks. We were on websites near and far, Time, Huffington Post; trending on Twitter, being praised and feared. It had grown so quickly!
"Locals loved and hated this campaign. But ultimately, I feel like we had won. They paid attention. They watched the promo video. They recognized the purpose of the mascot and plan. I got calls from so many news outlets, people sent in fan art, there were requests for interviews from California, Canada, England, Italy, Australia, and so many more places that were patting us on the back. Unreal.
"I have since spoken at colleges regarding marketing and public relations. I have gotten to spread the recycling word at schools and for the masses. Totes McGoats has become a Halloween costume," Brook recounts, about a year after her creation came into being and her city turned its near-non-existent recycling rate around.
---
Of course, #BFD isn't done, not by a long-shot. Her brain is already cooking up new plans for the upcoming year. "I feel like all my experiences have built me up and prepared me for the next thing to come," she said. And what might that be? She implores everyone to stay tuned.
Photos provided