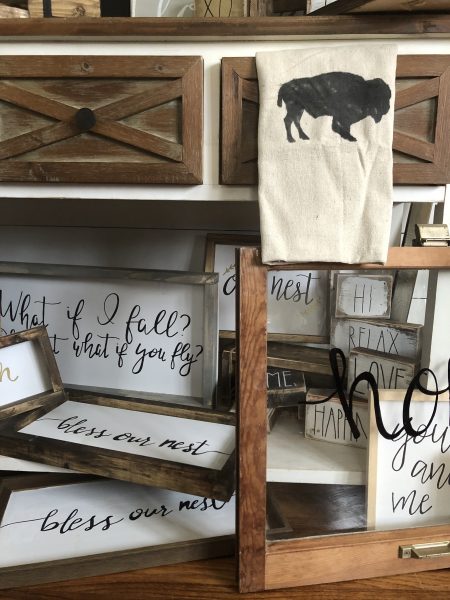 Artist Bio
Hey! I'm Ashley and I'm the creator behind Gold Street Primitives. I'm a wife to the sweetest man and a mom to two boys and two fur babies.
Gold Street Primitives got its original start back in 2011 when I first began dating my now-husband. I was looking for ways to give his apartment a more cozy feel so I began making pieces from spare wood and items he had in his basement.
Gold Street really took form after the birth of my first son when I decided I wanted to give more to my family. I was looking for an outlet and a way to showcase my creative side, while also providing for my family. Ever since then, I've been creating pieces, styling homes and designing events. I'm still learning and perfecting my skills every day, but I am so grateful for every single person who has showed their support by purchasing, hiring, supporting and encouraging me to continue to follow my dreams.
---
How long have you been an artisan? How did your particular skillset develop over time?
About 9 years. As my relationship with my now-husband developed, so did my creative abilities. It became a resounding phrase in my head that I could make most things I saw in stores. I began turning a hobby into an actual business by practicing and creating any second I had the chance.
---
Please describe your work / product.
Gold Street Primitives specializes in handmade signs and home decor. We set ourselves apart as each of our pieces are individually fashioned and hand-lettered by myself and my doting husband. Each piece we create is unique with its own characteristics and personality. We strive for consistency, but delight in the fact that no two pieces are the same and each tells its own story.
---
Who are some of your favorite artisans / makers in the region?
I've followed Sara from Beck & Forth Co. for quite some time and am so inspired by the things she creates and produces. She unveils gorgeous stylings and products and I'm truly inspired by the work she puts out. Sara has encouraged others in her field to continue to follow their dreams and do what makes them happy and it's something that I truly take to heart.
---
How long have you been a business owner in WNY?
3 years
---
How long have you been a part of Buffalo Women's Gifts?
This is my first year!
---
Where can people see / purchase your work year-round?
Instagram and local artisan shows.
---
Where else will you be representing your wares this holiday season?
Buffalo Women's Gifts is my front-running show currently. Choosing shows to display my work is something I consider very seriously and I'm taking it one step at a time. I'm looking forward to adding more events and venues to my calendar to display my work.