The story of Ashley and Jessica Fox of the newly established Oak & Iron Salon and Tattoo is one of fortitude, commitment, and complete, unfettered faith. With a clear vision of a nebulous future, the two women threw caution to the wind and set off in pursuit of their own American Dream, reimagined for the 21st century.
---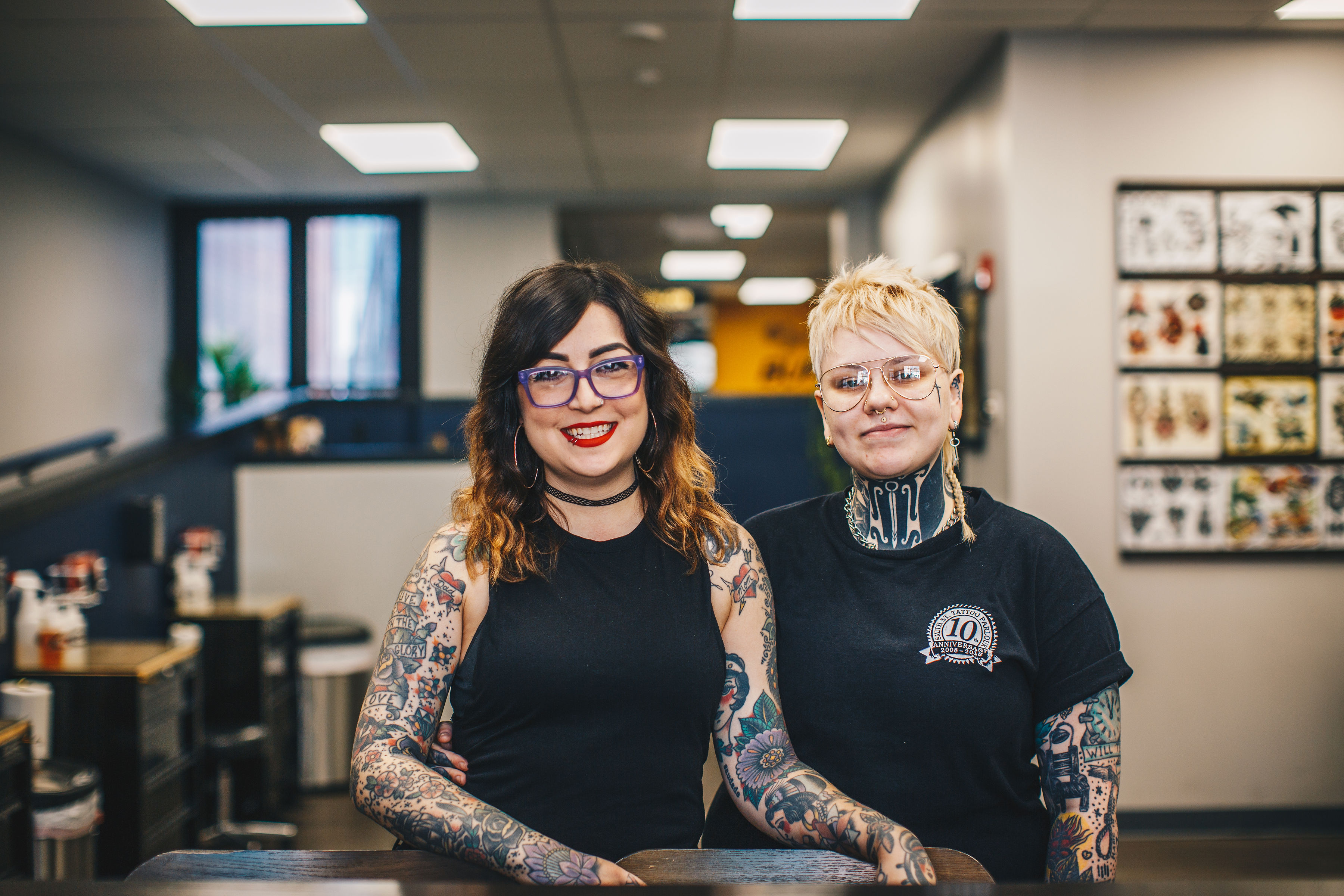 "I got into a really awesome salon and spa right out of school, where I was for more than 8 years," Ashley said. "I learned so, so much. And then I took a leave of absence from work and went to Los Angeles to attend makeup school."
It was here that Ashley learned first-hand that she could be the boss of her own design.
"I never fell in love with LA, but I loved the idea of being an independent artist," she said. "I came from a place that gave me my schedule, told me which products I was going to use, told me how I was going to do it, how I was going to book — and then I got out to LA and realized there was an entire world where I could make all of those decisions for myself."
She stayed in LA for the next year, honing her skillset and building new ones. She strengthened her network but didn't forget her already well-established base back home.
"I made a bunch of connections and it was kind of like, 'Do I want to come back here for good?' But, I knew I had to go back to Buffalo — I told all of my clients I was coming home, my friends and family — I got back to Buffalo and within 5 minutes I said, 'I'm going to go back to LA.'"
After coming to this conclusion and setting her sights on a permanent move out West, Ashley met Jessica, a gifted tattoo apprentice.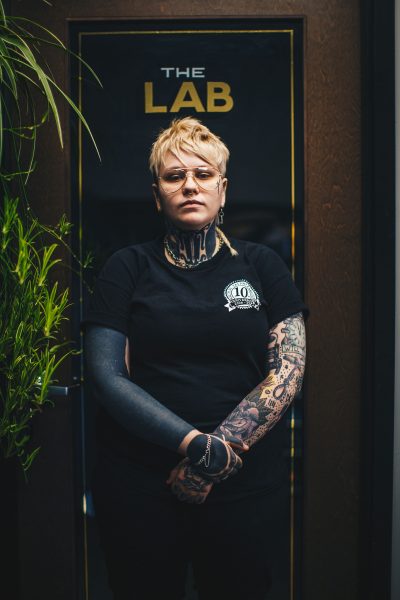 "I was one of those really lucky people who always knew what they wanted to do," Jessica said. "The first time that I knew I wanted to tattoo was when I was maybe 14, and I was watching my grandfather get tattooed and just developed an interest in it. It then turned into, 'Okay, how can I get this done?', then going around and getting tattooed locally by the people that I wanted to learn from.
"I looked for an apprenticeship for about 6 years, and every single person told me no, which was rightfully so, because my art was not tattoo-ready yet," she laughed.
She finally landed an apprenticeship in February 2016 with tattoo artist Ted Hawkins, the now-proprietor of 125 Art Collective Tattoo Studio. For the next 2.5 years she studied under Ted, beginning at the Paradigm in Kenmore, and continuing onto 125.
Smitten to the brink in 2018, but both laser-focused on their respective paths, Ashley, the hair and makeup stylist, and Jessica, the tattoo artist, made an executive decision to leap forward into their futures as they had independently planned prior to their fateful meet, but now together as a bonded unit.
"I told her, 'This is my journey,' Ashley said. "And I would say, 'I hear LA has better weather,'" they both laugh. "I think within 3 weeks of meeting each other we were on a plane out to LA to check it out."
Jessica decided that indeed the weather was nice, and so was this new wonderful woman in her life. As they say, "That was that."
---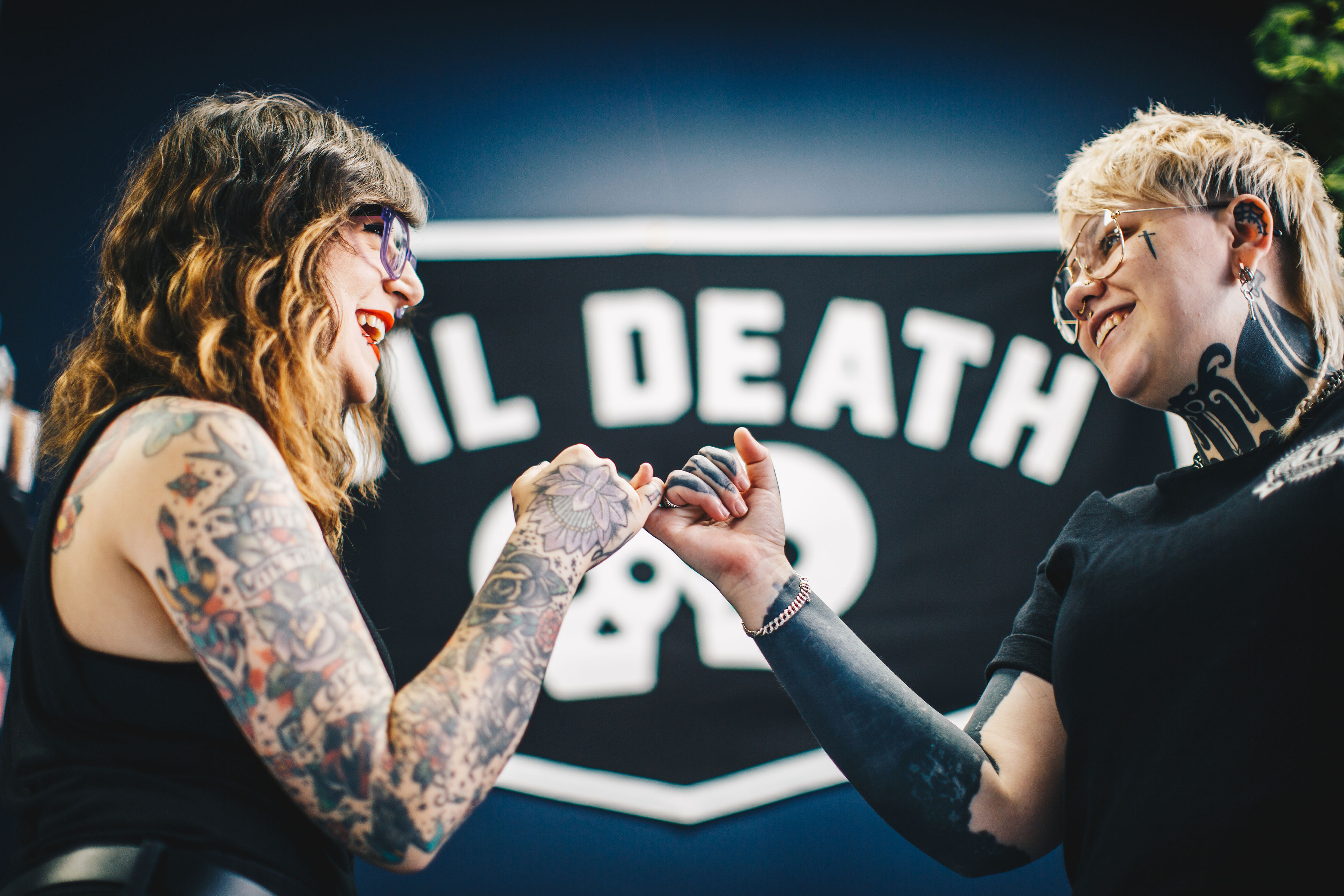 A new couple on their own respective hustles in the City of Angels, Ashley and Jessica both learned fairly quickly that, while the city offered its own riches in terms of experience and contacts, it missed the mark on the value, and values, that only home could provide.
"Instead of a 100-square-foot salon space like we had in LA — which was not cheap, either — why not have 10 times that, 20 times that, and come home," Jessica said.
Ashley laughed, remembering those tight 100-foot quarters. "But we started getting a ton of super positive feedback from our clients. They would say, 'Oh, it's so cool you work together.' We could cross-promote each other to our clients.
"We thought, 'Maybe we could do this on a larger scale,' and if we were to do that, we'd have to come back to Buffalo. This is where our connections are, this is where our friends and family are. In Los Angeles, there is no sense of community, so to try to build something from the bottom up and wanting that sense of community, we had to come back."
Ashley continued: "We had only known each other 2 or 3 months before we moved, so we lived a brand-new life away from everybody that we knew. There wasn't time to hang out with each others' families or each others' friends, and I'm super family-oriented, so to have this new relationship that my family was only going to see a few times a year when we came home was kind of like a bummer," she said. "From a personal level, it was nice to just come home and be around our friends and family, and get our friends and family to know each other, too."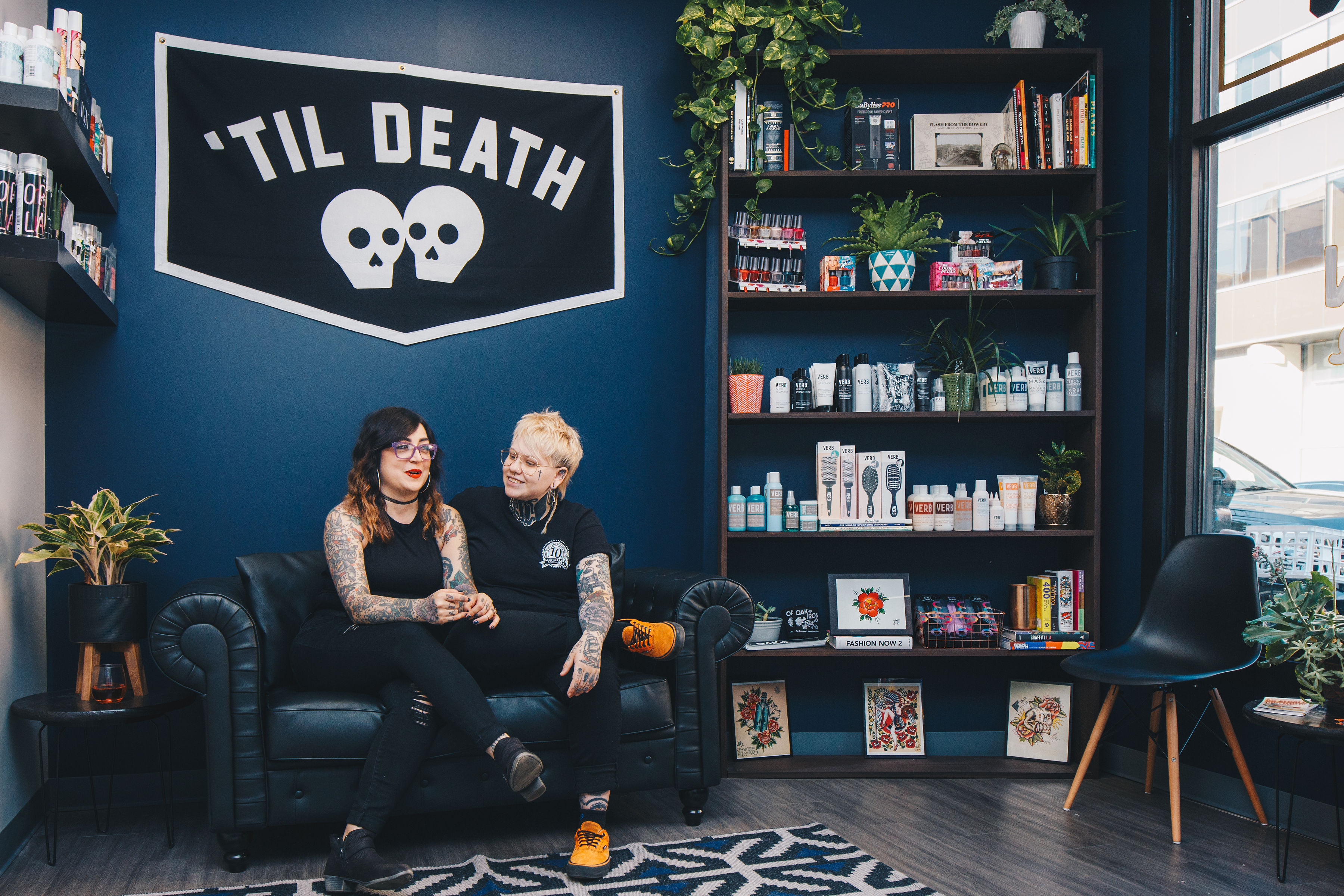 They came home in mid-2018 for a scouting visit, looking at properties off the commercial beaten paths. Not discovering anything that immediately sprang to the forefront, they headed back to their lives in California, with a plea to Ashley's father to keep on looking.
And so he did. One place in particular on Franklin St., just a hop away from the Curtiss Hotel and another jog from the Convention Center, firmly caught his eye.
"He found a place and was like, 'This is it,' Ashley said. "And we, within 4 days, packed up all of our stuff, hired movers, and just, got in the car and came home."
Ashley and Jessica met with the leasing agent of 176 Franklin Street their second day home from their 2,537 mile drive. It was August 2018.
---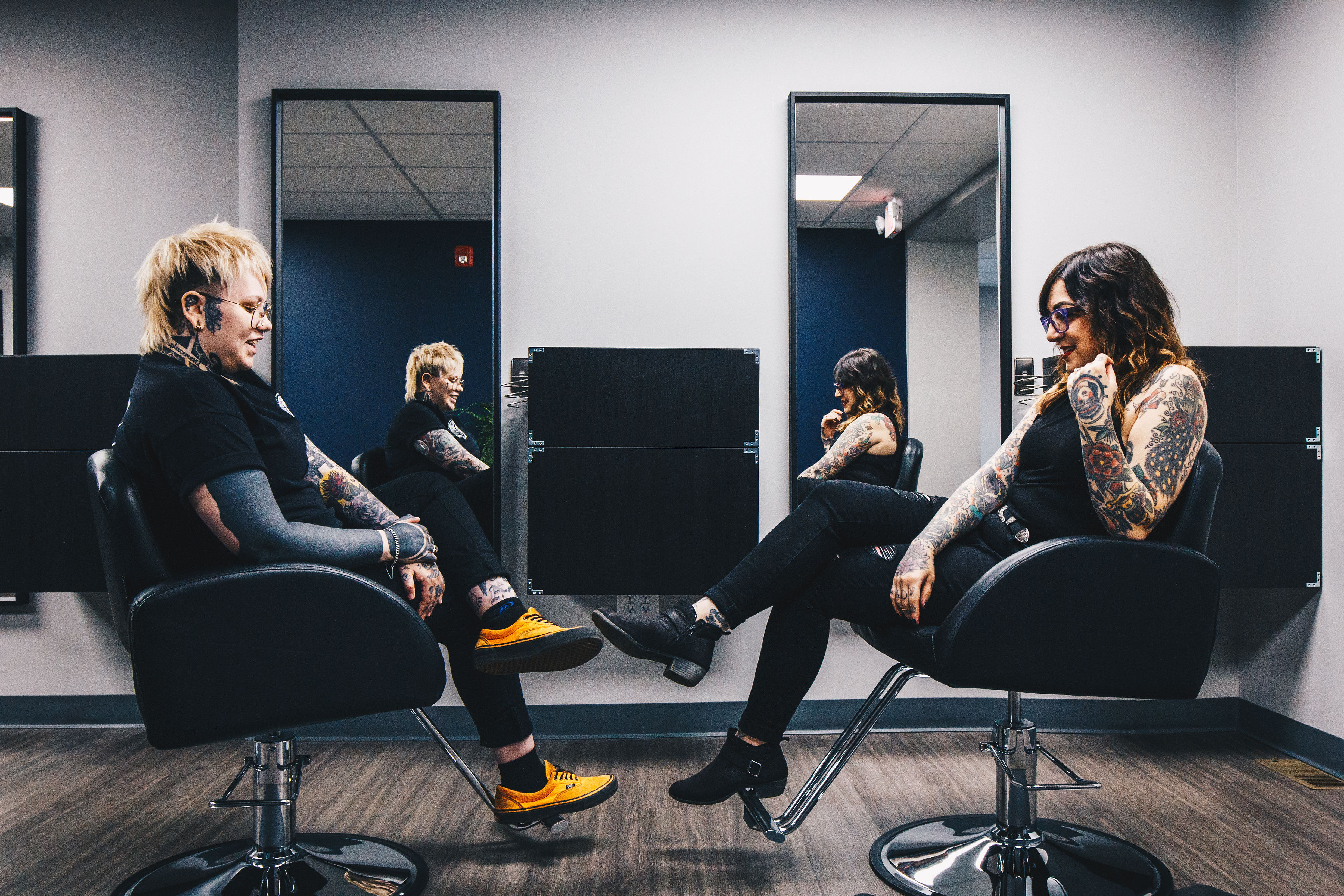 It was then down to brass tacks before the ink was dry.
"We were very much like, 'Okay, what's the timeline?' Ashley said. Eager to open up shop already, Ashley and Jessica had to instead face the reality of the many steps needed before a door could be opened.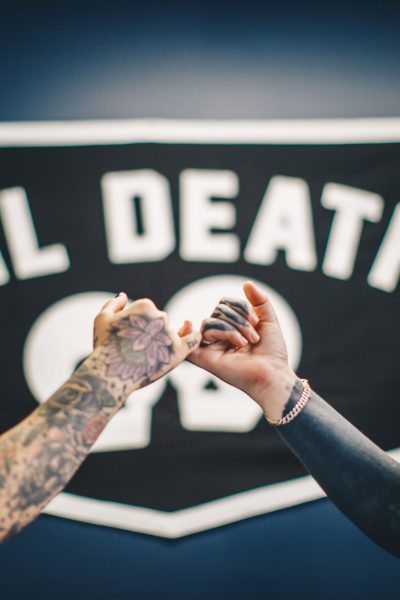 "They gave us the layout of the shop, and we put it into her iPad and drew all over it," Ashley said. "'This is where we want our tattoos to go, this is where we want our bathroom to be, this is where we want all of our hair stations to go' — it went through their end with their architects, the mechanical drawing people, the plumbing and electrical, the health department, all of those people.
"They gave us back a sheet. We kind of, made some changes to it, sent it back and forth. That was about October [2018]. It took them about 9 weeks to draw the lease up. We had a lawyer look it over in a day and send it right back to them."
By November they had an official drawing, detailing everything from where their electrical would be placed, to the specs of the shampoo bowls. In January 2019 the permits were submitted to the city for approval. After a 10-week wait, they were finally approved.
"When we were almost all ready to start, they asked, 'Oh, are you doing nails, also?'" Ashley said. "They told us, 'That requires a whole other set of permits and ventilation systems.' So then, that was another set of permits and waiting.
"They told us once they started building it would go fast, and it did. We walked in there one day and there was nothing in there, then it was like, all of the walls were framed. It sat like that for a little while, then we walked in there and they had all the drywall up. After that, we started showing up a lot more," she said.
"We played a very hands-off approach, which maybe we shouldn't have done. We don't know how it goes. We don't know if you call every single day if it'll make it go faster, or if they'll just hate you more and more," Ashley laughed. "And we're working with a multimillion, billion dollar company, and we're this little, 1700-square-foot salon and tattoo shop," she said. "They're out there building hotels."
---
Now that they've arrived at this first stop of their next chapter, Ashley and Jessica are already looking forward to the next, and the next, and the next. In speaking about future plans for their work and their space in the community, Ashley expounds on her passion for education. She says she'd like to invite outside artists to the salon for workshops and community-building, and to invite others in the Buffalo style community to join them for learning sessions and camaraderie.
"I feel like there's so many people that need to get their hair done, you don't have to keep secret all of your awesome, incredible ideas or education," she said.
"And I want to do that with the tattoos and bring in guest artists," Jessica said. They have a spot in the shop already dedicated as a guest station, and are excited to act as de facto ambassadors for Buffalo to these outside artists.
---
Ashley and Jessica have a lot of fun discussing the true "joy" of being partners in both business and love.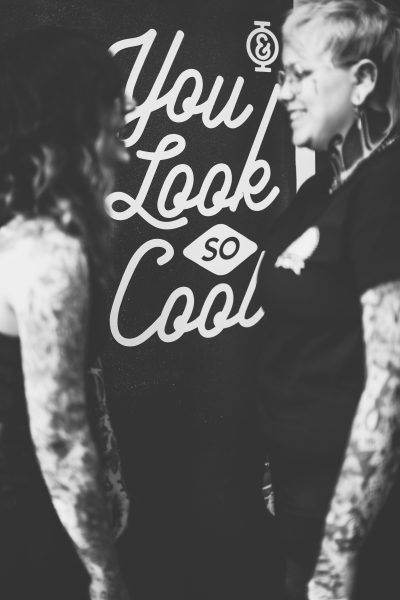 "I think we maybe had two arguments until we started the business," Ashley laughed. "Now we just argue about everything."
Immediately Jessica chimes in: "There's not a door separating our space, so I don't get to shut the door on her," she laughed.
All jokes aside, it takes a strong will to do the work necessary to remain steadfast and upright while walking and sometimes running the new, unfamiliar terrain of blossoming relationships and burgeoning businesses.
"I think that we have a really solid relationship," Ashley said. "From day one it was just very open communication."
This goes for the business side of their partnership, as well.
"[We have to] ensure that communication is always positive and make sure that when we come home, we leave work at work…We try to make sure that if we're having a date night or something we're not talking about the business," Jessica said.
"Two or three months after meeting each other, we left everything we knew," Ashley said. "We sold houses, sold all of our stuff, put the rest in a 7 ft. x 7 ft. shipping pod and moved to California. We only had each other, so we had to be each others' partners, lovers, best friends, harshest critics… We were all that we had."
---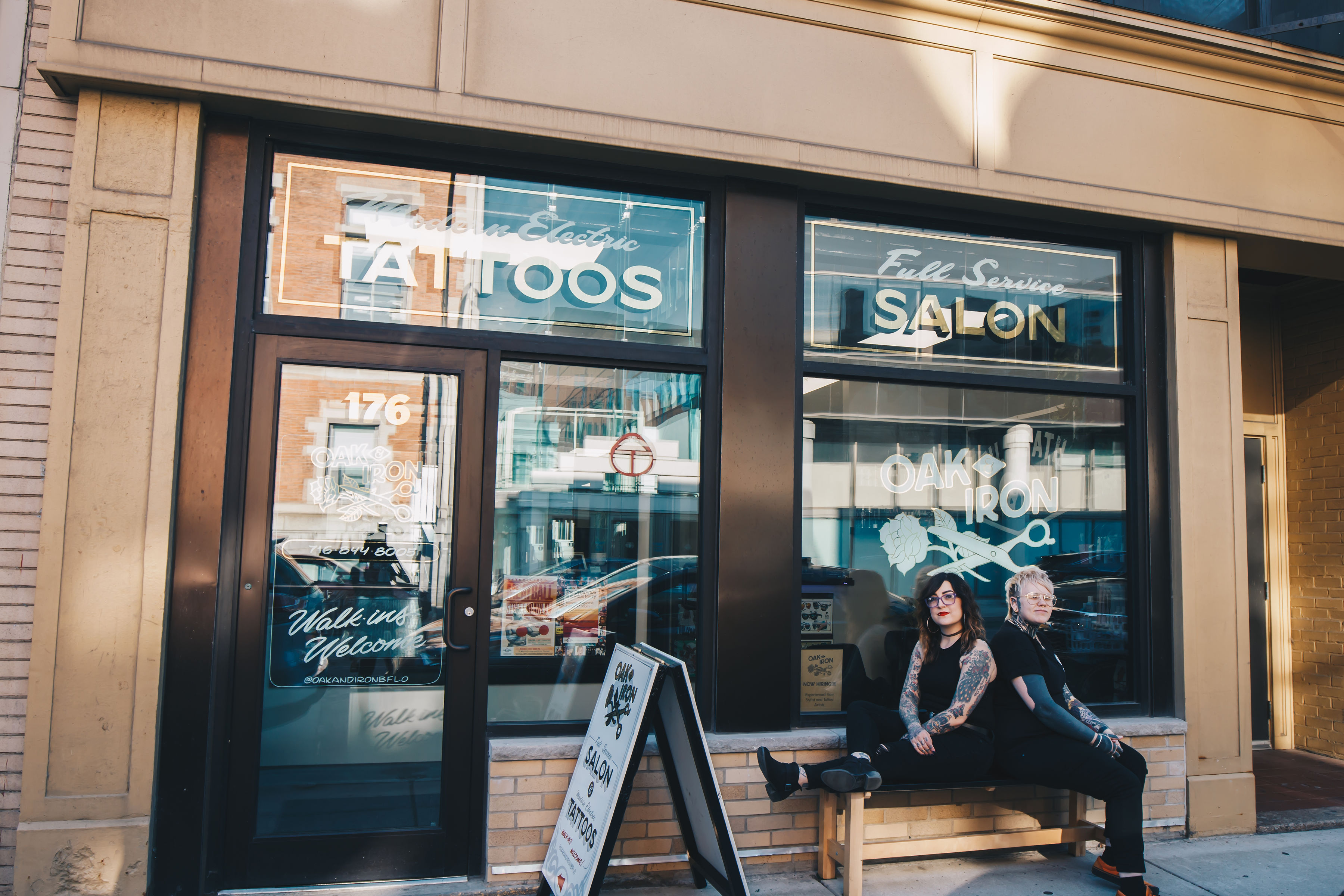 You can now find Ashley and Jessica working side-by-side as two of the newest denizens of Buffalo's increasingly frenetic downtown, a section of the city being reimagined by skilled artisans and innovative businesspeople.
Their expansive yet cozy studio houses four tattoo stations, four hair stations, and a boutique nail salon. It's style-forward with even the smallest details lovingly nurtured. It's a queer-friendly space, where preferred pronouns and gender-neutral language are respected. It's been open a month and is bustling at 11 a.m. on a Thursday. It's living proof of the power of determination, focus, trust, and love.