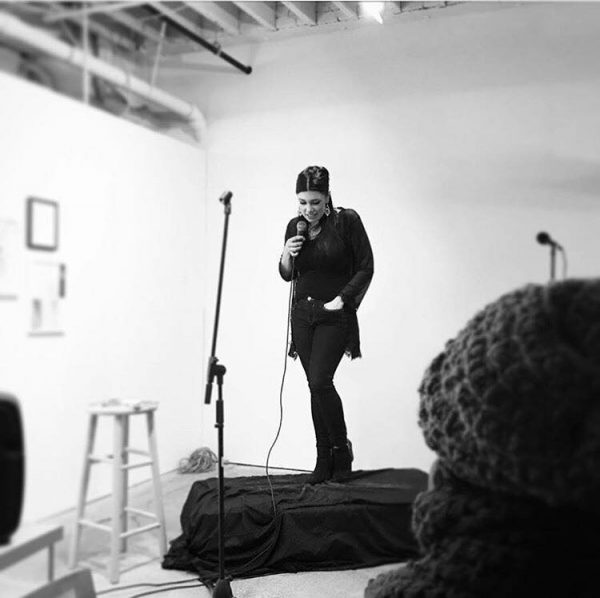 It was a stint as emcee of a Hallwalls show back in early 2014 that became an ah-ha moment for comedian Allie Brady. "'Oh, yeah, yeah, this is what I want,'" she said after that hosting gig, peppered with jokes. "I kept feeling it."
Allie has been seen on stages in Buffalo and the surrounding region for the better part of 5 years, working her craft as a stand-up comedian, writer, and sports correspondent for Late Night Buffalo. "With those things that you love in life, I feel you have to do them because we don't have tomorrow, right? Comedy I love, so I want to do it as much as I can, I want to explore it as much as I can, and I want to get better and be better, write, do the best that I can," she said.
---
Born in Buffalo, and, besides a brief stay in California as a child, Allie has been here the whole time. Her youth was marked with the challenges of being an outsider, of being the "not-rich kid" in her affluent suburb, of being "the fat kid with dandruff."
Remnants of that past still inform her perspective, even though there is barely a trace of that young misfit in current-day Allie. "I'm still the chubby, sweaty, dandruffy kid from 6th grade that loved that Old Navy t-shirt and would never not wear it," she laughed.
"My winged eyeliner was just the $2.99 Wet n' Wild stuff because that's all I could afford, and now, 20 years later, I still purchase it because that's all I can afford. Sometimes we just ate popcorn for dinner because we were poor. People don't know that stuff, but so many of us have that story."
---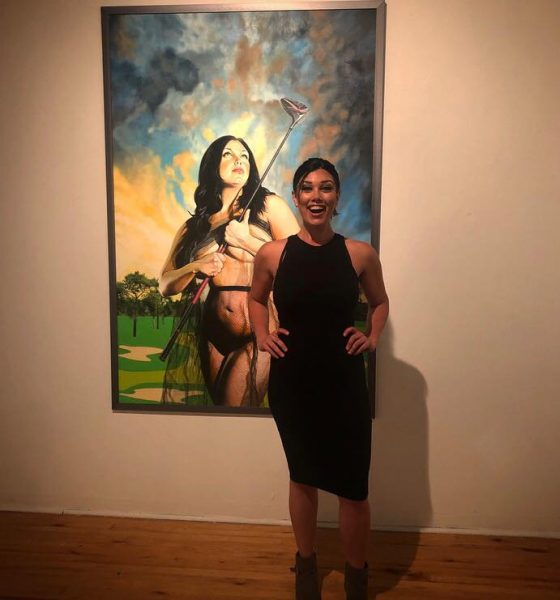 Allie breathes art every day, at a job in Buffalo's museum district. "My world is just this really cool, creative kind of thing. I get to see Western New York artists create amazing stuff, and I'm surrounded by it. Everywhere I look is art. That's amazing. And then I get to go and use a different form of art, stand-up," she said. "Stand-up is my outlet. I get to see other people's work, and then that night I get to do my own."
Although fully ensconced in her passions of art and comedy, Allie still finds herself affected by the realities of the current political landscape. "I should be less stressed, right?" she laughed. "I'm surrounded by beauty and expression all of the time."
---
This year has found Allie activated with greater frequency against injustices that have become painfully apparent due to the country's shifting policies under the Trump administration. "I've gone to six marches this year. This year!" she exclaimed. "It's empowering that people care enough to gather and protest, but then how sad is it that we have to fight for basic, human, fundamental rights?
"However, this is the best shape we've ever be in, to date," she laughed.
"I'm a feeler, an observer, and I think, when you see that there are people who are suffering, and they're people that you don't know but they're told that a gun has more rights than their body, it's insane to me. It really makes me angry and I feel it, I feel angry and defeated a lot because of it. We've got to get together and fight it."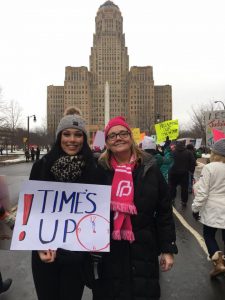 Using comedy to bridge the current political divide in the U.S. is a tricky feat, even for masters of the art. Allie has dipped her toes in this water, attempting levity and short jabs at the administration to sometimes-cold crowds at home. "I try to sneak in political stuff, because it matters to me," she said. "Sometimes the audience will fall in love with you and they'll be with you on the entire journey, but if you don't have enough time to do that, you'll lose them quickly with a Trump joke."
However, working across the border offers a vastly different perspective. "In Canada, they love Trump stuff… They are so confused by this weird guy that we have," she said.
"I'm trying to be able to slip in stuff every once in a while," she said. "But to have 5 minutes to completely point out what's wrong with our democracy, and also what's great, is not easy," she laughed. "At least there's lead in our drinking water."
---
Being a public figure has its own set of challenges, and certainly as a woman Allie has had to navigate her fair share of these over the course of the last few years.
"I've gotten harassed on Instagram," she recalled. "I did this video that I thought was funny, but apparently it was not." She explained the jokey observation, about her thigh gap (or lack thereof, as the joke goes). This new follower, someone who had seen her at a show, made a lewd remark in response, which she attempted to brush aside. "He started going off, saying, 'You'd be lucky if I f*%ked you,' all this stuff, and then he would write a comment and then delete it, then sent me a private message saying that he wanted to find me and assault me. I was like, 'Zero to 60 – chill out! Guys, there's Tinder. Go on that.'"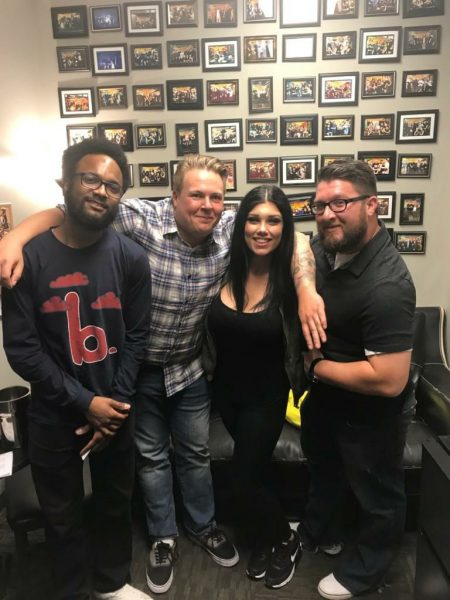 Her natural reaction to make light of a seemingly alarming situation is refreshing in light of the current #MeToo movement, but the situation still illustrates the real issue of harassment in the modern world of hyperconnection and cyber-anonymity. Still, though, this was a real guy who was really at a real show, once. Maybe more than once.
Someone with less fortitude might be a bit more shaken with an encounter such as this, and possibly even driven to silence. The chilling effects of harassment on speech and agency is a concrete concern in the world of social media and can very much bleed into real life and the expression of art.
"I get more social media creeps," she said, "But I've also gotten notes on my truck after shows, and I'm like, 'How did you know what I was driving?'"
Although couched in joke, Allie continues this sentiment: "After a show I hide and don't want to talk to anyone. I just Irish goodbye, because of that stuff… I think that's the only downside – that I have to run away after a show," she laughed, but kinda not really. "And I now have to carry a gun. It's totally not a big deal. It's totally fine. I lose sleep every night, not a big deal. It's great."
This off-the-cuff bit has real promise to it, and could extend for many minutes more, increasingly more absurd but with that hard nugget of truth at its core. However, there's a silver lining here. "I don't get any shit like that from comics, and I don't get shit like that from people who hire me."
---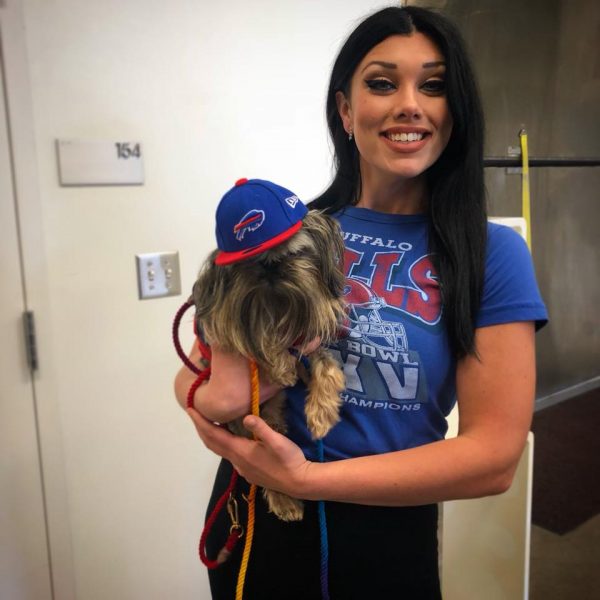 As a stand-up comedian in Buffalo, Allie's been able to work with national acts at Helium, the city's preeminent comedy club, and has the opportunity to work out material on independent stages throughout the city in ways she might not in a larger market. As a Buffalo proponent and cheerleader, staying put for now suits her just fine.
"I'm happy right now in Buffalo, and I also love, love, love this city," she said, when contemplating a move away to explore opportunities in comedy. Buffalo is an excellent training ground for the arts, with receptive audiences and much more room to move around and grow in the craft. Proximity to other cities in the region and even over the border gives it credence as a headquarters location, as well.
"I respect people that go and move to New York, because you're not going to get better and you're not going to have that chance or opportunity unless you are in New York, and I totally get that, but I'm able to work with prime comics that are extremely relevant by living in this city," she said.
---
In 2019 she hopes to see Late Night Buffalo, a live show and video series with fellow comedian Cody Colin Chase, firmly take root after a false start at the Tralf Music Hall this past year. She plans to continue working her craft here, and it's safe to assume she'll stay front-and-center in matters of activism and politics.
"I think uniting people is a really magical experience, and making someone's day better by laughing – how does it get any better than that? What a gift we have. We're able to make someone who might be going through hell, smile at the end of the day. That is so beautiful. And I hope that's what we're able to do.
"Also, it helps relieve me from the stress of knowing that I won't ever be able to buy birth control pills legally in a few years."
---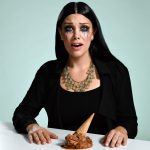 Allie Brady can be seen this Saturday, July 21, 7 p.m., at Milkies, 522 Elmwood Ave., headlining Nickel City Renegade Rollergirls Comedy Night; Sunday, July 22, 7:30 p.m. as part of Helium's Best of the City Roundup; and Friday, July 27, 8 p.m., as part of Comedy on the Rocks at Black Button Distilling Co.
Cover photo courtesy of Luke Copping, copyright ©2018 Luke Copping. Other photos provided.