Artist Bio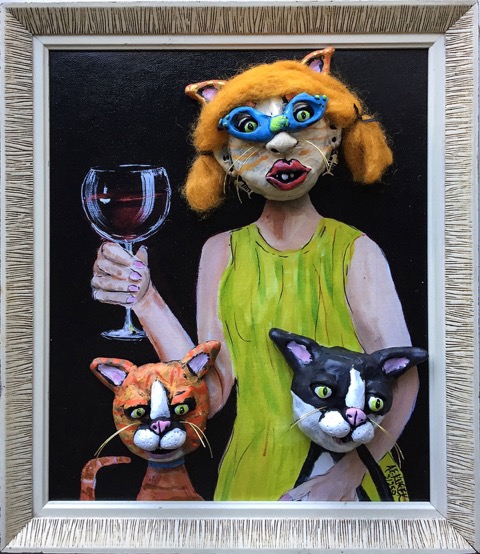 I'm a mixed media artist creating fun, upbeat artwork. Working primarily in acrylic paint and synthetic clay, I create bright, colorful images featuring animals, cocktails, an occasional human and of course, Silent Mylo.
If asked to describe my purpose in life I'd have to say it's to make people laugh. Life is challenging and, on the whole, we are too stressed out. We often forget to look at the lighter side of things. We NEED to laugh! A good dose of my artwork is sure to make you smile. Taken on a regular basis it may even lead to spontaneous fits of laughter.
I'm a Buffalo native and a graduate of the State University College at Buffalo and the University of Buffalo. I've exhibited and sold my work through galleries, shops, and art festivals for many years and am happy to say that my work is held in numerous collections throughout the United States, Canada, Western Europe, Asia, and Australia.
---
How long have you been an artisan? How did your particular skillset develop over time?
I think I was born an artist and have been creating art for as long as I can remember. I was an Art major in high school and while my actual degrees are in Business, art, design and photography made up a large part of my college education. Since then I have changed mediums and recreated myself several times over. I guess that as an artist I am a work in progress.
---
Please describe your work / product.
My work ranges from large, one-of-a-kind paintings and 3D sculptures, to prints and gift items. I paint in acrylics, and many of my works have clay sculptural elements incorporated into them. My subject matter includes animals (a LOT of cats!), skeletons and Day of the Dead creatures, and an assortment of oddball human-esque characters. And of course I have a number of Buffalo related works, too. 🙂
---
Who are some of your favorite artisans / makers in the region? Who amongst your peers inspires your work?
Nicole Johnson – Mealy Monster Land
---
How long have you been a business owner in WNY?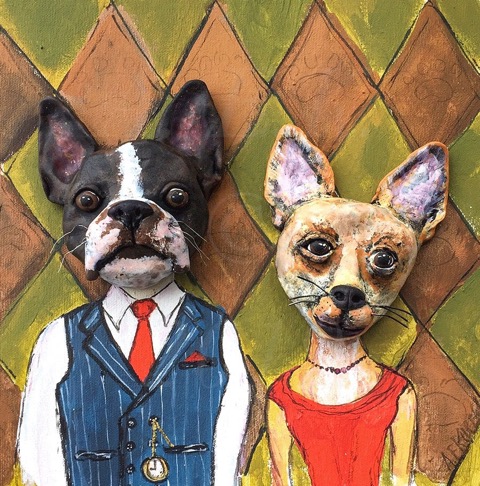 More than 20 years.
---
How long have you been a part of Buffalo Women's Gifts?
Quite a while! I was not among the first exhibitors as I have only participated since the event moved to Ashbury Hall — but I want to say on and off for at least 12 to 15 years.
---
Where can people see / purchase your work year-round?
I'm a member of ShopCraft, an artist collective with a shop at 773 Elmwood Avenue, Buffalo, NY 14222.
Purrfect Cat Cafe at 1507 Hertel Avenue, Buffalo, NY 14216 has a small selection of my work. It's worth a visit to see the Kitties!
---
Where else will you be representing your wares this holiday season?
Buffalo Women's Gifts is the only show I will be doing this season.
WNY Artists Group/Art Dialogue Gallery at One Linwood Avenue, Buffalo NY 14209 will have a small selection of my originals for their Artful Gifts Show.
You can also find me at ShopCraft and online on Etsy.
---
Social Media: