Qween City is thrilled to be highlighting the city & region's myriad artisan makers this holiday season. If you would like to be highlighted in the Craftiste directory, please shoot an email to [email protected].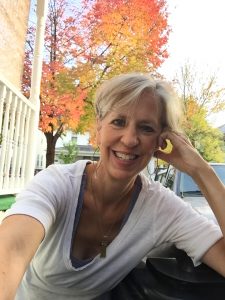 How long have you been an artisan & business owner in Buffalo?
Forever! I think I started creating artwork shortly after being born. 🙂 But I've been making work for sale for over 20 years.
Where are you located in the city / region?
I have studio space in my home in the Kenmore/North Buffalo area.
Do you have a physical storefront? If so, what is the address?
I'm a working member of an artists' collective. ShopCraft is located at 719 Elmwood Avenue, Buffalo, NY 14222. We are located inside of Thin Ice — we're the shop in the back!
Website: https://buffaloshopcraft.com/
Facebook: https://www.facebook.com/buffaloshopcraft/
Instagram: https://www.instagram.com/buffaloshopcraft/
Website: https://buffaloshopcraft.com/
Have you operated elsewhere?
I ship worldwide and have traveled throughout the Northeast and near Midwest for shows — but I've always lived and created my work in the Buffalo area.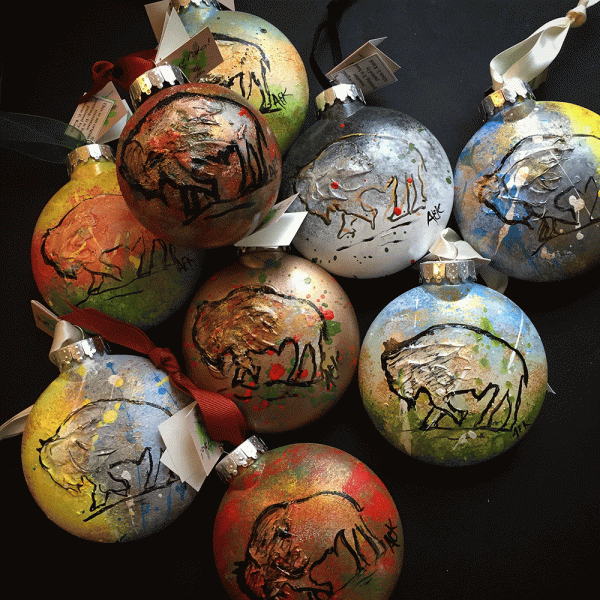 Please describe your work / product; if applicable, please include your artist / personal statement or mission.
Work Description:
I create fun upbeat artwork featuring animals, yoga, wine, and Buffaloes. My work starts with original acrylic paintings on canvas that I build on/enhance with hand sculpted clay attachments — so my paintings are 3D! My originals range in size from 30″ x 40″ down to 2.5″ x 3.5″ (tiny). I offer limited edition, framed canvas prints as well as open edition paper prints of my original work. I also create a line of gift products based on my original work including: cards, magnets, ornaments, and pendants.
Artist's Statement: 
I'm a mixed media artist creating fun, upbeat artwork. Working primarily in acrylic paint and synthetic clay, I create bright, colorful images featuring animals, cocktails, an occasional human and of course, Silent Mylo.
If asked to describe my purpose in life I'd have to say it's to make people laugh. Life is challenging and, on the whole, we are too stressed out. We often forget to look at the lighter side of things. We NEED to laugh! A good dose of my artwork is sure to make you smile. Taken on a regular basis it may even lead to spontaneous fits of laughter.
I'm a Buffalo native and a graduate of the State University College at Buffalo and the University of Buffalo. I've exhibited and sold my work through galleries, shops, and art festivals for many years and am happy to say that my work is held in numerous collections throughout the United States, Canada, Western Europe, Asia, and Australia.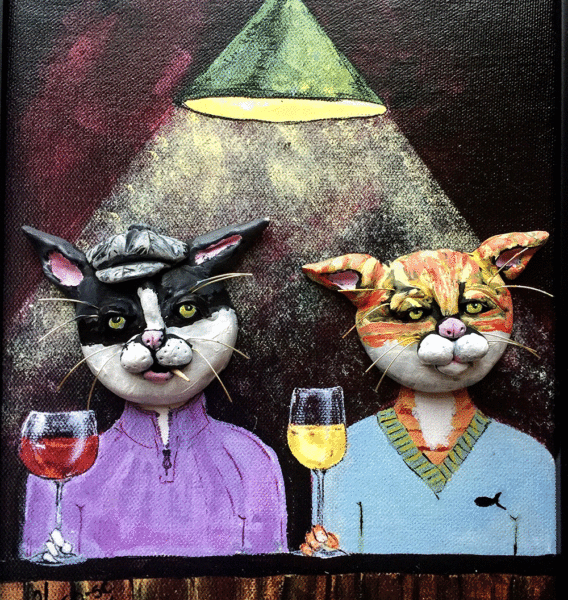 Artistic Process Statement – Alison E. Kurek
My work begins with stretched canvas, modeling compound, and acrylic paint.
I make a sketch of my original design with pencil before starting an underpainting.
My paintings are built up in many overlapping layers. At times I use hand-drawn and hand-cut stencils as well as brushes and palette knife.
Occasionally I will use an altered original photograph as my background image. All photos are taken by me, printed on canvas with archival ink, and altered with acrylic paint.
I attach hand-sculpted figures, masks, and other attachments to my painted images. My attachments are all hand-sculpted by me and made out of synthetic clay. I often paint the attachments so that they blend seamlessly with the image on canvas.
I securely attach all clay figures and attachments to canvas with a strong adhesive and, when needed, back supports. When all is dry I use a finishing varnish on my mixed media paintings.
I address life issues with some of my works, but my main mission as an artist is to make people smile. We live in a complicated, hectic world. My images are intended to make the viewer stop and enjoy the current moment.
Who are some of your favorite artisans / makers in the region?
Christa Penner/CDesigns: Christa is the managing partner and heart and soul of ShopCraft. She's a digital illustrator and creates amazing Buffalo scenes along with full line of cards, prints, and gift items.
Ann Peterson/Mundo Images: Ann's photographs are amazing! And she also has a thriving greeting card business.
Nicole Johnson/Mealy Monster Land: Creepy, cute, and pretty fantastic!
Where will you be representing your wares this holiday season?
ShopCraft: 719 Elmwood Avenue — inside Thin Ice. We're the shop in the back!
Etsy:  https://www.etsy.com/shop/SilentMyloStudio
Village Artisans: 5560 Main St, Williamsville, NY 14221
Kenan Gift Show November 17th through 19th at the Kenan Center in Lockport
Buffalo Women's Gifts, Saturday, November 25th at Babeville on Delaware Avenue, Buffalo
A City of Buffalo Artists Market at Ellicott Square, Wednesday evening, December 6th
If there's anything else you'd like to include, please feel free to do so below!
2017 has been a year of change for me, with becoming a member of ShopCraft probably the most positive of those changes. I'm looking forward to working with the  group in 2018 in addition to creating new work. January through March is usually when I have the most time to create new work — but we need to get through and enjoy the holidays first. 🙂
Contact:
instagram.com/alisonekurekart/
https://www.facebook.com/ArtistAlisonEKurek
https://www.facebook.com/SilentMyloTuxedoCat
https://www.facebook.com/alison.kurek