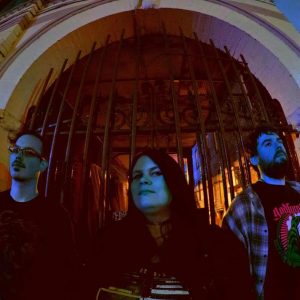 Alaysa Dale, 29, has been teaching her 75-year old grandfather how to play guitar. She says it's mostly about guiding him back and reactivating his muscle memory. He swears he's ready to learn Willie Nelson but she reminds him that he has to go slow.
You might know Alaysa Dale from bouncing undesirables from Mohawk Place, from accidentally throwing the largest anti-Trump rally back in November, or from her stoner sludge grunge band Nine Layers Deep where her pipes try to, as she puts it, "reach the end of the abyss."
Alaysa is one of those talents whose connection to her fated craft has been clear since she was small. As she recounts tales of her childhood she highlights sitting in the backseat, "I would scream bloody murder in the car if the radio wasn't on." In sound, she has always found solace. Ever since, music has been the force that has held her together — from the first time she felt her stepfather's bass vibrating through the floor, to the Fender Jaguar HH Blacktop she received as a pre-engagement gift from her husband to be.
---
Though Alaysa bounced around WNY, she spent most of her youth and arguably the most important era for a sludge/grunge musician – adolescence — in West Seneca. "If I had a clique, it was comprised of all the kids who couldn't get into cliques," she quipped, recalling high school. "I hated the constant feeling that if you didn't get this right away, you were going to fail. It would ruin your whole life."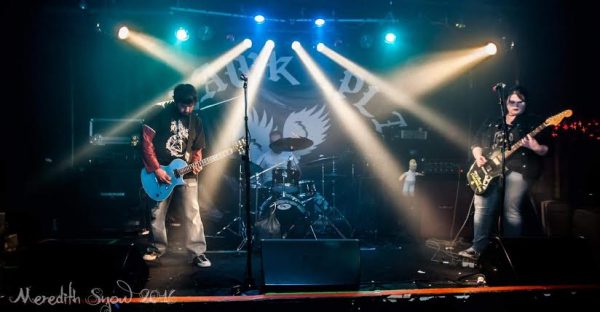 As for influences, she cites Chris Cornell and Meatloaf for vocal inspiration and references a time she wished to be like Kurt Cobain. "He's iconic. His whole deal is, he's so poetic and he's so dark. It's like, 'Yeah, let's be that but without heroin.'" But, the most surprising influence, if you've ever give Nine Layers Deep a listen, is inarguably Dave Matthews. Alaysa is an unashamed aficionado of DMB's entire catalogue and her Ovation Applause guitar carried his name; she's seen him live 18 times and says his music is darker than most might expect. She says Dave's about two things, death and "going down on ladies and I'm like, alright. He enjoys that and that's a part of his life."
But, Nine Layers Deep and Alaysa's whole sound couldn't be further away from DMB on the '90s-genre spectrum. No one has to explain that there's a darkness to her music, feeling that darkness is non-optional. Complicated emotional content isn't buried beneath any major chords or upbeat melodies. "I have a really hard time faking it…It's really hard for me to be disingenuous."
---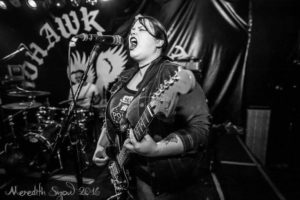 Nine Layers Deep came together around 3 years ago when Alaysa was living at a show house on Northrup. The band would practice in the basement that embodied dungeon-like qualities, dripping walls and a sole light swinging above the dryer. The band's name was found in one of the singer's old journal entries expressing her sense of aloneness and depression. "I felt like I was nine layers deep in hell." But, it also comes from the concept of nine levels of consciousness. Alaysa envisioned a fence between the two concepts extending in opposite directions. "No matter what, the alpha and the omega, the beginning and the end, you're going to end up nine layers deep at some point. Or, you hope."
The band is currently recording their demo at Watchmen Studios in Lockport with Doug White. The plan is to shop the demo around, likely to be named the Sludgelife EP, and the big dream is to score a record deal with the likes of Ipecac Recordings or Amphetamine Reptile Records.
---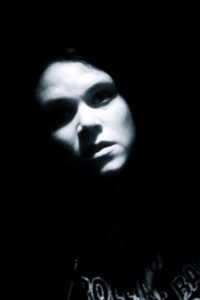 There's a self-awareness to her songwriting but also a raw honesty about pain she has survived. "Funeral" displays this balance of layers and Alaysa performs it open and gutted, her pipes carrying her pain into the abyss. The song explores the various angles of loss she experienced after her friend of 12 years, Anna, committed suicide. "That song in particular is, like me, just angry. Angry at the people who didn't help her, angry at the people who tried to stake a claim on her, and angry that I couldn't do anything about it… I felt like I went, too." The song expresses the continual pain and the guilt that runs through her.
…you might as well think about it instead of denying its existence.
She is forthcoming about her continual draw to death. Her breakdown in terms of why is, "Okay, it's the inevitable, right? People freak out about it. They like, move their whole lives around trying to become something different and live longer and avoid it. It's so random and delicate, so you might as well respect it and you might as well think about it instead of denying its existence."
That's what makes Alaysa's performances and her music a necessity instead of a navel gaze. The pain, the anxiety, the vulnerability of performing a song about a friend's suicide again and again exists. But, that hasn't stopped her from playing "Funeral" and it is consistently the heart inside the beast that is Nine Layers Deep.
The truth to her statement about death rings loud — the layers, the unpredictability, the chaos. This was clear the next day, when Chris Cornell was found dead, determined a suicide.
But it's like she says, "I'd rather be aware of how delicate and chaotic everything is."
---
Catch Alaysa and Nine Layers Deep TONIGHT at Mohawk Place, 47 E. Mohawk St., Buffalo, 8 p.m. and July 7 at Sugar City, 1239 Niagara St.
Listen to Nine Layers Deep here.