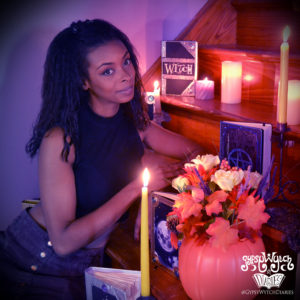 When the Wonderland Witch took her teachings for modern witches and pagans online, she became connected with "hundreds of kindred spirits." And now, 3 years after embarking on the business known as OddSoul Designs, Afura Fareed is finding that she can sustain herself solely through her entrepreneurial spirit.
It wasn't always this way, however. "After earning my Bachelor of Fine Arts degree from SUNY Fredonia in 2011, I was totally lost… I had no clue where to start, so I began crafting random items when I got home from work: dreamcatchers, postcard illustrations, feather jewelry… I even had a phase where I upcycled clothing into "eco-fashion" pieces… But trying to market these bits and bobs at the local flea market on the weekends ended up being pretty discouraging," she said, recalling those early days of OddSoul Designs.
---
For the first two years of her independent business she worked in the corporate portrait photography industry by day, meanwhile "lugging the OddSoul Circus Tent back and forth to different markets and lower-end art festivals" in the off-hours. It soon occurred to her that she had the skillset required to independently offer graphic arts services, and so took her brand online in 2014. "I went to a Meet Up group for female business enthusiasts and I ended up meeting Sarah and Laura Haykel, business and life coaches who helped give me the courage (and business) I needed to get my graphic arts career off the ground," she said.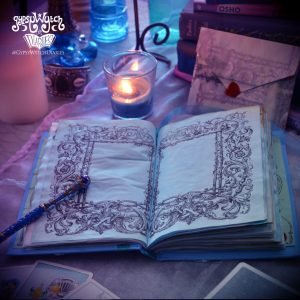 Over the course of the next year she learned how to run a real business on the fly, meeting many local creative business owners on the way. Through the course of stirring many different pots at once, Afura realized she was juggling too many different projects and services. "I longed for the ability to specialize in one skill that would really deserve all of my attention and determination. It then came to me one morning in that weird phase between waking and dreaming: handcrafted fantasy-themed journals," she said. Reading your mind, she follows up: "It sounds crazy, and that's because it is!"
---
Nowadays, the GypsyWytch Diaries consume much of her OddSoul Designs work (although she remains in graphic design partnership with select clients). The Diaries are high-end handcrafted art journals made for the spiritual writing practice; couple these with the GypsyWytch Diaries vlog (the aforementioned online teachings for modern witches and pagans), and Afura has discovered a winning spell for her particular brand of whimsical creativity.
Bringing a Diary to fruition is a multilayered process. Printing illustrated pages, staining paper to produce parchment, and decorating hand-painted covers are the first steps. Then there's the business portion of events: developing a system to keep track of orders and deadlines and finances. Then there are the online courses: researching, scripting, filming, editing. "This side of my business is not directly related to sales, but is absolutely imperative for building my newsletter list and connecting with my online community," she said.
The Fool's Journey: Your Guide to the Tarot Video 1: Introduction to the Law of Attraction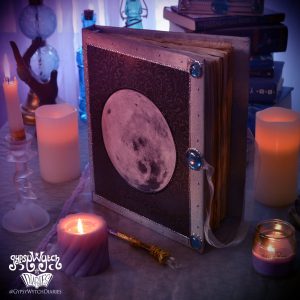 The choice to fully pursue her passion as a business came as a natural progression. "It took me a long time and various stages of participation before I cut the cord all together, but I knew I had to do it. I believe very strongly in 'energy' and 'vibes,' and even when I was only working for someone else a few days a week, the stress would infiltrate into every other aspect of my life, and it was taking away from my ability to put my whole self into the work I was passionate about. Finally quitting the day job was kind of like throwing the baby bird out of the nest to get it to really fly on its own," she said.
---
Continuing in this vein, Afura muses on what it means to really go for it. "It has always been my life goal to be a full-time self-employed artist, and as of right now, I am literally living that dream. What they don't always tell you about 'living the dream,' however, is that it is not always easy. In fact, it can be extremely challenging and downright terrifying at times. Some weeks are better than others, and to be honest, I've wondered over and over again if it would have been 'easier' to take the normal path in life and hold down a 'job.' But you know what? I just don't feel like it!
When times get hard, I return to inner work and seek the guidance of my Inner Child.
"Since starting my business in 2012, I have had to open my mind to completely new ideas of what 'success' means. As you grow through the phases of your adventure, you will experience an endless amount of unique situations that you've never encountered before. The key is to avoid comparing yourself to others and make it a point to compete against yourself to 'beat your own score.'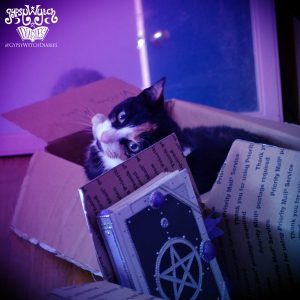 "If you are learning, you are succeeding. If you are thinking about starting your own business, ask yourself this: are you willing to evolve as a person in order to grow your brand? If not, you might as well keep your day job. In order for your business to succeed in the new global economy, you have to be willing to 'sell your soul.' Not to sell it away, but to put your heart and soul into everything you do, and make it profitable by putting yourself out there to make genuine connections with people who need you. That takes a lot of adaptability, receptivity, and bravery," she said, offering words of advice to those on similar quests.
"I look at my entrepreneurial spirit as the only option. Some people say they don't want to quit their job to pursue their passion because they're afraid to fail. To me, nothing is a failure if you learned from it. Failure is not an option for me. It's about adaptation. My life's work goes hand-in-hand with personal development, spirituality, and psychology," Afura said.
---
It has been a path of resistance, but Afura is now seeing the fruits of her labor come to bear. "I believe that when all the aspects of our life are in healthy alignment with our core values and highest calling, everything will fall into place one way or another. When times get hard, I return to inner work and seek the guidance of my Inner Child. The struggle is real, but when you have a destiny to fulfill, the miracles come when you need them most!"
Subscribe to Afura's Tarot course on YouTube; shop Etsy; connect on her website, Instagram, and Facebook.
Photos provided