It's not every day that you just quit your job, move back to the city you love, toss caution to the wind, and decide to figure it out and follow one of your many dreams. No, the details aren't worked out, and no, there is no plan. There isn't even an end-goal yet, other than to do something else. But that doesn't matter. What matters is you are DOING SOMETHING. You are making a CHANGE. And you'll figure it out along the way. That's exactly what Petal Pusher owner Samantha Reidy did, and she's become a trailblazer in her own right.
---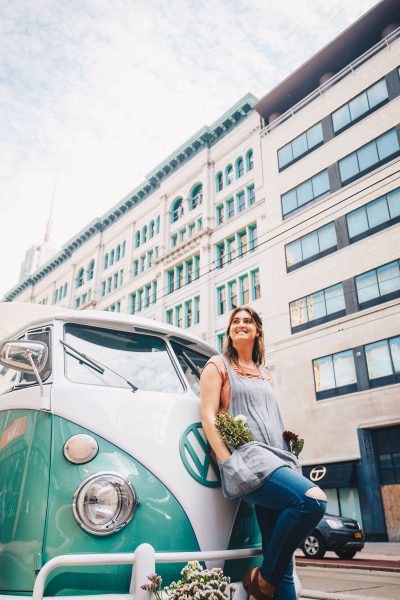 Like many college grads, both Adventure and New York City were calling Samantha's name after graduation. However, she was no sooner settled when she knew it was not for her. Whether it was the noise, the unfriendliness, or the cutthroat nature of the Big Apple, she missed Buffalo almost as soon as she had left it.
After working for a non-profit during the day, Samantha would sit with her roommate and dream about all the things that she could be doing. "I probably had 10 conversations with my roommate back then about the same thing. What if I wanted to be a marine biologist, or a detective, or a florist? We were like, 'What if we are missing all these opportunities?'" After enough of these talks, she decided to move back to Buffalo. "I was just going to take a beat and do one of these things."
---
A self-described 'plant mom,' Sam couldn't get enough of things that grow. "I fell in love with having every possible succulent in my room all the time. I always made sure to have fresh flowers in college in my apartment…I think it brings something pleasant to every space."
When she returned to the Queen City she sent a letter (yes, an old-fashioned letter, not an email) to Savilles, a florist in Orchard Park (her hometown). "They weren't even hiring but I wrote them a letter, [saying] 'I really want to work for you guys,' and a month or two after I moved home they called me and I ended up getting a job there — and I loved it."
So now the plant mom had a real job working for a fancy florist, learning the ropes, talking to customers, making arrangements, and getting her feet wet in the flower business. She blossomed in the role (pun intended). "Shortly after I started [I thought], 'I can do this every day, I love doing this.'"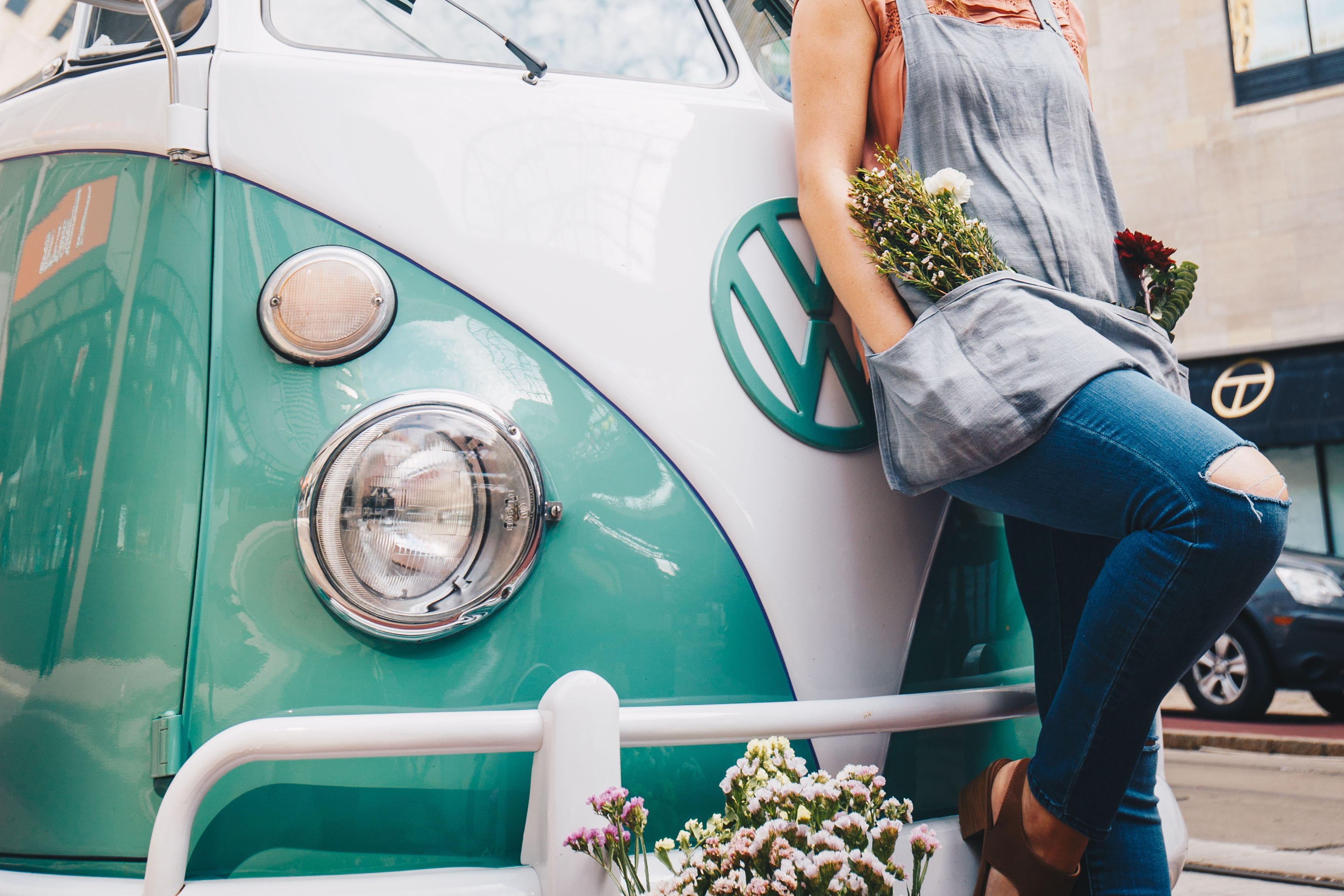 So how did her now-iconic flower truck come into play? The same way her move from New York happened — on a whim, with a lot of pluck, head first, and not checking the water.
Inspiration struck the way it can in this modern world — with a look around Pinterest and Instagram, seeing some really cool things, and wondering, 'Why can't I do that?'
That's how the Petal Pusher came to life, from a tiny seed of inspiration, to a truck filled to the brim with stems and blooms. "I was online and I was just…browsing Pinterest or something, and I saw a flower truck, and I started Googling them. There's a couple in California, one in Maine, one in Tennessee, and I'm like, this is the opportunity that needed to present itself to me."
---
Step one was finding an actual truck. After seeing the Petal Pusher out and about in town, you realize that there was really only one option. "I mean there were other options, but I knew I had to have the VW just because it is so stinking cute, you cannot deny how cute it is," Samantha laughed.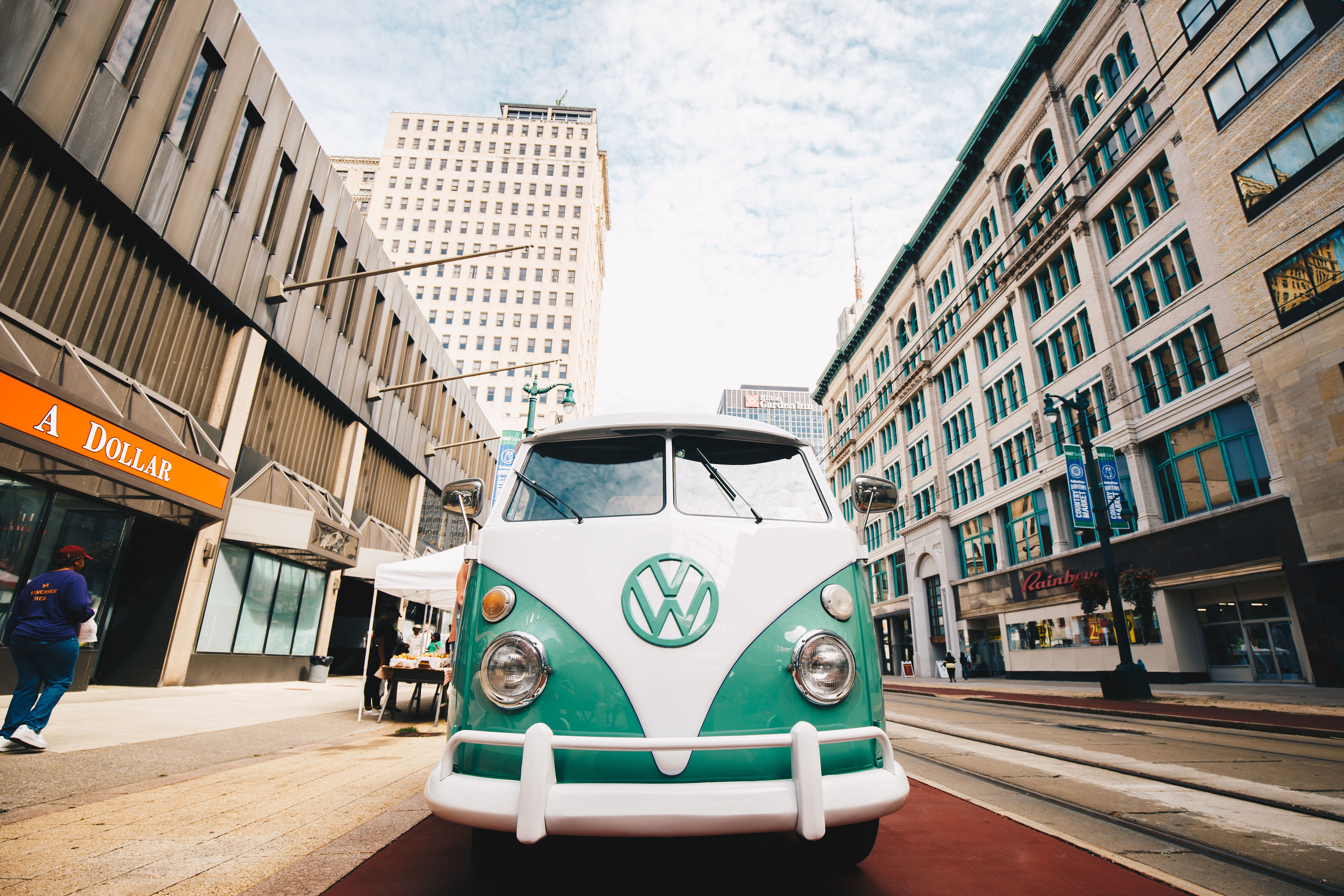 In comes Stella, a 1963 Volkswagon Transporter, a bus she found online and purchased sight unseen from a minister in Kentucky. "On the side he'd buy these old VWs, tinker with them, tune them up a little bit, and then resell them. When he's not on mission trips that's what he's doing. He just seemed like a good guy, I got a really good feeling from him."
For those who aren't vintage VW aficionados (I believe that is the majority of us), vintage buses (as they are lovingly referred to) usually come in one of two ways: fully restored for the price tag of a luxury car, or completely rusted-out junkers that need a complete overhaul. Neither were a good option for Samantha, so she had to dig for something in-between.
The specific model she purchased was practically made for this kind of business. "The cool thing about my truck is…the sides. It looks like a pickup truck but the sides drop down. I don't really know another type of car that has that access to the bed. Everyone thinks, 'Hey did you build this out of the bus?' but they literally made them like this."
Stella was purchased and shipped up from Kentucky at the beginning of the year and had to be ready for the markets that coming May. Thanks to the hard work by some family friends over at Miller's Collision in Lackawanna, she was fully restored in record time. "They did a really good job. They told me that normally it would take about a year, but I had them do it in 3 months."
---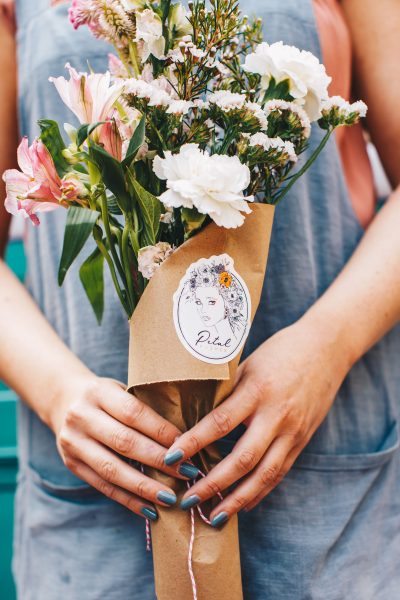 Truck sorted, she knew she needed suppliers for her flowers, a space to work in, and the paperwork in place. She got herself an LLC for her new business, and made the contacts she needed to supply her truck with the gorgeous stems you can see each week.
Samantha combines both local and international blooms on her truck to provide the stunning arrays she offers. "There's a really nice woman in Lackawanna, she has a micro farm in her backyard and whenever she has something available, I'll just go and start clipping with her. There's another farm in Lockport, Heirloom Soul Florals, she's awesome… and she's got really, really beautiful things."
To round out the collection, she has fresh cut flowers flown in from all over the world through a wholesaler. "I get flowers from New Zealand, South America, Canada, Holland, all over the place. It's kind of just a big mix, a melting pot," she said.
Even a mobile flower truck needs roots and a permanent place to keep things running smoothly. "Flowers love the cold, right around like 35 degrees is where I keep them," she said. To do this, she needed a workshop, complete with an industrial cooler, a large table to work on, and buckets upon buckets to soak the stems and feed them flower food. "My parents are sweet enough to basically let me set up workshop in their garage…I'm there pretty much every single day," she said.
---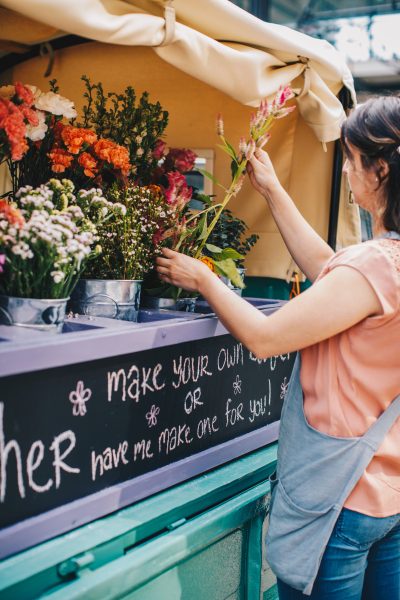 With the truck ready, an LLC in place, her blooms ordered, her workshop set up, and her notice given to Savilles, she was literally ready to roll. She hit the ground running and filled her week by working the afternoon hours in the downtown market, at Larkinville, and on Saturdays at the Hamburg Farmers Market. "It's been super well-received…It's just fun, every day it's fun. I'm excited and it's nice to be excited about things — especially about what you do."
She carries a wide variety of flowers, but, like most people, she has some favorites. "I would have to say tulips are my favorite. I just think they're so pure and I like that they are one of the only flowers that continues to grow after you cut it. I think that's very symbolic — after you get cut down, you continue to grow. I love gerber daisies, I think they are one of the happiest flowers ever — people love gerbers. There's a type of mum called the football mum, it's real puffy and there's a lot of petals and it looks like a little cloud… Spray roses. I think people forget about them, but they are so stinkin cute. I like them because you get four or five blooms on a stem. The names for the different roses crack me up. The orange color I get is called Babe, [and] I get a hot pink rose called Pink Floyd."
Her items are well taken care of, fresh, and typically last a couple of weeks. "I've had really positive feedback. I've had customers come up to me and say, 'You know, I got flowers from you two weeks ago — they lasted two whole weeks!' Hearing they are lasting [that long] is really cool, so I think I'm doing something right," she said. You can have her make you a lovely bouquet, small, medium, or large, or you can make your own and select what you want a la carte.
---
Even though fortune favors the bold, it hasn't always been an easy road. She's had her share of bumps, but has persevered through the hardest of situations. After buying Stella, which has a manual transmission, she realized she needed to learn to drive a stick. After many helpful driving lessons from her assistant, a.k.a. her father, she took her out solo — only to end up facing a busted engine and failing brakes.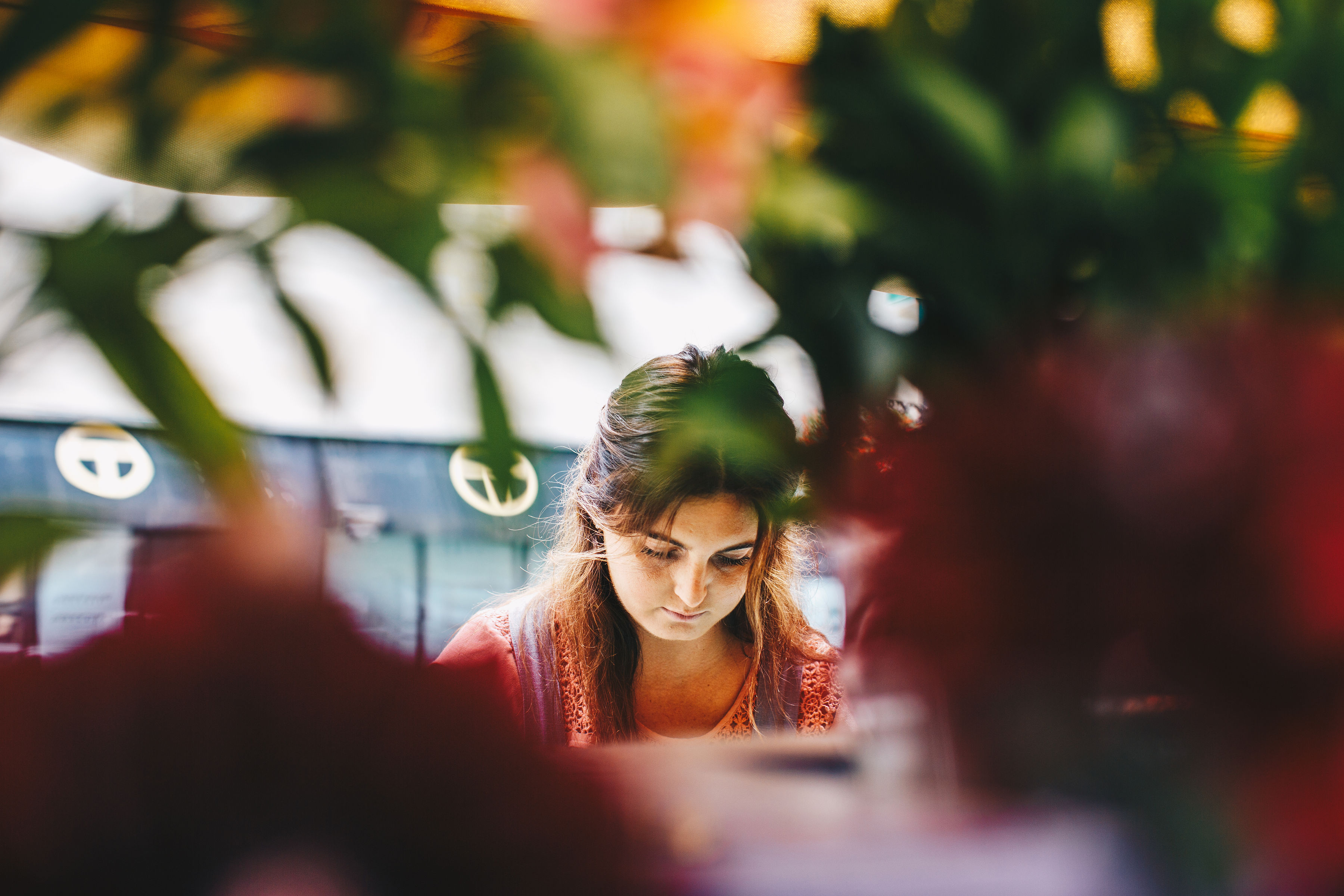 "There was always something with the car — I needed a new engine, I needed new brakes — right in the middle of my season, in June." But she rolled with the punches and has been rolling ever since. Doing what she loves has seen her through the harder times.
"I feel like most people are not passionate about what they do. It's exciting for me when people come up and say, 'This makes me think of quitting my day job and following my dream.' I never thought I'd be a person of inspiration to anybody, so that's really cool, connecting to people on that level. I want to feel good about what I'm doing, I want to make sure that it's bringing some good into the world… I know I am one person out of 6 billion but it's like the saying, 'Leave the world a better place than where you found it' — so I am just trying to do my part."
---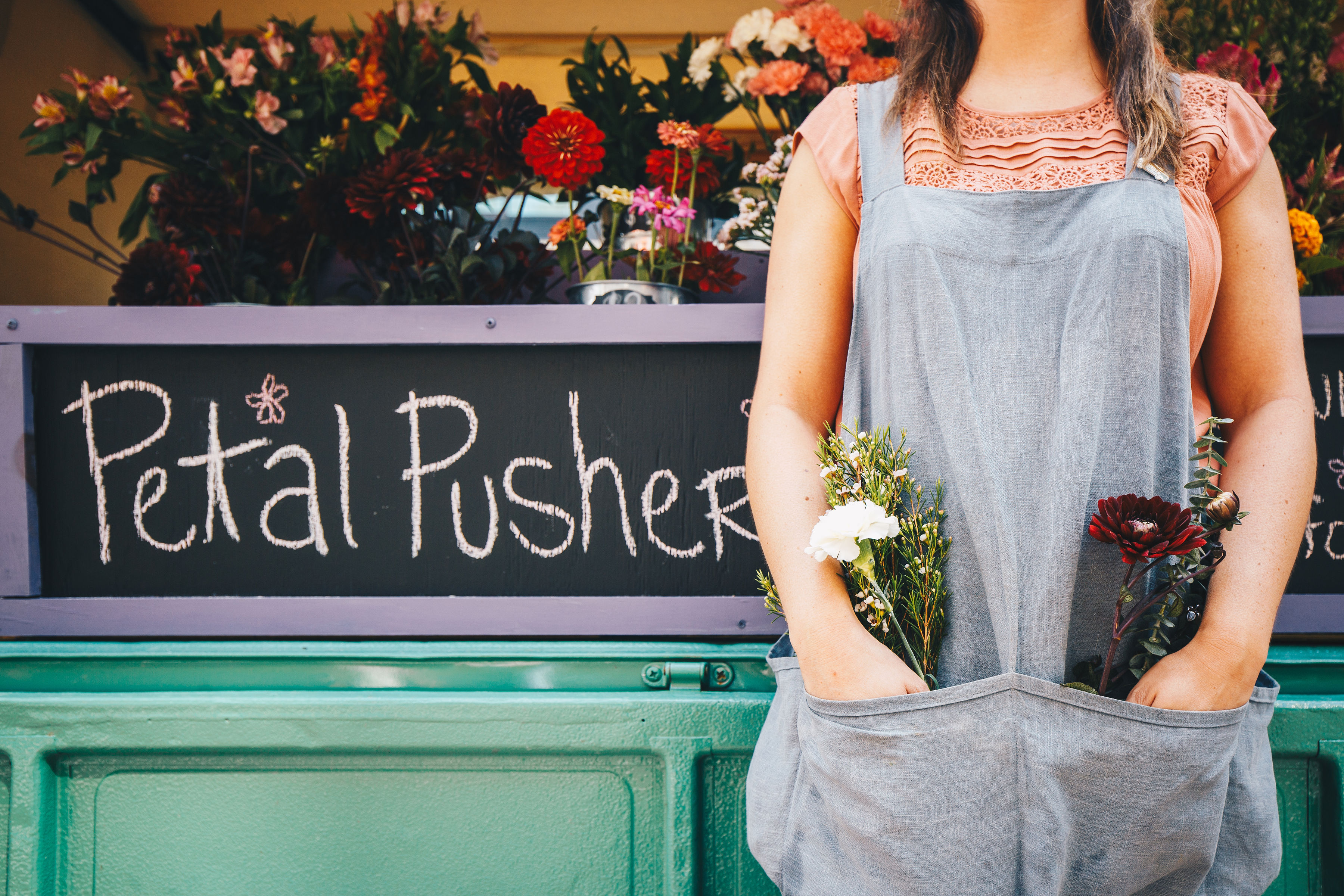 So what's next for the Petal Pusher? Sticking with what works for now, and seeing where the road takes her. "I haven't really figured it out too much just because I wanted to do this so badly and I feel good that I am following my dreams and I try and not get too hung up on the future even though it's coming up really soon. I feel like I always tend to land on my feet, so something will happen. The last Hamburg Farmers Market is the October 26, so that will be it. I don't know what I'm doing this winter. Right now I kind of just dove in head first, and we'll see what evolves!"
Be sure to catch Samantha and Stella before she's stored for the winter at any of the following locations: The Buffalo Place Downtown Country Market on Tuesdays and Thursdays from 10 a.m. – 2:30 p.m., at Larkinville on Friday from 12 p.m. – 2 p.m., and at the Hamburg Farmers Market on Saturdays from 7:30 a.m. – 1 p.m.
---
Photos by Alana Adetola Arts Photography, L.L.C. – Studio North – Buffalo, N.Y. 14201 –[email protected]
© 2019 Alana Adetola Arts Photography, LLC. All Rights Reserved. All images on these pages are copyrighted. Use or reproduction without prior written permission is prohibited.