Five minutes with Lisarie is enough to communicate to anyone that her interests are ephemeral. That she is one who can never be just one thing. That she delights in brevity and committing to change is her only constant. Or, as she puts it, "Busy hands are happy hands…You know how it's nice to wake up and be excited about something? I have to do that or I won't want to wake up."
Lisarie Martin is a 25-year-old jack-of-all-trades Buffalo transplant. She hails from Odessa, Texas which she describes as "Oil-field craziness. It's plaza central. Plaza, plaza, plaza, and one duck pond with one duck."
---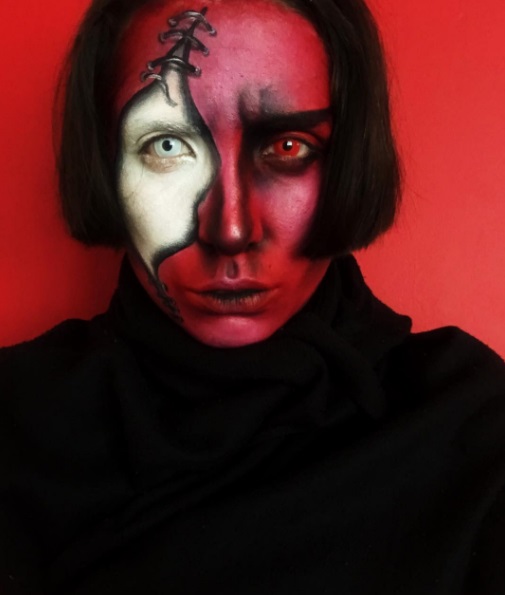 Previous to her move north 2 years ago, Lisarie escaped for a time to live in Austin only to be roped back to Odessa due to her mother's failing health. It was there, sleeping on her mother's futon, that she found herself in a perpetual state of inertia. After her mother healed, she gave Lisarie her blessing to leave this unhappiness behind and live her life. From there, Lisarie hitched a fortuitous ride north with a friend and her boyfriend, leaving Odessa and its one duck behind.
After two trying months, living in Tonawanda with some roommates she found via OKCupid, Lisarie nabbed a job at Transitional Services, Inc. where she's been working nights as the Resident Counselor ever since. There, she counts all small things as victories, highlighting the perseverance and achievement in successfully teaching the elderly residents any ability, from showering daily to striking a G chord on the guitar.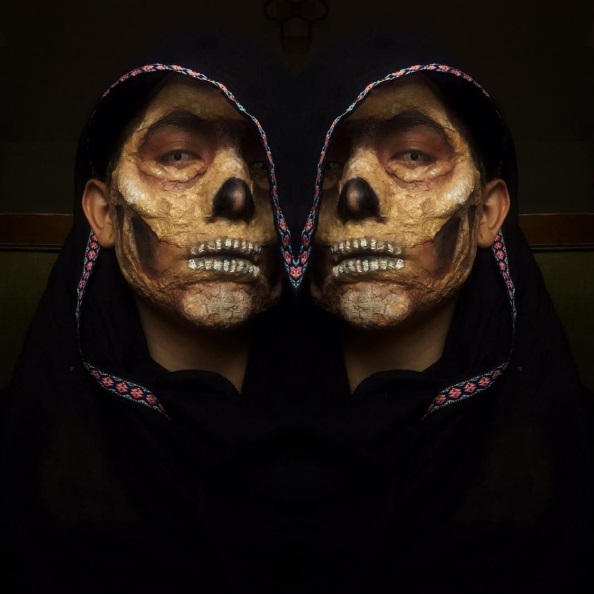 She admits the job is not without its difficulties. It's not only the weekend shows she misses from working nights but, "[It's] mortality. It's a fear of mine. I definitely understand people's fear of being around older people now. I've never had that…But, death doesn't scare me. It's the last straw before death."
---
When asked if it's this battle with mortality that causes her to put on the masks of monsters, she laughs. She recounts the beginning of her makeup fascination. Before May 2016, she had a consistent go-to: "Eyeliner. Red lips." But, it was her desire to blend that led to her studying Jordan Hanz tutorials on YouTube rigorously. In comparing this new trade with the ones before, Lisarie is confident it will be a sustained interest because of its evolution. What began with beauty makeup became body paint which became special effects. She's developing her own style and even trying it out on others.
Death doesn't scare me.
When Lisarie isn't working the nightshift or putting on a different face, she's planning shows for Dreamland, an underground performance space and gallery on Franklin St. in Buffalo. She was recently passed the torch to be their Director of Performance and Sound and has dove into the role with diligence. From hand drawing all of the flyers to clicking on every local band's Bandcamp, she has Dreamland booked up for November. For the remainder of 2016 and into the coming year, Lisarie would like to see the space play host to a diversity of bands, further integrating Buffalo's music community.
---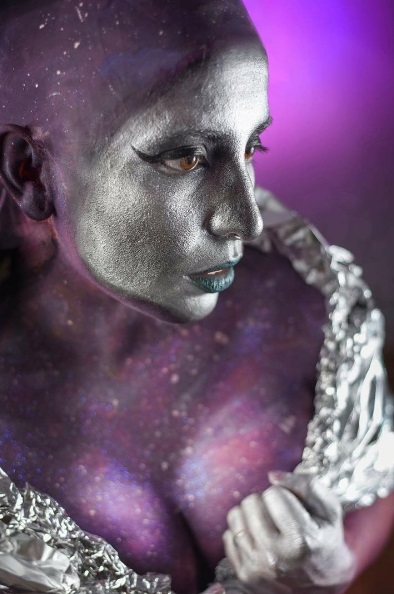 While her main moves are currently being made backstage, Lisarie has been known to rock the mic in a band or two. Though she'll be making sure that Transitional Services isn't burning down for most of the Halloween weekend, she will be front and center in a Yeah Yeah Yeahs cover band tonight at a punk house. But, she won't be dressed as Karen O.
"Every day I'm Karen O. I'm going to be a mummy."
Right, because that's Lisarie. She doesn't like to live yesterday twice. To check out Lisarie Martin's day-to-day, check out one of the shows at Dreamland or her Instagram.
Photos provided