From the desk of Shannon Dawn, your Lowbrow Librarian — Broad Topics from a Topical Broad
Here's an uber-brief preview of some women's wrestling happenings you should know about.
Sup Qweens – With WNY being the home of popular early-2000s wrestler Beth Phoenix, I hope lots of other WNY women will be tuning in to Hell in a Cell this weekend to watch Sasha Banks challenge Charlotte Flair. Is that tie-in too much of a stretch? Okay well, seriously, I think that pro wrestling, besides being entertaining, holds up a mirror to our culture.  So roll with me here.
It's been over a year since WWE started rolling out the "Women's Revolution." At the outset it had the potential to be a disappointing farce — strictly used to frame run-of-the-mill matches. It's come far enough from its starting point to declare they're getting it right, for the most part. Opportunities to close down the show in a main event match are now open to female competitors, and while there are still pictorial spreads, they try to frame the photo shoots in some more substantial context.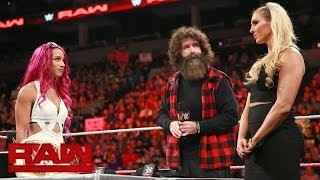 The most visible change is trading in the godawful yonic Divas title for a sportier design and rebranding it the Women's Championship. That itself is a move away from patronization to inclusion. Besides, they did away with the upskirt rope cam years ago! I have some notes, but the push to do better by female talent is going overall better than I expected from the company that consistently brought romance-only story angles for its binary female characters (girl next door/ruthless bitch).
Granted, this progress is still coming from the same system that implemented a panty-hose ceiling to begin with. But all that will be history on Sunday when, for the first time ever, two women enter the most hellacious contraption conceived. The Cell! It gives you opportunities for glory, and in turn only asks for your soul! Okay, I'll stop before I work this Foley tangent into a full on Mankind rant. Take my word; Hell in a Cell matches are for top-level performers only and placing the first ever women's #HIAC as the main event on a PPV card is a huge deal.
There isn't much you need to learn about the competitors to have a stake in the outcome. They're using the most classic storyline of them all: both parties want the title, and there are no ringside boyfriends to speak of. The former champ, Charlotte Flair, is impressive in-ring and has a fantastic legacy; but there's something about Sasha Banks that is undeniable. Also, I would be remiss not to mention Banks is Snoop Dogg's cousin. People love that.
What I love about pro wrestling is that there is something for everyone, whether you're a live broadcasting aficionado, you live for corny storylines, or just want to zone out looking at something interesting. Speaking personally as a "woman who does dude stuff" I expect many readers have also had rude awakenings and realized That Thing You Love isn't really for you. I believe that is changing.
Anyway, I watched Banks compete live at a huge event in Brooklyn last year and it was inspiring.
How to watch:
Ask your friends who like wrestling if they're having a viewing party. Someone's having one, you just don't usually hear about them.
Sign up for a one month free trial of the Network.
There is no third option, right?
So even if you're not a wrestling fan, this Sunday's Hell in a Cell match is worth checking out, if not to appreciate the historic moment and boost ratings, but to see what us weirdos are always talking so loudly about. Seriously, why are we so loud?
Top photo: Sasha Banks, L. defends her title from Charlotte Flair, R. on Sunday
Second photo: Commissioner Mick Foley cautions Banks and Flair against the Cell on camera, and champions women behind the scenes.