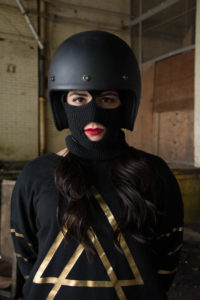 "I had a dream about a new motorcycle shop. It looked kind of like a badass Pottery Barn. And you're allowed to sit down!"
That was probably not how the conversation started when Jodi Drew and her husband Chris conceived
Spoke & Dagger Co
., but it very well could have been.
With riding season underway and the 11th International Female Ride Day coming up tomorrow, May 6, now's the perfect time to meet designer and half of Spoke & Dagger Co., Jodi Drew. Together with husband Chris, she's taken DIY to another level by building a business that positions each to run with their passions.
---
Gear up
Trying things on is one of the few experiences not yet replicated online, and it's just one of several reasons to stop into a neighborhood shop outfitted with knowledgeable and engrossed people behind the counter. So many homegrown t-shirt brands begin with a webstore, but many end that way, too. That the Drews knew they had to start with a brick-and-mortar presence over building up from a webstore says a lot about their commitment and to the process of Going Big in general.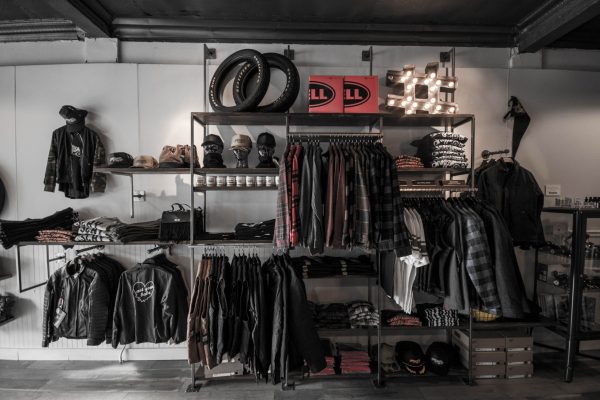 When starting down this riding road, gearing up with good-fitting boots and jackets is essential. Jodi's product-buying philosophy is a hybrid of brand alignment and personal style. One consistent element of riding gear over the ages is that practicality and style are intertwined.
"I personally wouldn't buy a $700 motorcycle jacket, so we don't stock them," Jodi explains.
Following this principle, Jodi's apparel racks are furnished with carefully selected clothing, outerwear, and accessories. And, after much deliberation, Red Wing won the pageant to be the shop's designated boot supplier, in part because of their superior women's selection.
---
Gather
Meeting other riders is integral to the DIY biker ethos driving Spoke & Dagger. Jodi acknowledged that today's new riders don't have the disposable income of the easy rider generation, and so working on your bike with friends in the off-season is as important as having riding buddies. The social aspect adds another layer to the hobby, one which doesn't have to cost a thing.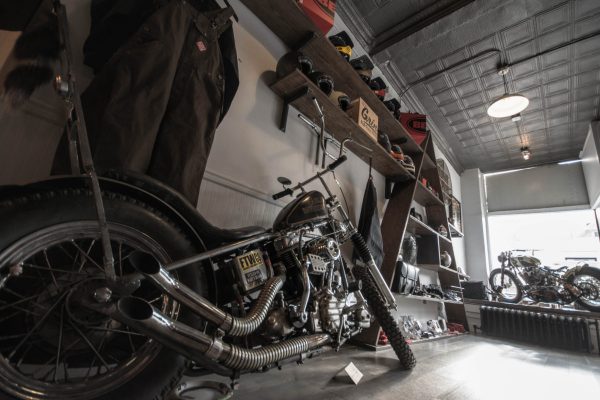 In that same vein, Jodi wanted to ensure her shop was welcoming to female riders, particularly new ones for whom a welcoming first experience makes all the difference. This Saturday's
International Female Ride Day
event will be both a social ride and an opportunity for new or would-be riders to get informed. Drew and crew will be riding from Spoke & Dagger to
Broken Sprocket Garage
in East Aurora for a workshop on maintenance, group riding, pre-ride inspections, and lots of other crucial knowledge.
Jodi puts good effort into a social media presence but is not reliant on the web for bringing the regulars together. Having her shop be a comfortable place to congregate is critical to her. Patrons can sidle up to the counter bar and have a bottle of water or cup of coffee, or just enjoy a chat about the scene or something new popping on the corner. Even dogs are welcome; Jodi keeps treats behind the counter, so be sure to stop in if you do the Great Hertel Ave. Dog Walk Saturday 11-4.
---
Get to work
The hot topic of "work/life balance" did not explicitly come up in our chat, but making a living selling pieces you selected personally is the epitome of working to your authentic strengths. Jodi is an independent graphic designer who studied at Buffalo State and Chris is a certified motorcycle mechanic. Working together was a dream scenario for both spouses, and Chris chimed in that getting discounts is a huge perk, too!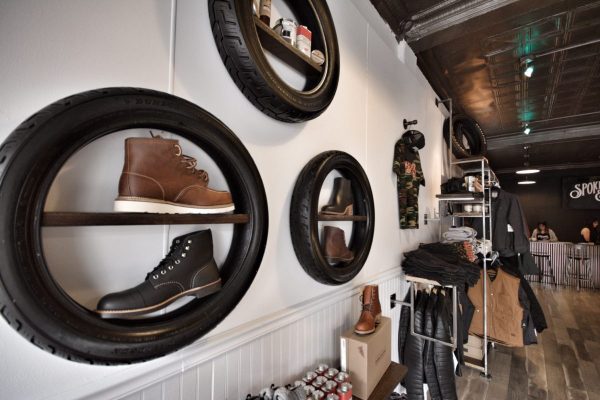 Jodi helps dispel some of the myths about "riding while female." For women, riding is the same as for anyone. First of all, you don't need to be particularly strong. Like anyone, all you need is a bike that fits you, and road time. It is not out of the ordinary for a woman to have her own hobbies any longer!
/snark
One thing I couldn't help but notice in the shop was the prevalence of black leather over brown. Jodi admits that's just her personal preference. As I read on a helmet sticker, "it is what it is." She's going with her gut and it's working. When pressed, "How do you know what's good?" Jodi admits, "You just know."
We do know, Jodi. Visiting Spoke & Dagger Co. is a great shopping experience and a testament to the power of playing to your strengths. Here's a Life Lesson™ — when somebody wants to listen to your dreams, let them; if they want to hitch your dreams to theirs, weld yourself to this person and hit the road.
---
Gifts Ideas For New Riders
---
Find them
Spoke & Dagger Co.
1434 Hertel Avenue
Buffalo, NY 14216
716.480.4855
@spokeanddaggerco
Photos provided