Good Neighbuzz aims to highlight area charitable works, good deeds, and helpful hands in order to connect those who could use their services with those who would like to help.
---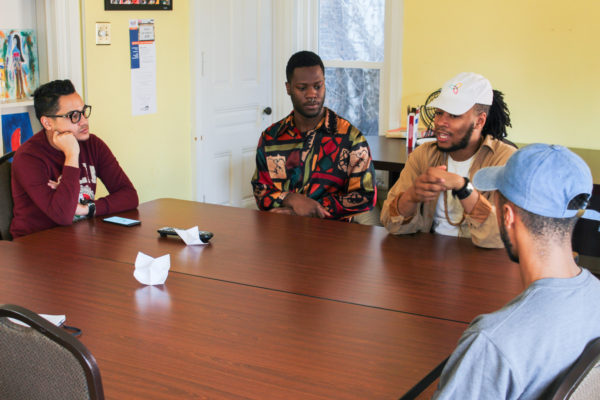 "What's your average day like?"
"Which day?" answer the staff members of the MOCHA Center. Around the conference table sits Alex, Taje, Richie, and David. Brought together by their work, the staff members are truly emblematic of what grassroots organization and community-building can be. They tell me their days are ever-changing and fluid, depending on the events they're hosting and the needs of the community.
The space itself embodies the spirit of the organization: the beautiful old Buffalo architecture and woodwork speaks to the wealth of ages past, while the programming it hosts is ever-hopeful for a better future.  The building is not a family home as far as bloodline is concerned, but it serves as a genuinely communal space. This is a special kind of home for many, and the bridges they build are important, life-saving ones. QC is honored to have been able to sit down with the MOCHA Center of Buffalo to talk about identity, community, and safety.
---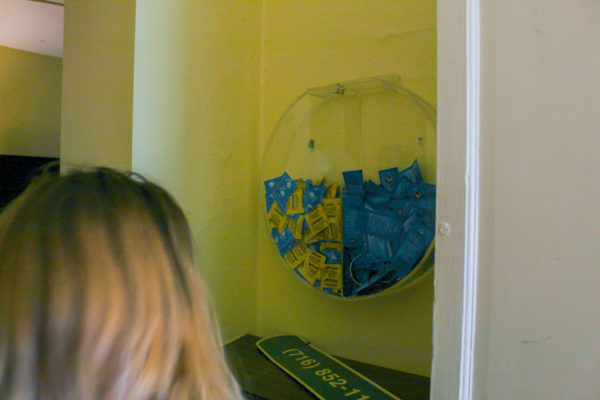 In order to grasp the importance of the MOCHA Center's presence, it's pertinent to give some context. In the late 1970s to early '80s, gay men constituted the majority of the initial casualties of the AIDS epidemic. Due to homophobia and other systemic devaluation in the conservative socio-political climate, there was a delay recognizing and alerting the nation, creating a public health nightmare. The blatant mismanagement of the crisis allowed for fear and stigma to spread, as well as the carnage to go unchecked. Watching friends, lovers, and community members grow ill and die, grassroots organizations and activists like ACT UP, worked tirelessly to spread awareness and stop the spread of HIV.
Today, there are many organizations working in concert to fight the HIV/AIDS epidemic. World AIDS Day, December 1, has been fostering conversations with the greater public about the epidemic since 1988. And while hashtags and benefit concerts are helpful in generating a buzz, the labor of grassroots organizations carry out the work the rest of the year. Hence, the birth of the MOCHA Center.
---
Founded in 1996, the MOCHA Center, or Men Of Color Health Awareness Project, began in Buffalo and Rochester to educate Black and Latino men on sex-positive living. The scope of the center has grown, currently working to connect LGBTQ people of color, who are often underserved by traditional outreach campaigns. The MOCHA Center holistically cares for the people it serves by offering a variety of services and programming. 
Besides HIV testing, they host workshops aimed to connect older and younger generations of queer and trans people of color. The MOCHA Center understands that the most at-risk populations need to have their basic needs met in order to get and remain healthy and safe. This is why the MOCHA Center hosts a variety of services, from connecting people to housing and operating a local food pantry, to having an accessible shower for anyone who may need it. They even provide bus passes to support accessibility to their services.
The variance of the community is reflective in the center's staffing: "We look like the communities we serve," says David. Because the center supports a diverse group of staff—in aesthetic and identity—people who may feel alienated by other settings are more apt to find someone to connect with here. After all, as Taje points out, "Queer people of color are not a monolithic group." Creating space for people to openly explore their identity and be themselves is not only what makes the MOCHA Center unique, it's what makes it effective. David adds, "It's in a home, innovative, different, very low-key community-building at its forefront."
---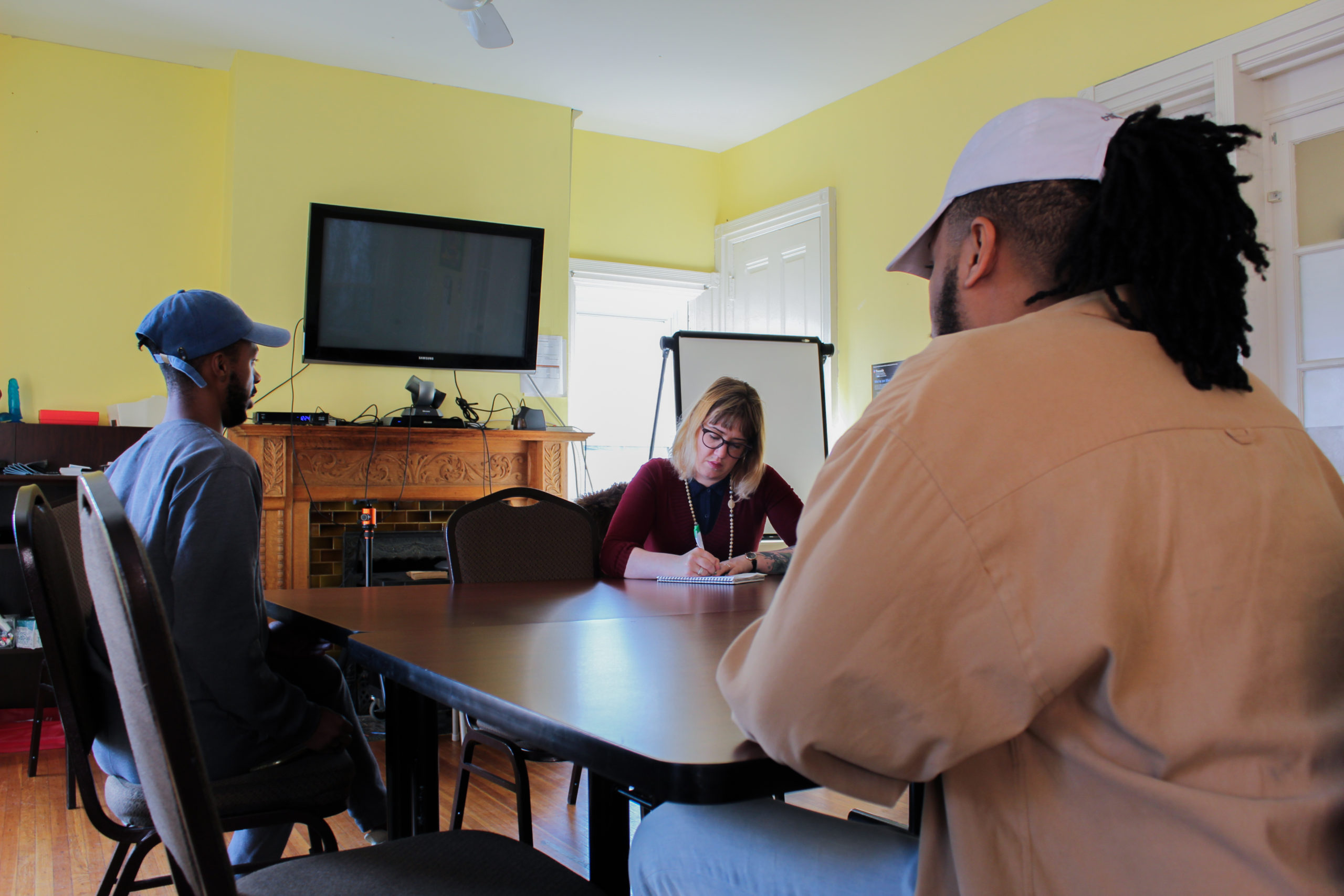 While the center feels low-key, it is in no way a casual endeavor. Building and maintaining a healthy community center requires mindful and intentional choices at every step. Working with at-risk populations carries the responsibility of dealing with both systemic and personal traumas. David pointed out that the MOCHA Center at its core "provides a platform [for people] to be their authentic selves while challenging them to be better, and challenging what their preconceived notions of what it means to be a queer person of color or a trans person of color." "The building off of trauma and breaking down of heteronormative ideologies," is the greatest barrier, adds Taje.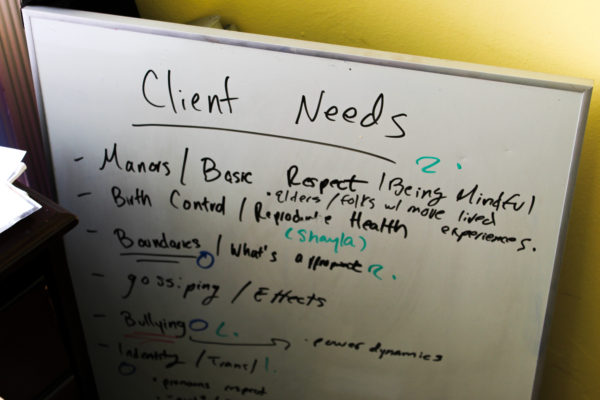 One of the most important bridges the center builds is generational. Connecting older and younger generations of their community starts by bringing people into the same space and fostering conversations. This is done formally through workshops and informally by the very nature of being a drop-in center. Kids stop by after school to hang out and converse, while other community members may be heading for a workshop or just to hang out themselves. 
Alex became a presence at the MOCHA Center after stopping by for a Ru Paul's Drag Race viewing party. After stopping in for events, he landed a full-time position and is now co-coordinator of the SHADE (Sexual Health Advocates Delivering Empowerment) Project. The SHADE project aims to "mobilize young QTPoC to shape a healthy community for themselves, build positive social connections, and support their friends to have safer sex." Bridging generational gaps helps the community "learn from past and future generations so we can all effectively heal," says Alex.
---
One striking difference between the MOCHA Center and other health initiatives is in its funding. There are no big fundraising drives or centralized monetization efforts. Instead, the center works through grant funding, collaboration, and partnerships. The center is continually seeking to partner with like-minded missions to further its reach. The center appreciates donations in all forms, whether that's in goods, time, funds, volunteer energy, or space. "It takes a special kind of person to do this work, and I'm thankful for the people behind the help," says Richie.  
If you would like to partner with the MOCHA Center or are looking for a safe place to find help, community, or services, drop by 10 a.m. – 6 p.m. Monday-Friday at 1092 Main Street, Buffalo or 189 N. Water Street, Ste. 1, Rochester, or reach out to them at (716) 852-1142 or (585) 420-1400, respectively. See website for testing hours.
---
Additional Sources:
Shilts, Randy. And The Band Played On. 1987