Good Neighbuzz aims to highlight area charitable works, good deeds, and helpful hands in order to connect those who could use their services with those who would like to help.
---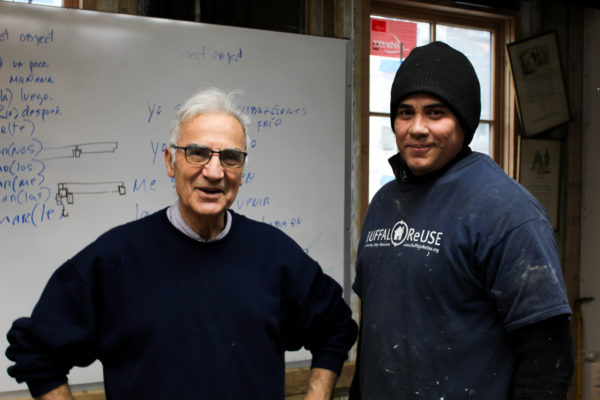 "When you see that kind of situation, it moves you so deep inside," said Santiago Masferrer, owner of El Buen Amigo in the city's Allentown neighborhood.
Santiago moved to Buffalo in 1977, just years after the Chilean coup d'état in 1973.
"I should write a book about my life," Santiago chuckled.
Santiago says he was moved to help other people, especially the people of Central America, after his experiences growing up, living in, and even being imprisoned in Chile.
"I am so rich in experience. I have a rich life," says the man who's dedicated his to helping the poor.
Santiago recalled being imprisoned by the Pinochet Dictatorship of Chile after he took over the distribution of food in his hometown in 1973. That's when, while working for the national police, he caused some trouble with his bosses.
"It was over a cow," Santiago recalled. "We were given one cow for 500 families." Santiago decided to split up the meat among families who had children seven years old and younger. It was a decision that landed him in a Chilean prison for 22 months, six of them in a solitary cell, not much bigger than he was.
After he was released from prison, he was unable to find work; blacklisted from employers. He tried to find work among the poor people, at first processing pigs, then recycling garbage to earn about $33 a month. A salary he even refused to take, in order to help the people around him.
After the secret police of Pinochet started harassing his wife Eugenia, the family moved to the United States. "I didn't want to leave Chile," Santiago admitted.
---
Here in the Queen City, Santiago and his family found a home and a place to continue his work of helping people. That's when he bought the building that houses El Buen Amigo, a fair trade shop on Elmwood Avenue.
Now, the windows are decorated with colorful figures; wooden, hand-painted Nativity scenes among them for Christmas.
Santiago has owned the 180-year-old building for 30 years now. Walking in, he took me straight to the back of the building to see what was going on.
With exposed walls, wooden planks, and power tools everywhere, Santiago explained that the original building needed to be repaired and stabilized in order for El Buen Amigo to hopefully continue on for another 30 years to come.
Not only is El Buen Amigo a fair trade store, but it's also home to the Latin American Cultural Association (LACA), whose mission is to use the arts as a way to inspire learning about the rich cultural heritage of Latin America.
The store itself sells goods from Latin and Central American countries, such as El Salvador, Peru, Mexico, Columbia, Nicaragua, as well as countries in the Caribbean. Santiago doesn't turn a profit from those goods but sends the proceeds back to the artisans who created them. Many of the craftspeople are women, who have built a peer-to-peer connection with Santiago, either directly, or through word of mouth.
"I like to know everyone. We share values, we share what we have," Santiago said. He says that the common goal is to help each other, and by doing so, create a spiritual link around the planet.
"So if you don't turn a profit from the store, how do you sustain yourself?" I asked.
"My pension," Santiago replied. After spending nearly two years in prison, Santiago went back to prison in the United States… this time, to teach. Santiago says he taught prisoners for over two decades; for seven years in the Attica Correctional Facility, and 14 in the Orleans Correctional Facility.
"When I go into prison I teach here," pointing to his heart. "Not here," referencing his head.
---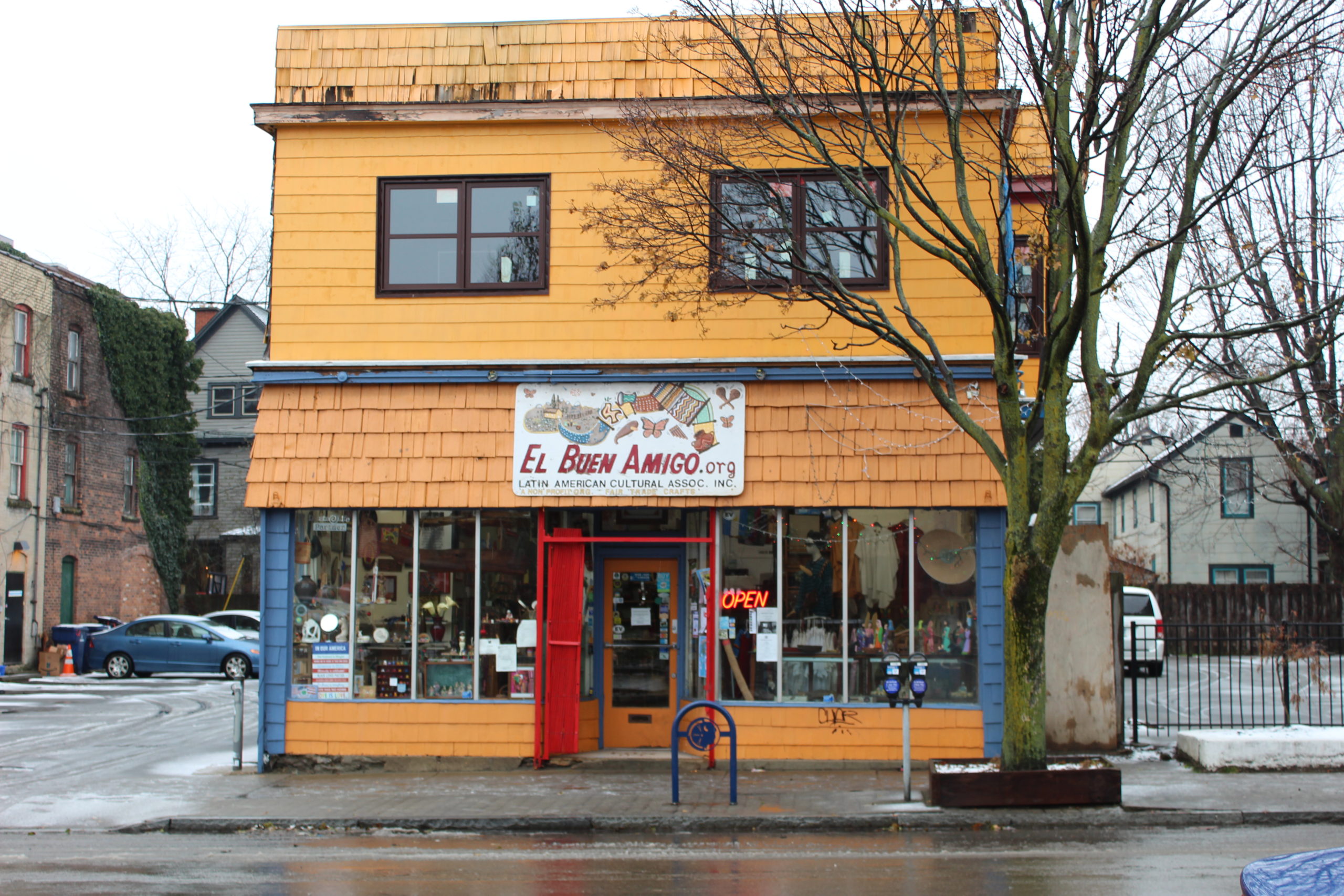 Among the plethora of services LACA offers, Santiago also teaches Spanish classes for working professionals, whether individual lessons or groups. You can also order translation services, sign up for a class, like Latino Dance or Jewelry Making, and more.
Santiago also collects books and educational magazines to send to schools in Chile, so that students in Pre-K through 12 can learn English, among other subjects.
As if Santiago isn't doing enough, he is also raising money and looking for artists to create a mural for the facade of the building, focused on social justice. The "Open Veins of Latin America" will specifically highlight human rights violations and climate change.
"We need to respect our Mother Planet," Santiago said. The hope is that the mural will keep with Mexican mural tradition, which is art for and by the people, celebrates the masses, and is of peaceful activism.
If there were a few sentences to summarize Santiago and his mission, I think it would be this:
"Every human being owns something: Your attitude. You own your heart, you own your mind, your soul. Are you going to live your life with resentment? Be fair. Pay respect to people," Santiago said.
---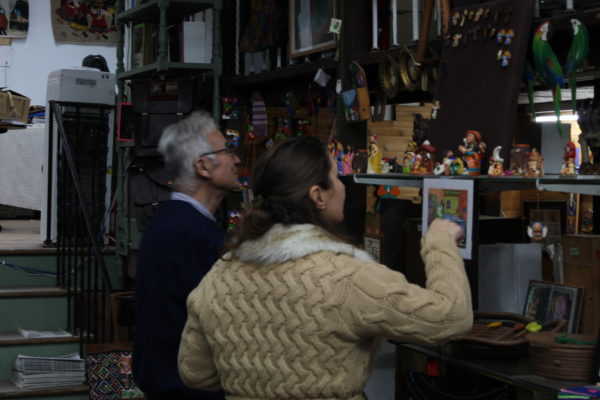 While resilient through all of these years, Santiago admits that he needs some help. At the age of 79, he hopes people will step up to help him carry on his legacy.
He's currently in need of volunteers, specifically anyone who may be willing to help him with accounting, secretarial work, carpentry, teaching, and to help run the shop.
As previously mentioned, there are collections for any new or gently used books and magazines that would be appropriate for schoolchildren. Monetary donations are also accepted to help pack and ship those books to Chile.
Additionally, any artists or donors are welcome to help with the "Open Veins of Latin America" mural. LACA is hoping to raise the projected cost of the mural, $86,000, through donations and grants.
Your tax-deductible donations can be made out to KeyBank in the name of the Latin American Cultural Assoc. Inc., Account # 327 331 002 581.
As Santiago says, the best way to get ahold of him is to just stop in. You can find El Buen Amigo at 114 Elmwood Avenue, Buffalo, NY, 14201.
You can call Santiago on his cell, (716) 913-2881.
You can also visit their Facebook page here.
(And as Santiago half-kiddingly said, any writers looking to write a biography of his life are welcome, too.)