The City of Good Neighbors is celebrating Pride for the 26th year this weekend. This year's theme is "Connect," but that doesn't meant you have to connect with everyone. Scroll down for more info.
The Fledgling. Someone who is too young for you and reminds you of yourself and asks for your number and you give them the wrong one. Not nice! You were a fledgling once, too! They may or may not be wearing rubber rainbow wristbands.
The Fiery Damnation Dude. If nothing else, these types show true dedication. Skipping church to come on down and condemn. The guy with the sign is quoting verse after verse of the good book and shaking his head while you stand before him decked out in ROY G BIV offering him a hug. To hell with that dude.
Your New Best Friend. The person who really "gets you." You'll pet each other's hair and say, "Me too!" back and forth a lot. You'll promise to be best friends forever and swap numbers. But, no one will call anyone. When you finally see each other in public you'll avoid eye contact because neither of you'll remember each other's names. Sigh. You were friend soulmates.
Eric Starchild.
Your Future Self. Technically, this will happen after. The hangover will set in, the mistakes you've made will be remembered or, worse, revealed to you, and the pride cloud you were chilling on will evaporate. You'll face decisions about the kind of capital letter you are and the kind capital letter you want to be. At least until next Pride.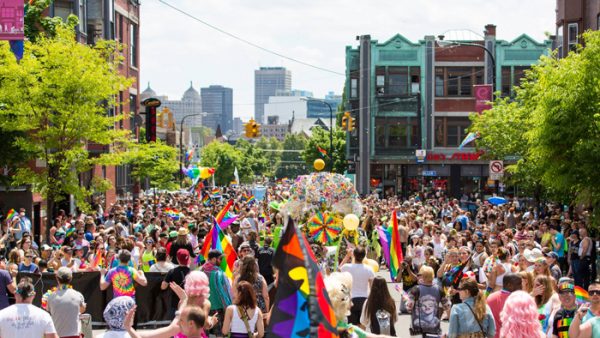 Happy Pride, Everyone!!!