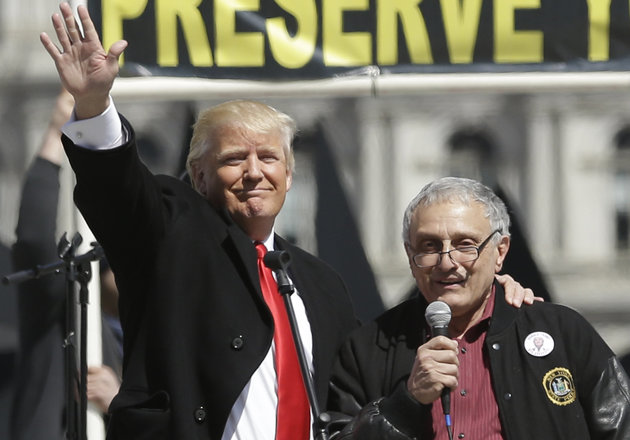 By now, most of us have read or seen or heard about the disgusting remarks sent to Artvoice by Carl Paladino shortly before Christmas. If you haven't, I'm not going to give them additional credence by reproducing them here, but they were the most derogatory, racist, abhorrent sentences I have ever read. Paladino does not represent my Buffalo and as a citizen of the school board on which he currently sits, I'm not going to sit down and let him continue to do so.  
Paladino has long been notorious for his particularly vile brand of "humor," often forwarded to his friends and colleagues in emails helpfully culled by WNYMedia.net here. During his 2010 gubernatorial campaign, he received national attention for his pornographic emails, one of which included the N-word. In June 2015, he defended a Buffalo Municipal Housing Authority commissioner who used a racial epithet against several African American politicians, including Mayor Byron Brown.
Of these latest comments, Paladino told The Buffalo News, "Yeah, I'm not politically correct." But this is beyond politically correct. This is human decency and that should not be not too much to expect from an elected official. I'm not the only one who thinks so.
The list of officials denouncing Paladino are growing as long as his email chains. Everyone from Trump to Erie County Executive Mark Poloncarz, Assemblyman Sean Ryan, Governor Andrew Cuomo, Brown, his alma mater of St. Bonaventure University, Erie County Democratic Committee chairman Jeremy Zellner, State Democratic Executive Director Basil Smikle and Buffalo School Board President Barbara Nevergold have all stood up against him.
The Partnership for the Public Good has called on those elected officials and candidates to pledge not to take campaign donations from Paladino and for businesses, non-profit groups, and individuals to pledge not to rent from his development companies or otherwise do business with him. That, my friends, is the absolute least we can do.
For too long, Buffalo has treated Paladino like the rich, slightly batty uncle spouting epithets in the corner at Thanksgiving dinner. We've brushed his hatred aside, let it slide, allowed fresh scandals to push his back from the headlines. But that time has passed. If we continue to smile politely behind our closed mouths, we risk living in a society in which such hatred becomes the norm.
So what can we do? Plenty. Here are a few of the ways I'm challenging Paladino and those like him, and how you might do the same.
Start by signing this petition.  At this writing, it had just short of 24,000 signatures. That petition will be sent to State Commissioner of Education MaryEllen Elia, who has the power to remove Paladino from his school board seat. So many of us are mothers, all of us are daughters, and Paladino's behavior is not something I'd allow from a kindergartner, much less a school official. The process for officially removing a school board member is lengthy and legally convoluted, but if you're feeling powerless, this is one way to use your voice for good.
Use your financial power. The sleekly informative boycottpaladino.com, created by a group of concerned citizens, details the business holdings, political contributions, properties he owns, and tenants who pay him rent. Read it. Get to know it. There are a lot of businesses on the very long list in which Paladino's company, Ellicott Development, have holdings or interests.
Is boycotting every, single one of them practical? Of course not. I get my prescriptions filled at Rite Aid and it's not practical for me to switch. Maybe you're in the same boat. But many small voices make quite a roar. I challenge you to read through the list and choose a few places to stop patronizing. If every one of us parks somewhere else, gasses up our cars at a different station, buys our coffee from a local cafe instead, stays at different hotels, that'll start to hurt. Buffalo is still a small town, and it doesn't take much to start feeling the squeeze.
Have some hard conversations. Many of the tenants in his buildings do not sympathize with Paladino, and I also believe strongly in supporting independent businesses. While tenants who may not have any other choice should be punished for their involvement with him, make them aware of whose pockets their rent checks are lining. If enough of us are vocally displeased by their landlord, some of them may pause when their contracts come due.
Hold Artvoice accountable. As a journalist, I understand the appeal of a juicy story. More times than I could count, I've dutifully jotted down notes while thinking to myself, "This is going to be a fantastic quote." But there's a difference between a well-turned phrase and hate speech. The same way many media outlets allowed Trump to spout his own epithets for page views and ratings bumps, Artvoice allowed Paladino a platform for his hatred, and that has to stop. A lot changed at the former alt-weekly after owner Jamie Moses combined forces with Frank Parlato, Jr., but this is a new low. Call or email Moses and express your concern for its editorial direction. If you or your friends own a business that advertises there, consider putting your money elsewhere.
Support the New Buffalo organizations working to make a difference. Not every act of protest has to be negative. The Public Accountability Initiative, Partnership for the Public Good, Buffalo Anti-Racism Coalition, Open Buffalo, Pride Center of WNY, LittleSis.org, and many, many others are constantly and consistently working against forces of racism and inequality but they need our help. If you have the means, throw a few bucks their way. If you have the time, volunteer. Show you care even after the headlines have moved on, because those affected by these issues can't afford apathy.
In times like these, I'm reminded by Michelle Obama's rallying cry: "When they go low, we go high." When we're hit with such vitriol as Paladino splashed across newsstands, it's tempting to yell back. I felt the same bile rise in my chest when I read those comments as I did after racist incidents at the college where I teach, and the same sense of rabid futility. What can we do, when the most powerful among us are also the smallest-minded? We can stand up. We can speak out. We can fight with our smallest purchases and our biggest gestures. Hatred isn't going anywhere by itself. We have to root it out deliberately, consciously, root by poisonous root.